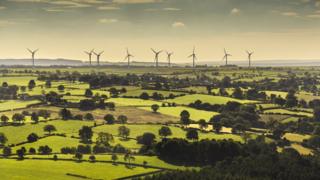 The sale of the Green Investment Bank (GIB) by the UK government has been completed.
The institution, which is based in Edinburgh, has been sold to Macquarie Group for £2.3bn and will now operate under the name Green Investment Group.
The government said the deal ensures that all taxpayer funding invested in the bank has been returned, with a gain of around £186m.
It employs 50 people at its headquarters in the Scottish capital.
Another 85 work at its London office.
The bank was set up by the UK government five years ago to fund renewable and low-carbon projects.
Revenue-generating
Climate Change and Industry Minister Claire Perry said: "We led the world in setting up the Green Investment Bank and it is now being copied by others.
"Now that it's in the private sector, it will be able to operate on an international level to tackle the global challenge of climate change.
"It is also perfectly placed to help us finance green initiatives for our Clean Growth Plan and realise the commitments set out in the Paris Agreement."
The government said the Edinburgh office will be home to a new revenue-generating business.
It will also provide services to the green energy portfolios of both Macquarie and the Green Investment Group in the UK.