In an article posted on Seeking Alpha on June 26th titled, "It's 1999 All Over Again" William Koldus, CFA, CAIA, astutely points out that the "growth" style of investing has been dominating the "value" style of investing over the course of the current bull market, and paints a picture that is similar to the dot-com or tech-bubble of two decades ago, and suggests that the market is starting to set up to favour value over growth for an extended period.
In a similar vein, in his July 14th market update, renowned market technician and intermarket expert John Murphy pointed out the relationship between tech stocks and interest rates, and what could be ahead for the sector should central bankers continue on their path to gradually raise rates:
"One of the lesser known intermarket relationships is the inverse link between bond yields and technology stocks' relative performance. That make some sense. Growth stocks like technology don't need a stronger economy to thrive. In fact, they do better in a slower economy which is usually associated with low interest rates. Value stocks (like banks) do better in a stronger economy with rising bond yields."
The chart below (source: stockcharts.com) shows the relative underperformance of the tech sector amidst rising rates during between 2004 and 2008, and then the strong outperformance of tech from 2009 to today, coinciding with sharply declining interest rates.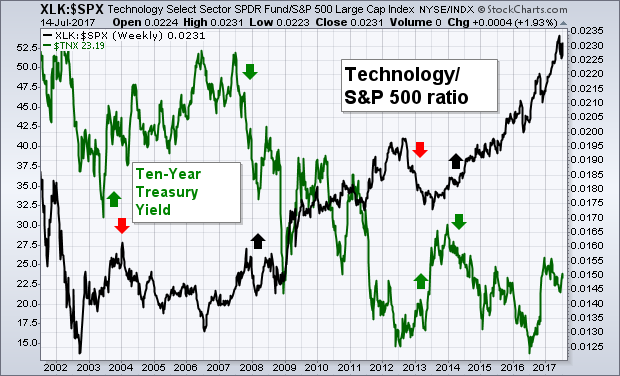 There are a couple of factors at play here which are worth considering:
Central bankers globally have begun embarking on a path of higher rates
There is very little opportunity in the market to buy undervalued assets
The market cycle is in it's 8th year
The one thing missing is a catalyst.
To be fair, central bankers have begun raising rates yet today's CPI number showed tepid inflation at just 1.7% or up 0.1% for the month.
With inflation muted it is going to be that much more difficult for central bankers to raise rates at the pace they would probably like to.
There are other potential catalysts looming, however, and even some that we aren't yet aware of.
Geopolitical tensions are certainly heightened at the moment and with the price of gold and Treasuries moving higher, there are signs of a flight to safety.
Yet in the past, these types of situations have proven to be mostly short-lived, lasting a week or a month but not often longer than that.
This brings us to the point that we know the market is "ripe" for a correction and technology stocks may be vulnerable, but we don't know exactly the whats, hows, whens and whys, if you will.
Still, without much to pursue in terms of finding long investments, it may prove beneficial to consider these 5 technology stocks which appear to be overvalued by a considerable margin and offering as strong short candidates.
(Note: Particularly if the cash flows and earnings of these companies begin to get discounted at increasingly higher nominal rates)
Advanced Micro Devices, Inc. (NASDAQ:AMD)
Mark Hibben, a fellow contributor to Seeking Alpha, posted "Intel's Rope-A-Dope Strategy" on July 28th which resonated with this author as it completely echoes sentiments that were passed down to me years ago about the relationship between AMD and Intel.
At the time, I was building out my coverage base, came across AMD which seemed to be a company that was obviously in dire straits.
I suggested shorting it as it appeared the company was destined for bankruptcy however was told at the time that it seemed for years that Intel has wanted to "keep AMD around" so as to avoid anti-competitive pricing practices.
AMD has a great run since 2016 and admittedly there was a lot of money to be made if you were on the right side of that trade.
Yet at $12 the company appears to me, at least, to be priced beyond perfection.
Beyond the valuation, keep in mind that the market for microprocessors is extremely competitive and mainly competitive on technological innovation.
As Mr. Hibben points out, when you consider that owing to its sheer size, Intel is able to devote nearly $13 billion to research and development which is roughly 12x the amount that AMD can afford to spend on R&D, you have to figure it is difficult for AMD to compete on any kind of sustainable basis.
Not to mention that despite the company's recent success, they are still in the red in terms of free cash flow.
Not good.
Square, Inc. (NYSE:SQ)
I like this one because of the sheer simplicity.
Square makes the hardware that allows small business owners and entrepreneurs to accept point-of-sale payments on their smartphones.
In case you don't know what I'm talking about, this is what the "Square" looks like: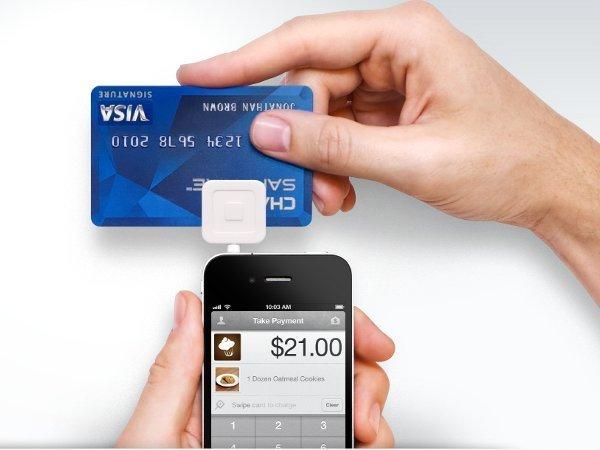 This little widget spawned a $9.5 billion company.
Again, if you saw the value back in 2016 when shares traded at $10 good on you.
But you may want to consider cashing in now and selling those shares.
If you've been watching on the sidelines, or are just hearing about this company now, it may be time to get in and sell to buy.
The problem with the SQ valuation today is the 79x P/E ratio of 61x P/CF ratio fail to account for the lack of a moat, or more specifically the lack of switching costs for the consumer.
Recently, PayPal, Intuit, and Capital One have all entered the market with similar products to the Square offering.
And now that Square is attempting to respond by moving upmarket with payroll and appointment management services, for example, the company finds itself running into the likes of formidable competitors like Chase Paymentech and Bank of America Merchant Services.
While sales have been strong, the company has yet to translate the sales into profits and with competition only set to increase my suspicion is this company will probably not still be worth $9.5 billion in a year's time.
Netflix, Inc. (NASDAQ:NFLX)
This is a stock that we have been watching closely for some time. Going back to William Koldus' article and some of the more "eerie" similarities between the market today and other market tops, we can see today an "acceptance" of non-GAAP measures like subscriber growth, in the case of Netflix.
A lot of momentum in Netflix stock has to do with the company's continued ability to add subscribers.
Yet as in the case of Square, this has not exactly translated into profits and even less so in terms of cash flow and free cash flow, which are the ultimate drivers of business valuation.
Disney's recent announcement that the company is launching its own over the top streaming service could prove as the catalyst that sends Netflix shares back to reality.
Not to mention increasing competition from Amazon and Google, both of whom already have an established (and dominant) online presence, not to mention far greater financial resources than does Netflix.
Add to all this speculation that there could be a re-visitation of net-neutrality rules and the time might (finally) be here to short NFLX shares.
iRobot Corporation (NASDAQ: IRBT)
iRobot is a fine company as the leader in the North American robotic vacuum market, currently holding an 85% market share, which in turn, constitutes about 18% of the overall $2.3 billion market of North American vacuum cleaners priced above $200.
The problem is not the company – its just the valuation doesn't make a whole lot of sense.
Following the success of the Roomba the company has failed to come up with a successor.
As a result, sales are actually rather tepid, trending at just around 10%.
With sales growth at 10% its difficult to justify a 41x P/E or even a 4x P/S multiple when profitability is not robust – nor improving – with the company's net profit margin sitting at 7%.
The only problem with IRBT shares as a short is the company has a clean balance sheet. No debt and to boot, $250 million in cash on the books.
So this is not a bankruptcy candidate but rather a short on valuation implying shares could take some time to correct – death by a thousand cuts – in the absence of any forthcoming catalyst.
SVB Financial Group (NASDAQ:SIVB)
SVB technically falls under the financial services sector but as it is focused on lending to and financing Silicon Valley start-ups it makes this list.
There are rumblings that SVB should be expected to see lower returns on capital as well as lower loan and deposit growth as softer valuations are affecting the market environment in Silicon Valley.
While this could prove as a catalyst for the shares over the next 12 months if it does indeed unfold, the shares are already valued quite richly today, as it is.
SIVB shares trade at 2.3x book value the company has not been able to generate return-on-equity (ROE) of over 12% at any point in the last 9 years.
If the deposit base slows or even erodes, this will affect the company's ability to grow its loan book which will make that 2.3x price-to-book value even that much more difficult to justify.
Not to mention that the company has not returned any cash to shareholders in the form of either dividends or buybacks over the past five years and has actually been diluting the shareholders in order to fund its operating activities.
Conclusion
Each of these five picks differ slightly in their style, valuation and catalysts yet based on this author's calculations, all appear to be overvalued by at least 50%.
While a catalyst that could send the technology sector – or the broader market – into a tailspin has yet to present itself, patient and disciplined investors will be wise to "stock the pantry" – so to speak – with high quality short ideas so that they are ready to pounce, if and when the time comes.
Disclosure: I/we have no positions in any stocks mentioned, and no plans to initiate any positions within the next 72 hours.
I wrote this article myself, and it expresses my own opinions. I am not receiving compensation for it (other than from Seeking Alpha). I have no business relationship with any company whose stock is mentioned in this article.