REIT Rankings: Shopping Center
In our "REIT Rankings" series, we introduce and update readers to one of the thirteen REIT sectors. We rank REITs within the sectors based on both common and unique valuation metrics, presenting investors with numerous options that fit their own investing style and risk/return objectives. We update these rankings every quarter with new developments for existing readers.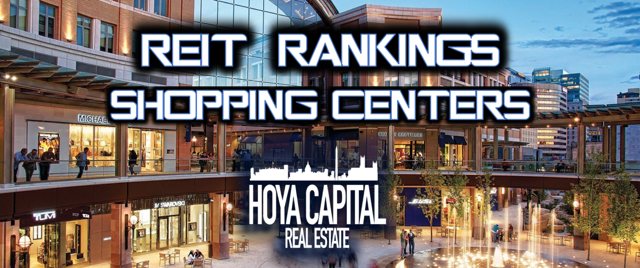 We encourage readers to follow our Seeking Alpha page (click "Follow" at the top) to continue to stay up to date on our REIT rankings, weekly recaps, and analysis on the REIT and broader real estate sector.
Shopping Center REIT Overview
We separate retail REITs into two categories: open-air shopping center REITs and enclosed mall REITs. We recently updated our quarterly mall report: "High-End Malls Thrive, Low-End Malls Dive." While the broader macro trends are similar with retail REIT categories, open-air shopping center REITs are generally seen as more resistant to e-commerce threats than malls and exhibit distinct operating characteristics.
Shopping center REITs comprise roughly 8% of the REIT Indexes (VNQ and IYR). Within our market value-weighted Shopping Center REIT index, we track ten of the eighteen shopping center REITs within the sector, which account for roughly $50 billion in market value. Acadia Realty (AKR), Brixmor (BRX), DDR (DDR), Federal Realty (FRT), Kimco (KIM), Regency Centers (REG), Retail Opportunity (ROIC), Retail Properties of America (RPAI), Urban Edge (UE) and Weingarten (WRI).

Above we show the size, geographical focus, property focus, and quality focus of the ten shopping center REITs we track. Like other REIT sectors, shopping center REITs tend to specialize in either a certain specific property type within the shopping center space, a specific geographic area, or a specific value quality. Quality is determined by the average rent per square foot of the shopping center portfolio, which is a function of location and tenant quality.
Recent Developments and Quarterly Performance
Amid the continued onslaught of negative headlines, shopping center REITs have been among the worst-performing real estate sectors over the last year, declining 15% YTD. This past quarter has been strong, though, and shopping centers have been among the best-performing sectors since June 1.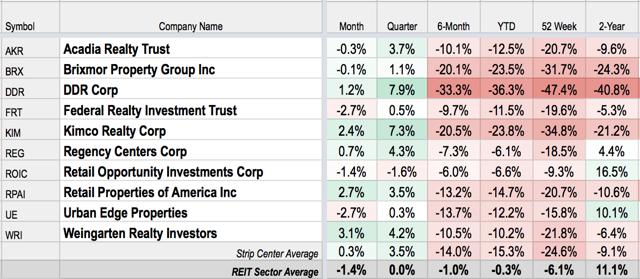 2Q17 results were generally better-than-expected across the board. Eight of the ten REITs beat earnings estimates while two missed. Forward guidance was essentially maintained across the sector. Three REITs raised full-year 2017 guidance while the rest maintained. Occupancy remains strong at 95% despite the brief flurry of store announced closures in the first half of 2017. Same-store NOI growth has moderated to 2.5%, down from 3% achieved in 2016 and 3.5% in 2015. Leasing spreads continue to be robust at 12% and point to near-term occupancy gains and stronger-than-average FFO growth over the next several years.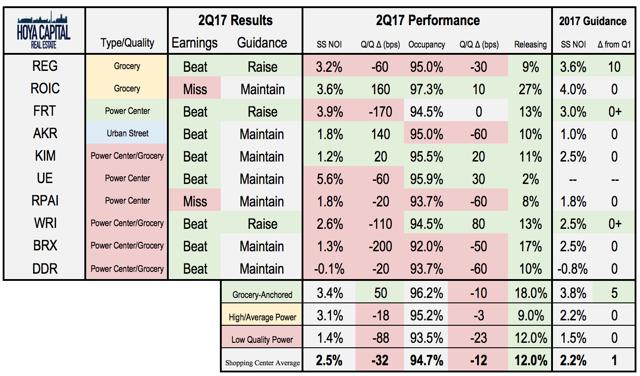 Grocery-anchored and higher-quality REITs continue to outperform, a continuation of the trend of bifurcation within the retail real estate space that we have noted for several quarters. Small-shop occupancy dipped slightly, but surging small business optimism bodes well for future occupancy gains. Many REITs, though, reported increased capex and tenant improvement allowances, a function of the changing retail landscape and a potential drag on FFO growth.
Aligned with underlying fundamentals, private market valuations have bifurcated as well. Based on estimated cap rates, grocery-anchored centers have appreciated 2-5% over the past year. High and average-quality power center valuations have fallen 3-7%. Lower quality power centers, particularly those without a grocer, have seen cap rates expand and valuations decline between 10-20%, a significant one-year change.
On earnings calls and at the recent REITWeek conference, several key themes are being discussed. We focus specifically on the Regency Centers, which owns a high-quality grocery-anchored portfolio. First, Amazon's (NASDAQ:AMZN) acquisition of Whole Foods (NASDAQ:WFM) was a central focus on many earnings calls. REIT executives universally agree that the move is a clear positive for the sector, as it validates the idea that well-located shopping centers are indeed the 'last mile' of e-commerce delivery. From the Regency earnings call:
"Amazon's announced purchase of Whole Foods reinforces our conviction that a well-located bricks and mortar presence that is convenient to the customer is a critical component to the success of any omni-channel platform…They are paying over $40 million a store, so we don't expect it to be convert them to 40,000 square-foot warehouse. But I am sure they are going to use some of the store to – for pick-up, delivery etcetera from an Amazon standpoint. I think it reinforces our conviction about the importance of retailers being able to conveniently service their customers through bricks-and-mortar. It is and it remains the most efficient way to deliver the last mile."
Second, despite the negative headlines about store closings, operating fundamentals remain strong, particularly in the grocery-anchored segment. Leasing spreads accelerated this quarter and remains a strong tailwind for FFO growth over the next five years. The tenant mix continues to shift away from at-risk retailers and more towards experience-oriented retail. Small-shop occupancy remains near 90%, driven by strong demand for restaurant space, fitness centers, and other service-oriented shops.
"We continued to experience steady demand for space from a wide variety of tenants across many categories, which include value retailers, fast casual restaurants, fitness operators, pet stores and service users among others. While retailers are being more deliberate and selective with their expansion plans, they continue to seek out the better locations, many of which are at our well merchandised centers. Leasing spreads on new deals in the quarter were 14% highlighted by strong anchor spreads of 26% and shop rent spreads over 12%."
Third, while new ground-up development continues to be nearly non-existent across the retail real estate space, redevelopment continues to be attractive and necessary for many REITs to remain competitive. Many REITs are undergoing a process of "de-boxing" whereby the larger vacated big-box stores are divided into smaller formats. Higher-than-average capex and tenant improvement allowances are expected to be a headwind over the next several years, particularly for lower quality power centers. Below is a slide from the 2Q17 Regency Investor Presentation.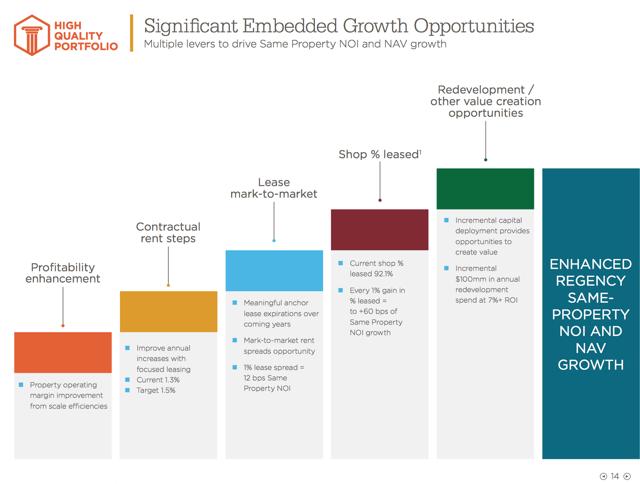 Finally, the longer-term performance of retail real estate is obviously linked to the operating performance of their underlying tenants. 2Q17 earnings were generally better-than-expected across the retail space, but forward guidance was moderately worse than expected. The SPDR S&P Retail ETF (XRT) is lower by 7% over the past quarter. Per Nasdaq, more than 75% of retailers beat EPS estimates and revenue grew by 6.4% YoY.
July retail sales were better than expected across the board and previous months were revised higher. Core retail sales are higher by 3.8% YoY. Core retail sales had seen positive growth for 10 of the last 11 months.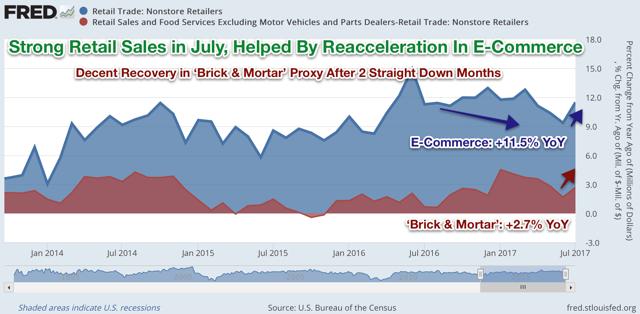 Diving deeper into the data, we note continued strength in furniture and home improvement spending. Food and beverage sales were moderately strong, and we note renewed strength in the department store and miscellaneous store retail categories. Clothing and apparel sales continue to be disappointing, and the persistent weakness in this category is driving the profoundly negative sentiment in the retail space. We continue to push back, noting that clothing and department stores are a small slice of the total retail pie, but many people disproportionately equate the health of the total 'retail' space with the health of the apparel retailers.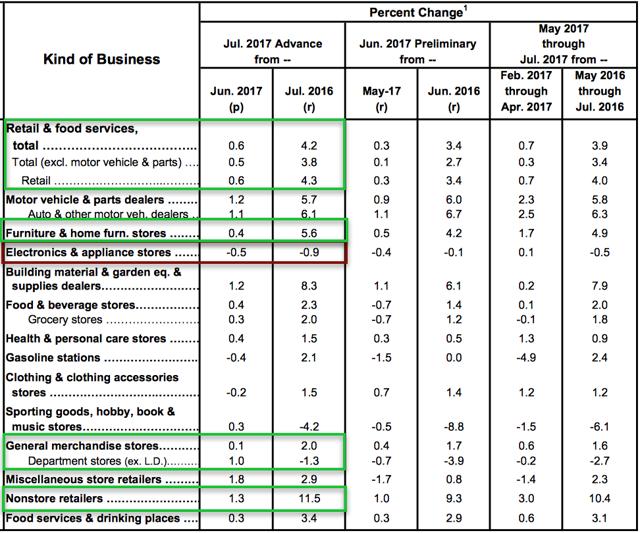 Below is our REIT Heat map showing the YTD performance of shopping center REITs compared to the 12 other REIT sectors. Clearly, the sentiment in the retail REIT space remains profoundly negative, fueled in part by a number of misperceptions that we begin to clarify in the section below.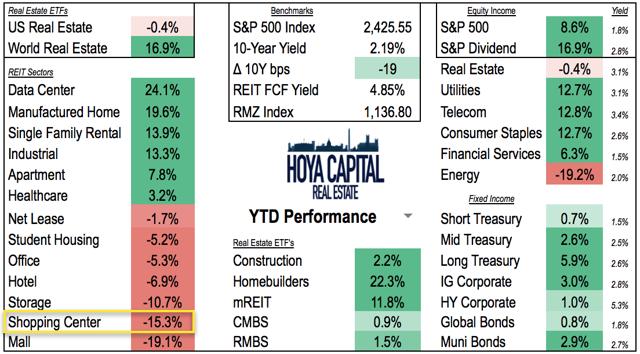 Long-Term Thesis: Death By Amazon? A False Narrative
Americans are projected to spend nearly $5 trillion at the cash register in 2016: an increase of over 30% from the depths of the Great Recession. Despite the gloom and doom that encumbers many discussions of brick-and-mortar retail, the vast majority of those sales (roughly 92%) are purchased in a physical store.
It's important to clarify some misperceptions about the retail space. There is a narrative prevalent in the financial press that the US is extremely oversaturated with retail space. While it is true that the US has the highest retail space per capita, when this data is adjusted for the actual amount spent on retail trade by country, we see that the US is not far out-of-line with the rest of the world.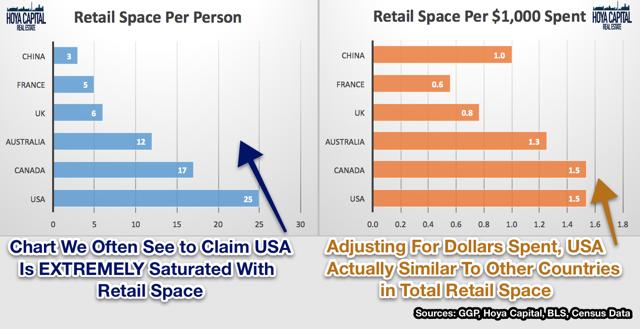 Following rapid expansion from 1980 until the recession of 2008, construction of new shopping center facilities has come to a screeching halt. Shopping center supply growth, as highlighted in a slide from Kimco's Investor Presentation below, has hovered around 0% since 2009.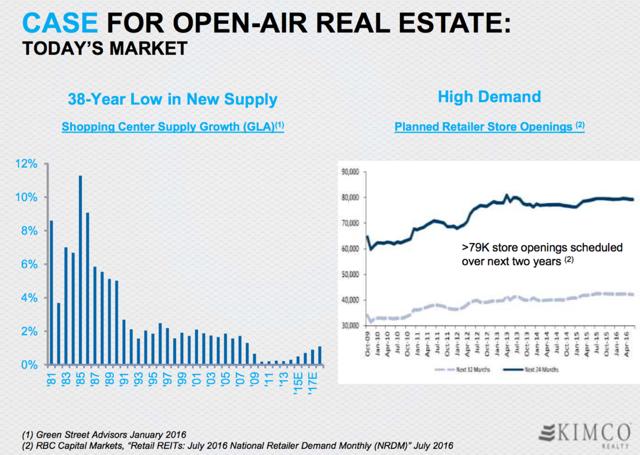 There is another financial media-fueled misperception related to the actual number of store closings and openings. In pursuit of the 'retail is dying' narrative, store openings are rarely reported by financial media outlets, but store closings often get front-page treatment. Casual observers are usually shocked to learn that net new store openings/closings averaged more than positive 1,000 per year since 2010. While the first half of 2017 has seen elevated store closings, analysts still forecast positive 500-1,000 net new store openings for full-year 2017. Store closings have been concentrated in the apparel and fashion segments, a relatively small share of shopping center tenants.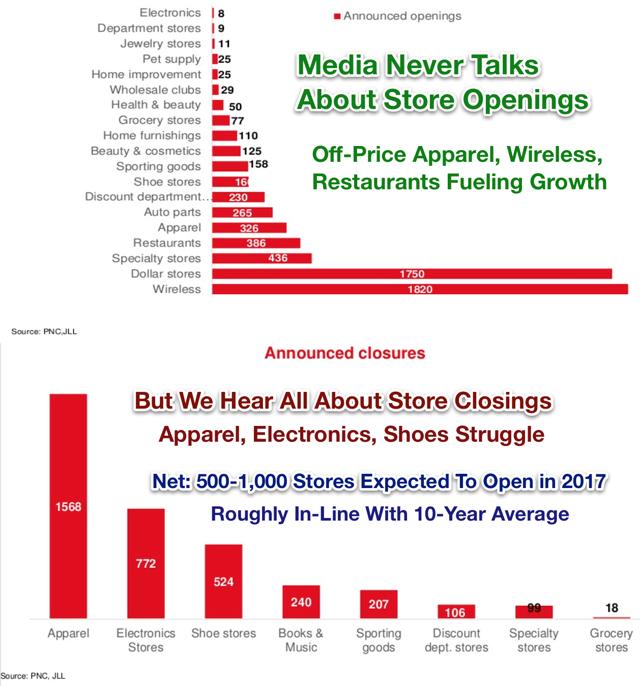 The appropriate question that all investors need to be asking is this: How much market share can e-commerce inevitably take from traditional brick-and-mortar retailers? We've seen forecasts from 10-50%, with the consensus seeming to be around 30%. We believe the actual long-term sustainable level is lower than the consensus. There are several reasons for this forecast.
First, within the basket of "retail sales," there is only a limited amount of goods and services that actually can be sold and delivered without a physical location. Restaurants, home improvement, medical services, health clubs, and other service-based stores make up roughly 40% of the retail mix at the typical shopping center. Add in grocery stores and the total exceeds 70%. Even if e-commerce takes a sizable 50% share from the multichannel retailers and 30% from grocery, the total e-commerce share comes out to be around 15%. In other words, we may already be entering the slowdown phase within the next several years. It should be noted, again, that apparel retailers make-up less than 10% of the typical store mix, and yet store closings in this category seem to dominate the 'retail apocalypse' narrative.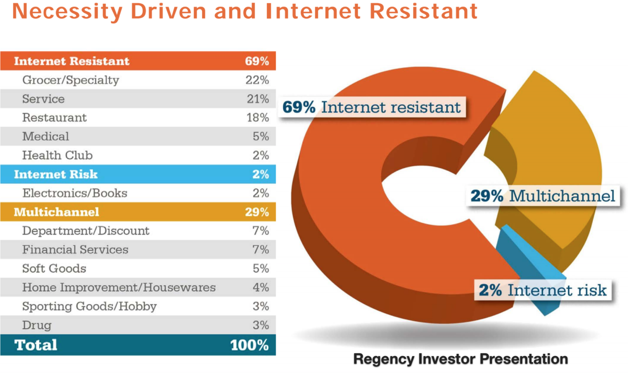 Second, until there are massive advancements in delivery technology (drones, self-driving cars), same-day or next-day delivery will continue to be less economical to the consumer than simply going to the store. In the age of the "free" 2-day delivery with Amazon Prime (which we will discuss shortly), it is easy to misunderstand the costly economics of home delivery. "The economics are clear, direct-to-home has a supply chain cost that's three times higher than a store-based model… It's a very expensive model," says Jerry Storch, CEO of Hudson's Bay Company. Retailers that do not have the scale, distribution infrastructure and political clout to subsidize shipping costs will continue to see the highest margins in brick and mortar.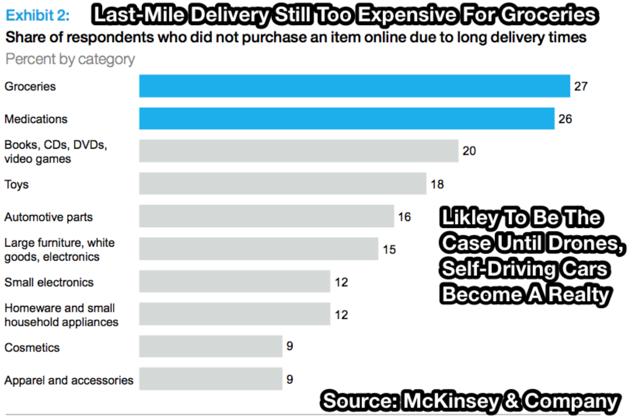 Third, Amazon may have made a significant strategic PR mistake by acquiring Whole Foods, which could compromise their ability to continue to operate in the ethical and legal 'grey area' that has enabled them to offer free shipping, avoid sales taxes, and systematically undercut local retailers. While Amazon does now finally collect sales tax on goods sold directly by the company itself, Amazon still does not collect sales taxes from third-party 'Amazon Marketplace' sellers. We sense that the populist drumbeat against Amazon is getting louder, similar to the backlash that Wal-Mart (WMT) faced in the early 2000s.
A flurry of recent academic studies and articles have been written that examine Amazon's often-times ugly underbelly. "Amazon's Antitrust Paradox" in the Yale Law Journal concluded, "Although Amazon has clocked staggering growth, it generates meager profits, choosing to price below-cost and expand widely instead. Through this strategy, the company has positioned itself at the center of e-commerce and now serves as an essential infrastructure for a host of other businesses that depend upon it. Elements of the firm's structure and conduct pose anti-competitive concerns-yet it has escaped antitrust scrutiny."
Amazon's 'free' 2-day delivery is merely a function of Amazon's ability to pass the losses onto other business lines, notably their AWS data center business. Even after extracting subsidies and concessions from their primary distributor, the taxpayer-supported US Postal Service, the firm lost roughly $2.6 billion in shipping costs in Q4 2016.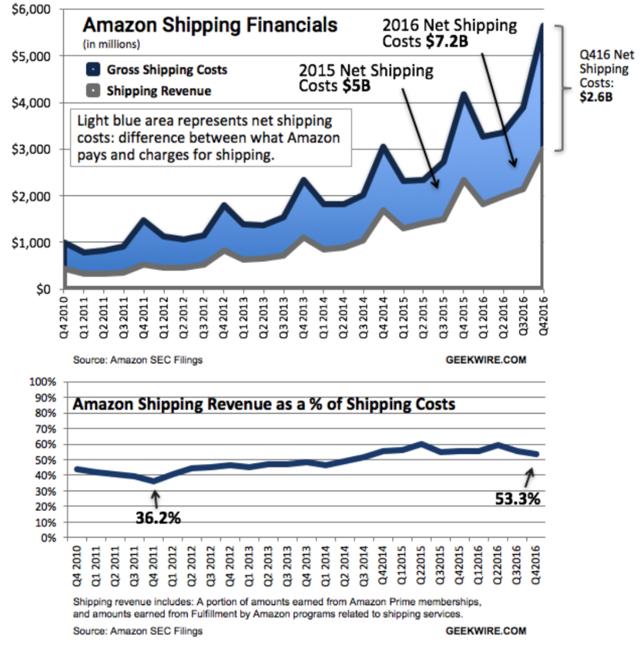 In another report, "Will Amazon Fool Us Twice: Why State and Local Governments Should Stop Subsidizing the Online Giant's Growing Distribution Network," the nonprofit group Good Jobs First concludes, "Amazon aggressively gained market share in part by long avoiding, and then minimizing, the collection of sales taxes. As it became less and less able to avoid collecting sales taxes it learned that it could sometimes extract lucrative taxpayer subsidies for them, and methodically started doing so in 2010-2011." Without the sales tax advantages and the ability to subsidize free delivery, based on our analysis, buying online would generally be more expensive than going to the store for the majority of retail items.
Valuation of the Shopping Center Sector
Even after the recent modest outperformance, shopping center REITs still appear attractive across cash flow-based valuation metrics. Shopping center REITs are the sixth-most attractive sector based on current and forward free cash flow multiples. When we factor in two-year growth potential, the sector appears fairly valued relative to other sectors. Expected to grow FCF at roughly 3% per year over the next five years, shopping center REITs are expected to growth at a slightly higher-than-average rate relative to other REITs.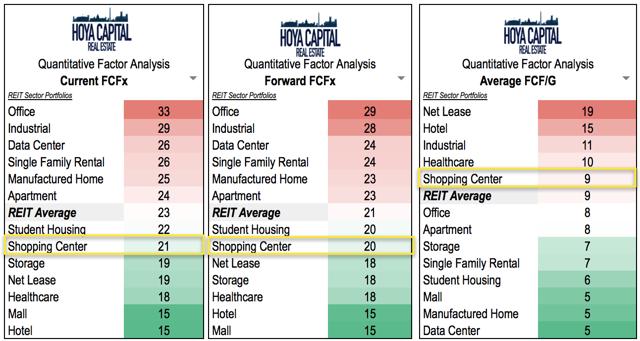 Similar to the mall sector, there is a significant bifurcation in valuation metrics between higher-quality and lower-quality REITs. The high-quality names including Acadia, Federal Realty, Regency and Urban Edge, command significant premiums to the average. Lower-quality names, including Brixmor, DDR, Retail Properties of America, and Weingarten, trade at sizable discounts.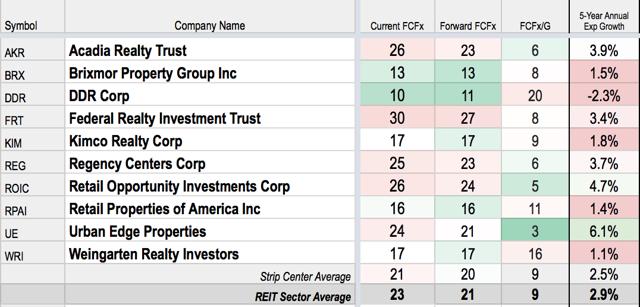 Sensitivities to Equities and Interest Rates
We separate REITs into three categories: Yield REITs, Growth REITs, and Hybrid REITs (click to read more information about our methodology).

As a sector, shopping center REITs are Hybrid REITs, a function of their moderate sensitivity to interest rates and equities, moderately high growth rates, and healthy dividend yields.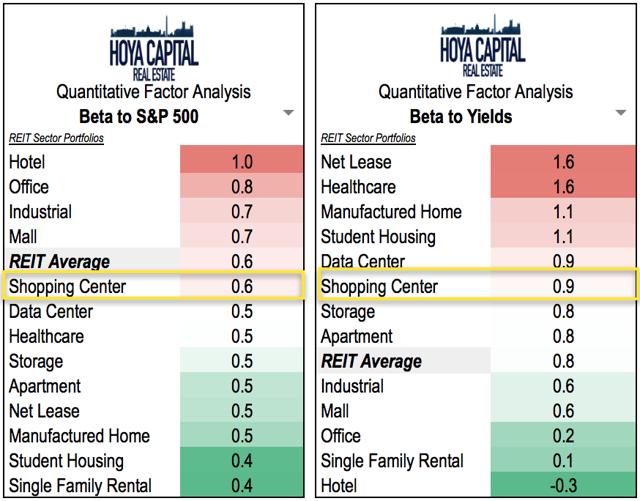 Within the sector, we classify the ten names as either Yield, Growth, or Hybrid REITs based on our calculations.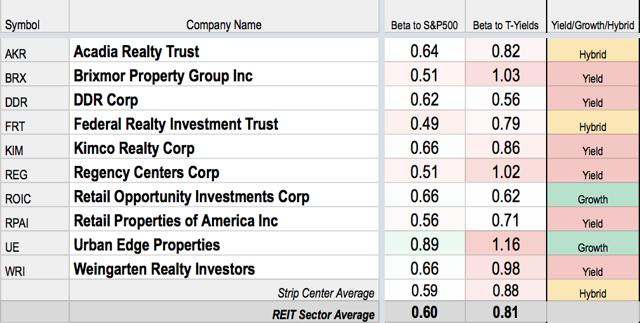 Dividend Yield and Payout Ratio
Shopping center REITs are one of the highest-yielding REIT sectors, paying an annualized dividend yield of 4.4%, above the REIT average of 3.9%. To do so, though, these REITs payout almost 90% of their available free cash flow, limiting their flexibility to deploy the capital towards redevelopment, acquisitions, or increased dividends.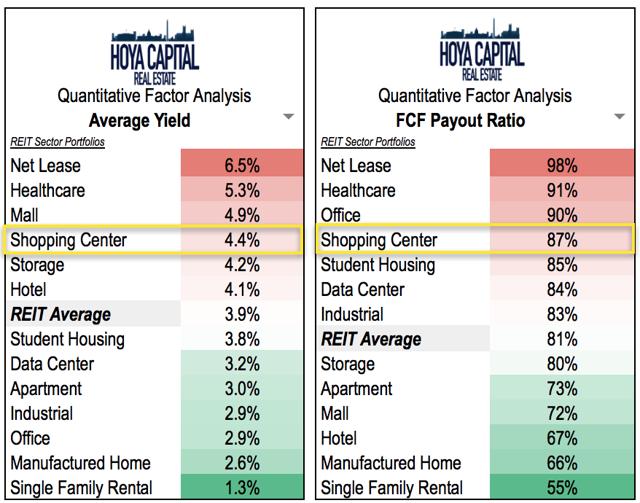 Within the sector, we note quote a bit of divergence in dividend yield, which is inversely related to the quality of the underlying portfolio. DDR pays the highest yield of nearly 8% while Federal Realty pays a yield of just 3.3%.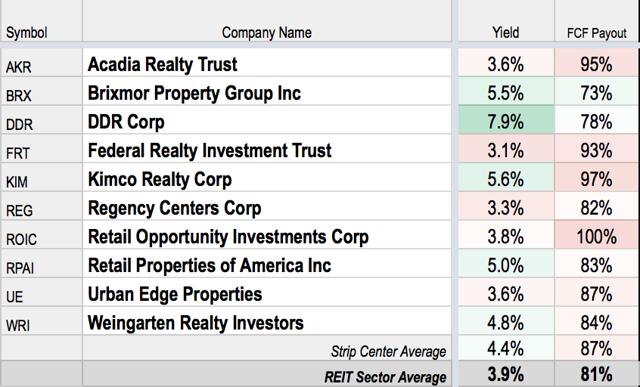 Bottom Line: Shopping Centers: The 'Innovative' Last-Mile of E-Commerce
Oh, the irony. Last-mile delivery continues to be a hurdle that has bedeviled e-commerce retailers. Amazon's purchase of Whole Foods is an affirmation that brick-and-mortar is that 'last-mile'. The financial media narrative surrounding brick-and-mortar retail has been widely out-of-touch with reality and borderline deceitful. Store openings continue to outpace store closings, but you would never know. Outside of the NYC media bubble, most Americans still prefer the in-store experience for the vast majority of their shopping. Surging small business confidence bodes well for small-shop occupancy.
2Q17 results were generally better than expected across the board. Eight of the ten REITs beat earnings estimates while two missed. Forward guidance was essentially maintained across the sector. Same-store NOI grew 2.5% and occupancy remains strong at 95%. Releasing spreads continue to be robust at 12% and point to near-term occupancy gains and stronger-than-average FFO growth.
Amazon's acquisition of Whole Foods has thrust Amazon's (often times anti-competitive) pricing practices into the spotlight. The underbelly of the Amazon machine isn't pretty. For years, Amazon has operated in an ethical and legal 'grey area.' Their ability to undercut local retailers has been fueled by tax advantages and government subsidies.
Not only has Amazon become more of a traditional retailer, their pricing practices will be under far greater scrutiny. Last-mile delivery continues to be the Achilles heel of e-commerce. Until drones become a reality, brick and mortar will continue to provide the lowest total cost for consumers, particularly for groceries.
Amazon's presence in the traditional retail space means one more retailer competing over a limited amount of high-quality Tier 1 retail space. This is a positive catalyst for shopping center REITs. We highlighted the selection of shopping center REITs to choose from and examined the current valuation levels.
We aggregate our rankings into a single metric below, the Hoya Capital REIT Rank. We assume that the investor is seeking to maximize total return (rather than income yield) and has a medium- to long-term time horizon. Valuation, growth, NAV discounts/premiums, leverage, and long-term operating performance are all considered within the ranking. We view Urban Edge, Retail Properties of America, and Regency as the most attractive shopping center REITs at these current valuations.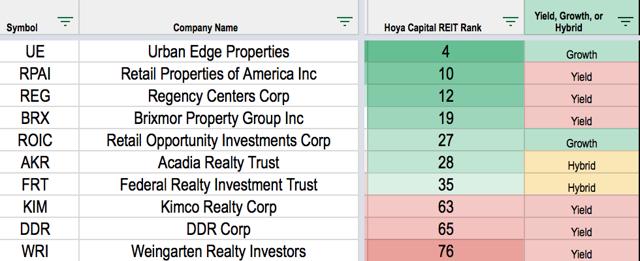 Let us know in the comments if you would like us to expand on any part of the analysis. Again, we encourage readers to follow our Seeking Alpha page (click "Follow" at the top) to continue to stay up to date on our REIT rankings, weekly recaps, and analysis on the REIT and broader real estate sector.
Be sure to check out our other sector updates: Industrial, Self-Storage, Malls, Data Center, Healthcare, Net Lease, Apartments, Student Housing, Manufactured Housing, Single Family Rentals, Hotels, and Office.
Disclosure: I am/we are long VNQ, SPY, MAA, CPT, CCP, OHI, PLD, GGP, TCO, PEI, STOR, SHO, SUI, ELS, ACC, EDR, DLR, COR, REG, CUBE, PSA, EXR, BXP.
I wrote this article myself, and it expresses my own opinions. I am not receiving compensation for it (other than from Seeking Alpha). I have no business relationship with any company whose stock is mentioned in this article.
Additional disclosure: All of our research is for educational purpose only, always provided free of charge exclusively on Seeking Alpha. Recommendations and commentary are purely theoretical and not intended as investment advice. Information presented is believed to be factual and up-to-date, but we do not guarantee its accuracy and it should not be regarded as a complete analysis of the subjects discussed. For investment advice, consult your financial advisor.