Real Estate Weekly Review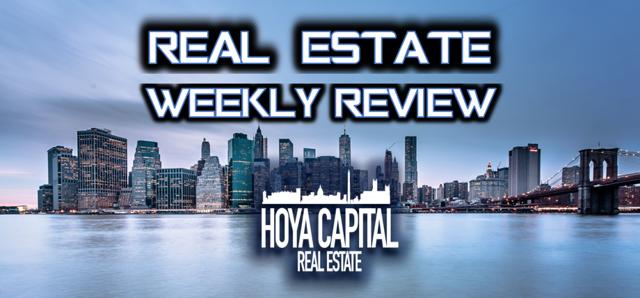 The REIT ETF (VNQ) finished the week essentially unchanged after two straight weeks of losses. Retail REITs were dragged lower after a number of retailers lowered guidance. Residential REITs rallied as housing starts continue to moderate and remain well below the long-term average. Amid President Trump's questionable response to racial tensions, the administration's pro-business appeal remains on a tipping point after several business committees were disbanded and tax-reform and fiscal stimulus appears increasingly more unlikely. The S&P 500 declined 0.4% after reaching record highs last week. The 10-year yield remains near 2017 lows.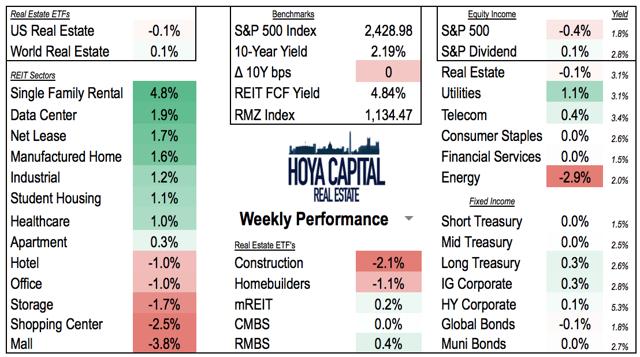 (Hoya Capital Real Estate, Performance as of 12pm Friday)
Outside of the REIT space, the other real estate equity sectors were generally weaker on the week. Homebuilders (XHB) and commercial construction (PKB) were lower by more than 1% on the week. Mortgage REITs (REM) climbed 0.2% while ex-US real estate (VNQI) rose 0.1%.
Within the Equity Income categories, we note the performance and current income yield of the Utilities, Telecom, Consumer Staples, Financials, and Energy. Within the Fixed Income categories, we look at Short, Medium, and Long Term Treasuries, as well as Investment Grade and High Yield Corporates, Municipal Bonds, and Global Bonds.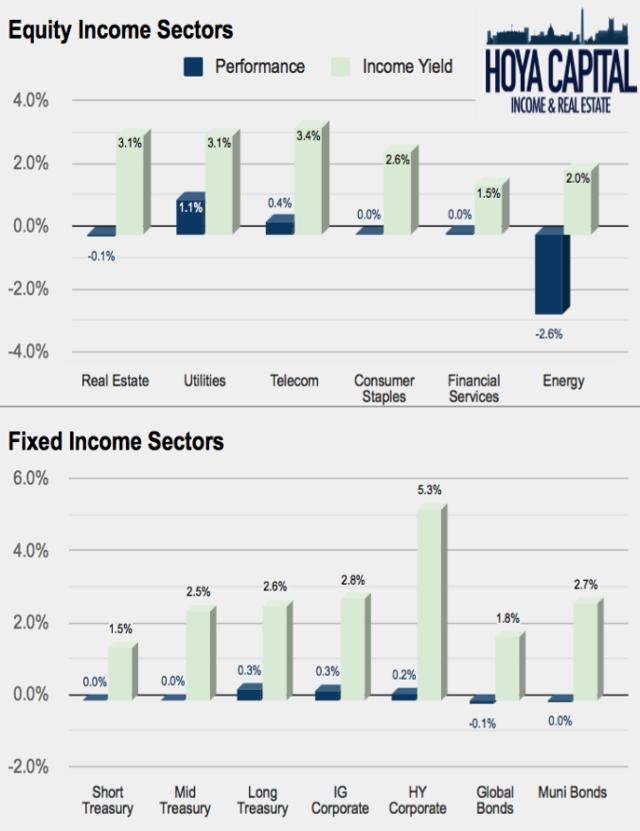 REITs are now lower by 0.6% YTD on a price-basis and higher by roughly 2% on a total-return basis. REITs ended 2016 with a total return of roughly 9 %, lower than its 20-year average annual return of 12%.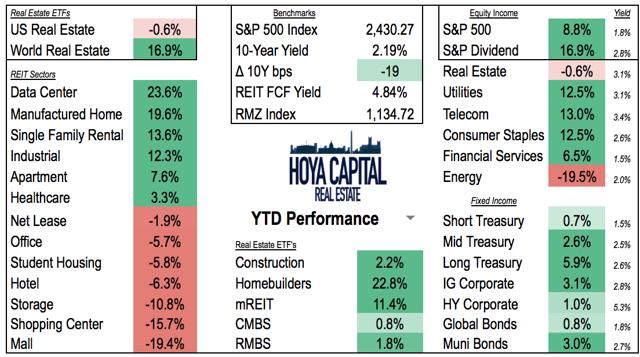 Real Estate Second Quarter Recap
This week, we published our Real Estate Second Quarter Recap. We discussed that, across the sector, real estate equities delivered a relatively strong 2Q17. Per FactSet, the real estate sector reported 4.2% revenue growth, beating estimates of 3.8%.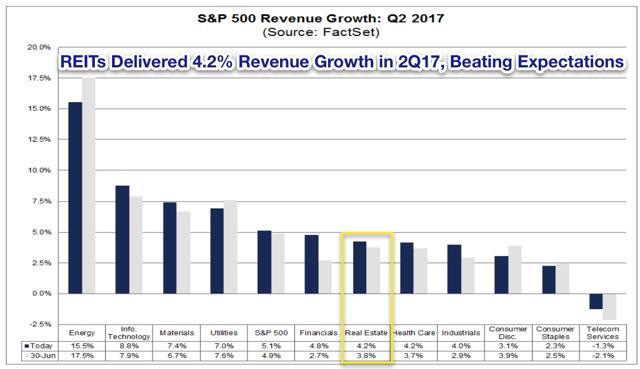 According to NAREIT's T-Tracker, same-store NOI growth was 3.3% across the sector, led by 6.8% growth in Single Family Rental REITs and 5.8% growth in Data Center REITs. Same-store NOI growth has averaged roughly 4% since 2012 and remains at the bottom end of the 3-5% post-recession range.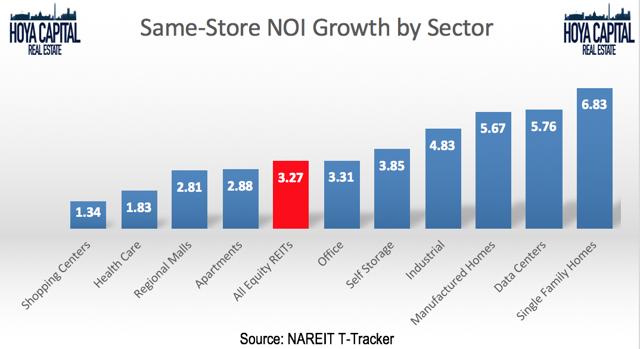 50% of REITs beat consensus estimates while 20% missed. 35% raised full-year guidance while 15% lowered guidance. This distribution is roughly in line with recent quarter averages. Shopping Center, Industrial, Apartments, Net Lease REITs and Data Centers were the winners of earnings season. Healthcare, Storage, and Student Housing were disappointing.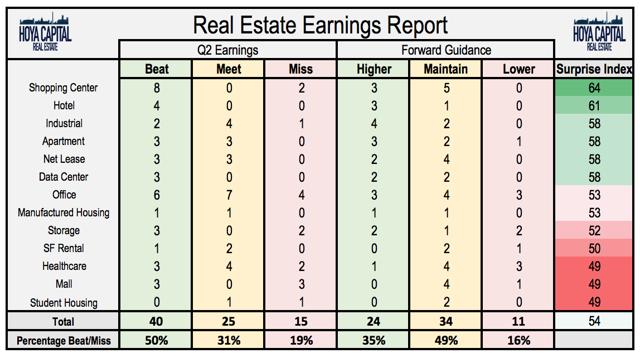 Industrial: (+6%) 2Q17 earnings generally exceeded expectations, but we note the bifurcating performance between the higher-quality and lower-quality REITs. Logistics-focused REITs concentrated near major metro markets continue to surpass lofty expectations.
Single Family Rental: (+5%) Just months after Blackstone's massive IPO of Invitation Homes (INVH) and two years after Starwood's (SFR) merger with Colony, the two mega-sized landlords plan to unite. The combined company will own 80k homes and be the second largest residential REIT by total units.
Net Lease: (+5%) Spirit Realty's (SRC) credit issues with Shopko were partially put to rest as the REIT announced plans to spin off its troubled assets. Overall, portfolios remain very healthy and have limited apparel exposure. Berkshire Hathaway's investment in STORE Capital (STOR) was a critical stamp of approval. National Retail (O) beat expectations.
Data Center: (+5%) Data Center REITs continue to be the standouts in the REIT space. 2Q17 earnings in the Data Center sector were stellar across the board. Digital Realty (DLR) announced an acquisition of fellow REIT DuPont Fabors (DFT).
Apartments: (+4%) While overall job growth is slowing, high-wage job growth has actually accelerated in recent quarters. We caution that this optimism may be short-lived as there is a heavy pipeline of projects that will be completed in 2H17 and through 2018. Demand remains the wild card.
Shopping Centers: (+3%) Shopping Center REITs were the standout performers of 2Q17. Nearly every REIT in the sector beat expectations, which were lowered heading into 2017. Defying the retail apocalypse narrative, these REITs reported strong demand and higher occupancy.
Manufactured Housing: (+2%) 2Q17 earnings were generally better than expected. Job growth has been strongest in the goods-producing sectors so far in 2017. Confidence and economic data for this segment of the labor market have improved dramatically since election day.
Student Housing: (0%) Student Housing REITs delivered a mixed 2Q17. American Campus (ACC) slightly missed earnings estimates while EDR (EDR) was in line. Development remains the modus operandi and growth engine, but recent operational missteps have hurt EDR.
Office: (-1%) West coast office REITs continue to outperform, but we are beginning to question how long this will last given the re-pricing we are seeing in the Venture Capital-backed tech companies like Snap (SNAP). Surely, private market valuations for the unicorns have dropped, but will hiring slow down in the hot west coast markets as a result?
Hotels: (-1%) The weak dollar and decent business demand have been tailwinds to a sector that continues to deal with oversupply. Coming off a record year of occupancy in 2016, performance metrics have slowed slightly, but remain healthy.
Self-Storage: (-2%) High levels of supply growth continue to weaken the rent growth forecast. 2Q17 earnings were generally weaker than expected. Same-store NOI has fallen nearly 400bps YoY to under 4%. Occupancy has dipped. Public Storage (PSA) discussed weak demand trends and "significantly" lower asking-rates.
Healthcare: (-2%) Broader trends of deteriorating fundamentals across the entire healthcare provider industry continued. Skilled-nursing REITs including Omega Healthcare (OHI) continue to struggle amid political uncertainty. While longer-term demographics remain highly favorable, supply growth continues to outpace demand for senior housing facilities.
Malls: (-4%) The bifurcation between top-tier and lower-tier mall REITs continued in 2Q17. High-quality mall REITs, especially GGP (GGP) and Simon (SPG) reported a strong quarter with improved traffic, higher tenant sales, and strong rental rate increases. Lower-quality malls continue to struggle and have been hit disproportionally hard by the wave of bankruptcies and downsizing in the clothing and apparel segments.
Real Estate Economic Data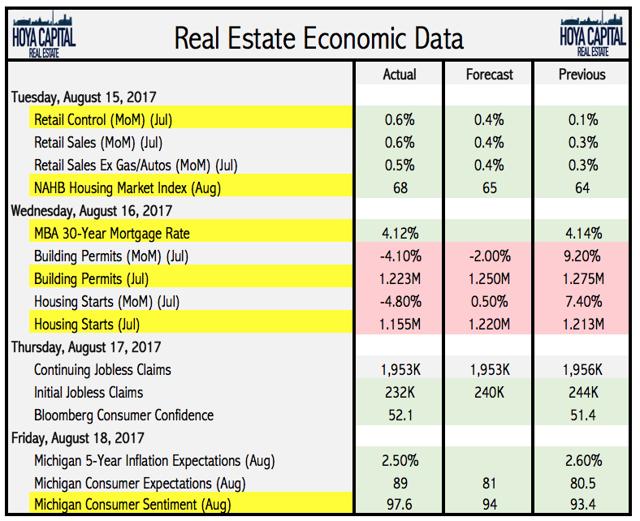 (Hoya Capital Real Estate, HousingWire)
Housing Construction: Plunging Multifamily Starts Drags Down July Data
July housing permitting and starts data was below expectations, continuing a trend of moderation after a strong start to 2017. Total housing starts are now down 6% from July 2016 and are up just 2% YTD. The decline this month was due to a 35% dip in multifamily starts compared with a year ago. Single family starts are still up 11% YoY and 9% YTD, a relatively strong pace. From July 1960 to 2017, total housing starts have averaged 1.43 million per year. Since the start of 2009, total housing starts have averaged just 870k per year. Keep in mind, though, that new supply growth between 2000 to 2006 was well above the long-term trend and oversupply in the housing market was a core cause of the financial crisis. The lack of new supply growth since 2008, though, has resulted in 'tight' housing conditions resulting in higher home prices and higher rental rates.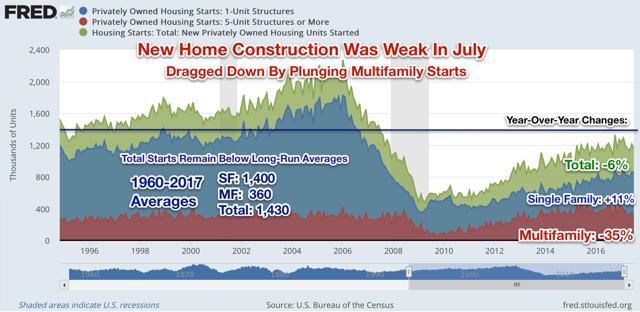 In Q2, total housing starts were higher by just 0.5%, one of the worst quarters of growth since 2012. Single family starts rose 9% while multifamily starts (which has driven the housing recovery in recent years) dipped 16% YoY in Q2.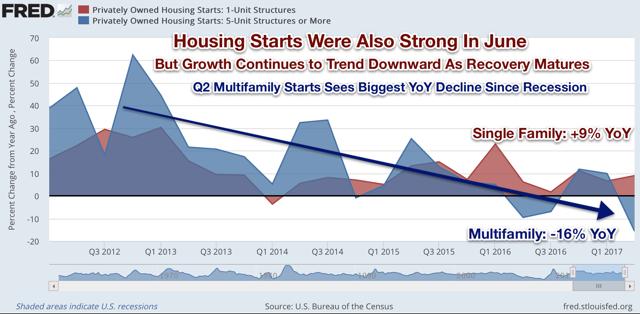 Elevated levels of supply growth in the multifamily sector has been a major topic of discussion over the past several years. 2017 was supposed to be the year that we saw a spike in new supply, but construction delays have pushed back many of the completions into the second half of 2017 and into 2018. In Q2, completions finally 'caught-up' with starts, as seen below. We expect completions to remain in the 350-400k/year range through 2018, which will continue to put downward pressure on rent growth, all else equal.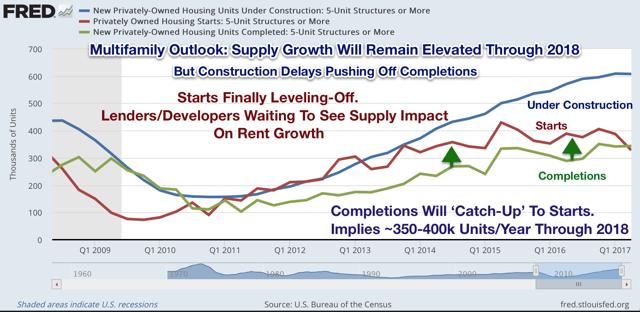 Retail Sales: Very Strong Across The Board
July Retail Sales were better than expected across the board and previous months were revised higher. Core retail sales are higher by 3.8% YoY. Core retail sales had seen positive growth for 10 of the last 11 months. Online sales (nonstore) growth, which had seen moderating growth in recent months, lead the charge this month, but 'brick and mortar' retail showed modest strength as well. We continue to point out that, while online sales growth continues to take incremental market share away from traditional retail, the sentiment appears to be far too negative given the data.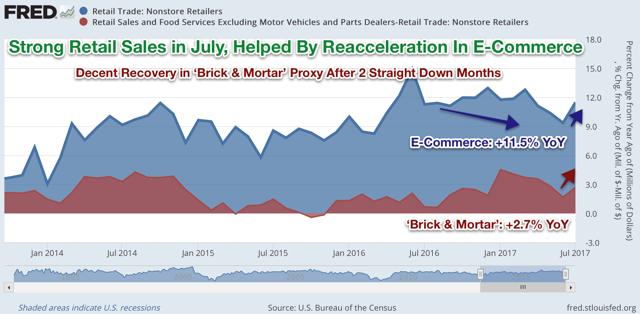 Diving deeper into the data, we note continued strength furniture and home improvement spending. Food and beverage sales were moderately strong, and we note renewed strength in the department store and miscellaneous store retail categories. Motor vehicle sales were surprisingly strong given the negative sentiment in the sector.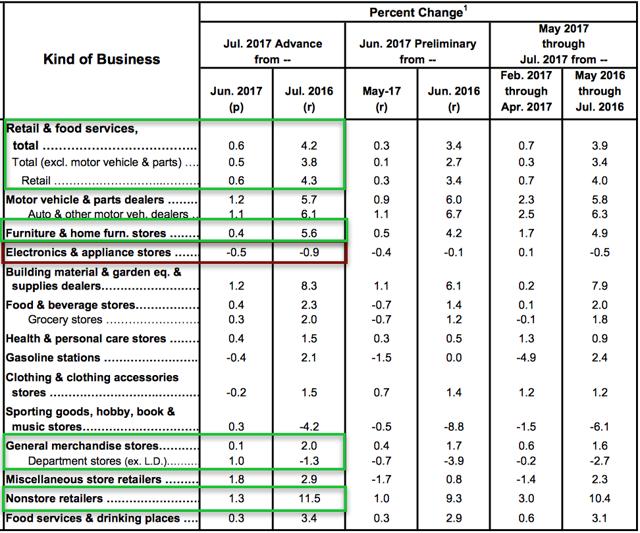 Clothing and apparel sales continue to be disappointing, and the persistent weakness in this category is driving the profoundly negative sentiment in the retail space. We continue to push back, noting that clothing and department stores are a small slice of the total retail pie, but many people disproportionally equate the health of the total 'retail' space with the health of the apparel retailers.
Mortgage Rates Hit Post-Election Lows, Consumer Confidence Near 15-Year Highs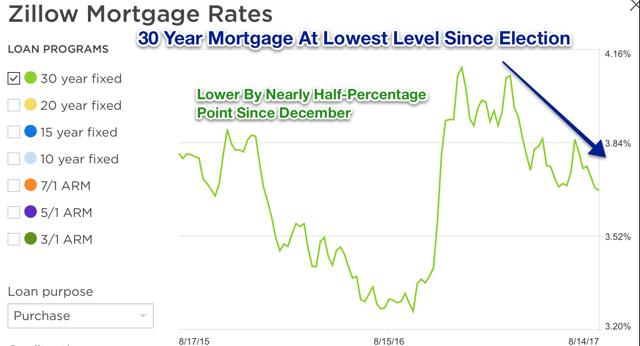 Consumer confidence is back near 15-year highs, exceeding expectations in July. Consumer sentiment hit 97.6 last month, which is within a point of multi-decade highs. We find this somewhat surprising given the profoundly negative sentiment coming from both the media and elected officials. Businesses, both large and small, continue to expand and hire more workers, fueling the positive economic momentum.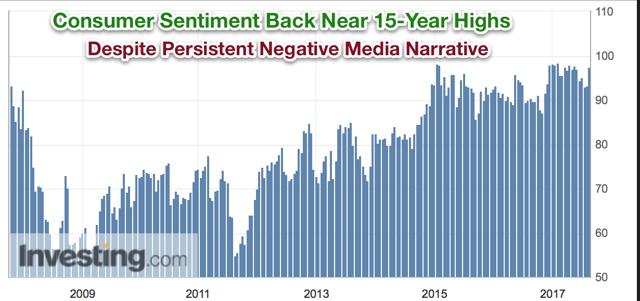 We continue to point out that the "wage growth is stagnant" narrative is simply wrong. The data actually shows that real wages have seen one of the best periods of growth in forty years. Real wages have increased 7.3% since 2014. Real wage growth is primarily a function of productivity growth and low inflation.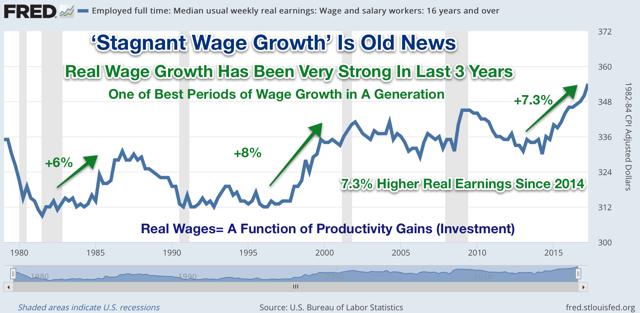 Bottom Line
REITs finished the week essentially unchanged, coming off two straight weeks of losses. The REIT ETFs remain slightly lower on the year, underperforming the broader equity market. Retail REITs underperformed after a number of retailers lowered guidance and announced store closures. While several retailers beat expectations, the sentiment in the space remains profoundly negative. Retail sales data for July, though, was stronger than expected across-the-board. We note continued strength in furniture and home improvement and renewed strength in department stores and general merchandise.
Housing construction data was weak in July as multifamily starts plummeted 35% YoY. We are finally seeing the long-awaited pullback in multifamily construction amid expectations of slowing rent growth. Mortgage rates are at their lowest level since the election, lower by nearly a half-percentage-point since November. Consumer confidence is near 15-year highs despite the media's "chaos narrative."
Next week, we will finish updating our REIT Rankings quarterly updates. So far, we have published updates on the following sectors: Single Family Rental, Industrial, Self-Storage, Malls, Data Center, Healthcare, Net Lease, Apartments, Student Housing, and Manufactured Housing.
Please add your comments if you have additional insight or opinions. We encourage readers to follow our Seeking Alpha page (click "Follow" at the top) to continue to stay up to date on our REIT rankings, weekly recaps, and analysis on the real estate and income sectors.
Disclosure: I am/we are long VNQ, SPY, MAA, CPT, CCP, OHI, PLD, GGP, TCO, PEI, STOR, SHO, SUI, ELS, ACC, EDR, DLR, COR, REG, CUBE, PSA, EXR, BXP.
I wrote this article myself, and it expresses my own opinions. I am not receiving compensation for it (other than from Seeking Alpha). I have no business relationship with any company whose stock is mentioned in this article.
Additional disclosure: All of our research is for educational purpose only, always provided free of charge exclusively on Seeking Alpha. Recommendations and commentary are purely theoretical and not intended as investment advice. Information presented is believed to be factual and up-to-date, but we do not guarantee its accuracy and it should not be regarded as a complete analysis of the subjects discussed. For investment advice, consult your financial advisor.