Weekly Review
The REIT ETF indexes (NYSEARCA:VNQ) and (NYSEARCA:IYR) finished the week higher by 1.5%, following a 0.8% decline last week. The S&P 500 (NYSEARCA:SPY) gained 0.34% and finished the week at another record closing high. Construction ETFs were mixed on the week after a flurry of housing data. The commercial construction ETF (NYSEARCA:PKB) fell 1.4% while the homebuilders ETF (NYSEARCA:XHB) rose 1.1%.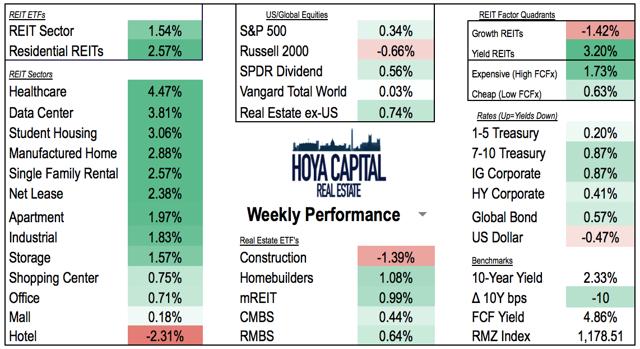 (Hoya Capital Real Estate, Performance as of 12pm Friday)
Across other areas of the real estate sector, mortgage REITs (NYSEARCA:REM) finished the week higher by 1% and the international real estate ETF (NASDAQ:VNQI) gained 0.7%. Through two weeks of 2017, REITs are higher by 1.1%, slightly underperforming the S&P 500. REITs ended 2016 with a total return of roughly 9%, lower than its 20-year average annual return of 12%.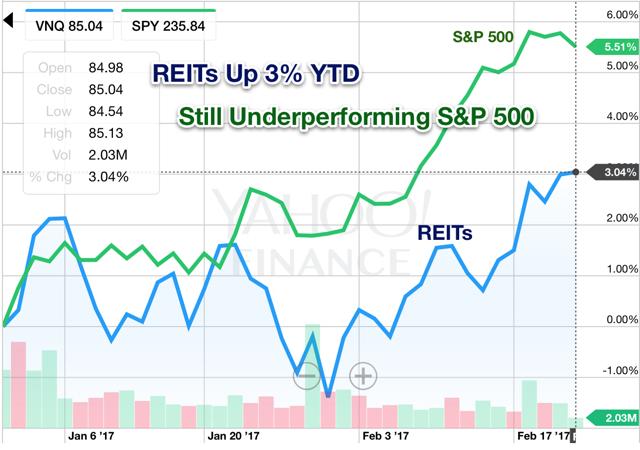 The 10-Year Treasury yield (NYSEARCA:IEF) declined 10 basis points on the week. 10-Year yields are roughly 30 basis points lower than the post-election weekly closing high of 2.6%. While most of the attention is on nominal yields, we pay more attention to real yields.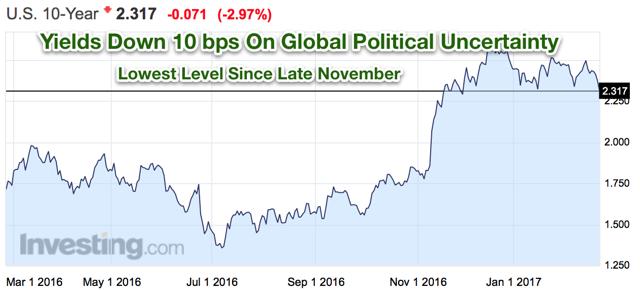 Since real estate has inflation hedging properties, we believe real estate investors should be more focused on the 'real' risk-free rate. Uncertainty over European elections, unclear indicators of inflationary pressure in the economic data, and skepticism about Trump's policies have decreased both real yields and inflation expectations in recent weeks. Real yields shot up after the election, but have declined back down to the post-recession average of about 0.5%.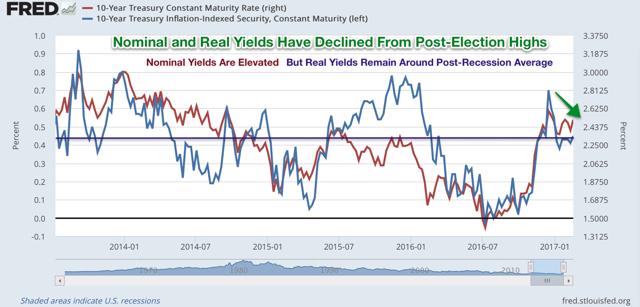 Economic Data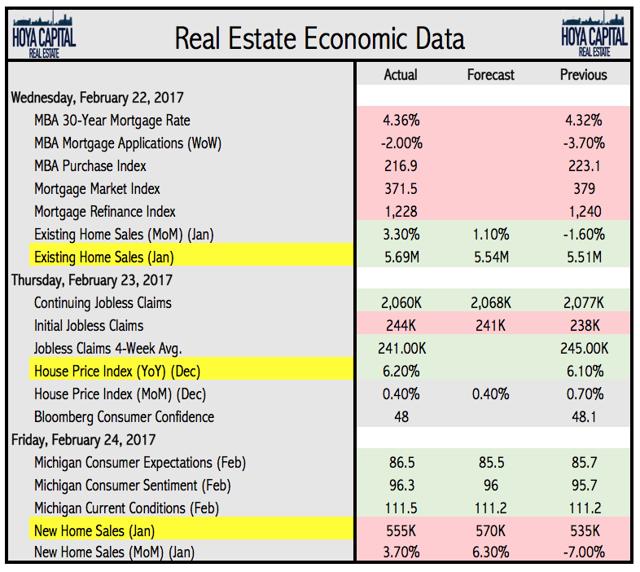 (Hoya Capital Real Estate, HousingWire)
Every week, we like to dive deeper into the economic data that directly impacts real estate. We encourage readers to check out "February Construction Report: Early Signs of A Trump Bump" where we discussed recent trends in construction and theorized that we may be seeing hints of a post-election private construction acceleration after a lull in the second half of 2016.
Existing Home Sales Beat Expectations, Inventory Remains Low
Existing home sales beat expectations in January despite the recent rise in mortgage rates. Sales of existing homes reached an annualized rate of 5.69 million, which was nearly 4% higher than January 2016. 2016 was the strongest year for existing home sales since 2006. This was a strong start to 2017 and came despite the post-election bump in mortgage rates.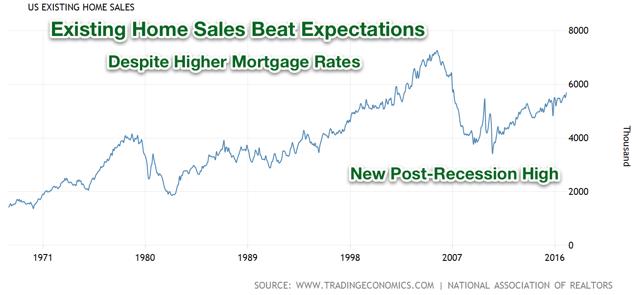 Inventory levels of existing homes continue to be very low due to the anemic growth in new single family construction and the institutionalization of the single family rental market, which has removed nearly 6 million existing homes from the traditional homeownership market.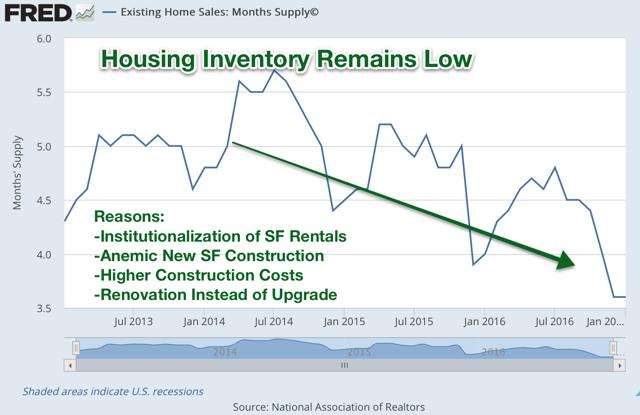 Low inventory levels have historically correlated with home price appreciation. Nordea Markets showed this very effectively in their chart below. As Nordea points out, the current level of inventory would typically imply a 10%+ annualized rise in home prices. As we explain below, we believe a 3-5% rise in home prices over the next several years seems more appropriate.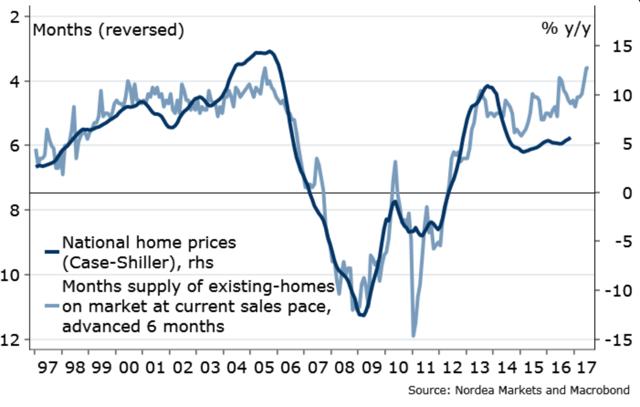 Home Prices Continue To Rise
The Federal Housing Finance Agency House Price Index showed a 6.2% rise in home prices in January, consistent with other major home price indices showing a steady 4-6% rise in home values since 2014.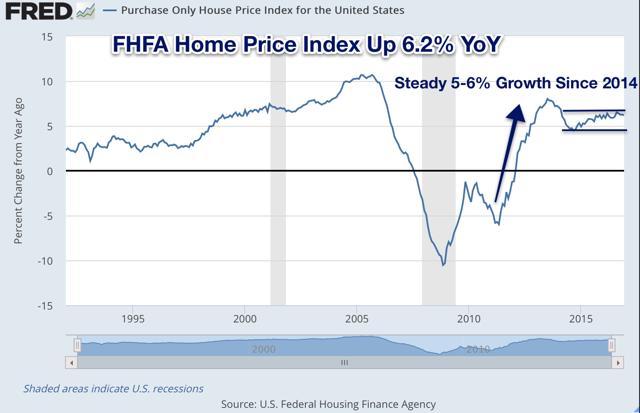 We believe that the uptick in residential construction (particularly in multifamily) that began in mid-2015 should gradually increase inventory levels and keep home price appreciation within the 3-5% range over the next several years. We also note that a slowdown in net migration into the United States as a result of stricter immigration policies may indeed have a noticeable impact on the housing market, resulting in incrementally less demand for housing.
New Home Sales Slightly Disappointing
New home sales were slightly weaker than expected in January, continuing a recent disappointing trend of moderation after a very strong start to 2016. 41,000 new homes were sold in January, which was the best January since 2008.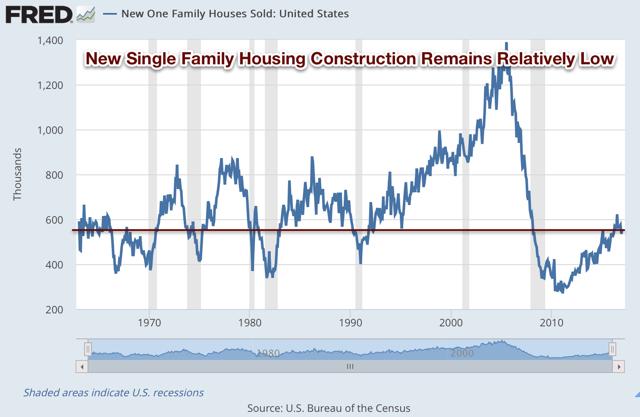 Looking only at single family new home sales, though, can be deceiving because a greater portion of new housing units are multifamily. As we continue to point out, multifamily construction activity has been rather robust in recent years and rent growth has stalled across many areas with high levels of new supply.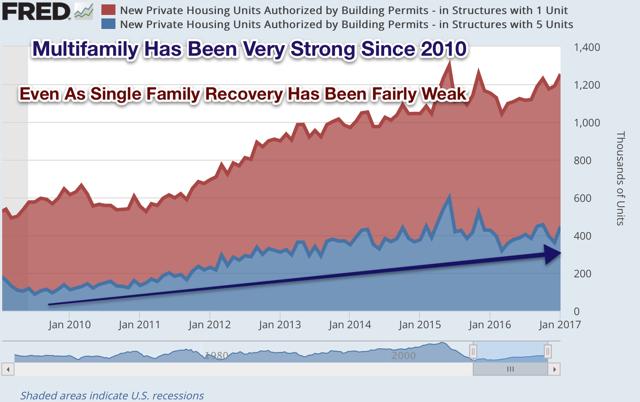 Overall, we believe we are not far from long-run sustainable levels where supply and demand are finally in-balance after several years of significant shortages. We expect both rent growth and home price appreciation to moderate over the next several years if residential construction activity continues along the current trend.
Mortgage Rates Lower, But Still Up 60bps From Summer Lows
30-Year Mortgage rates, which tend to track movements in medium and long term Treasury bonds, fell for the third of the past four weeks. The 30-year mortgage rate fell 8 basis points from last week, but remain about 60 basis points above the summer lows.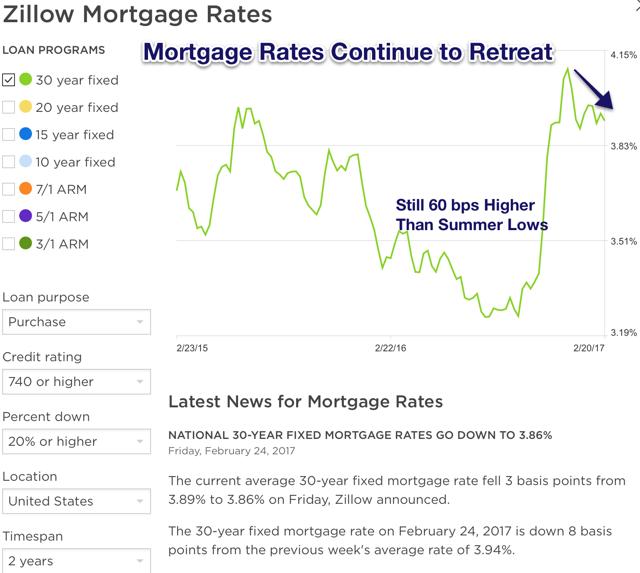 Sector Performance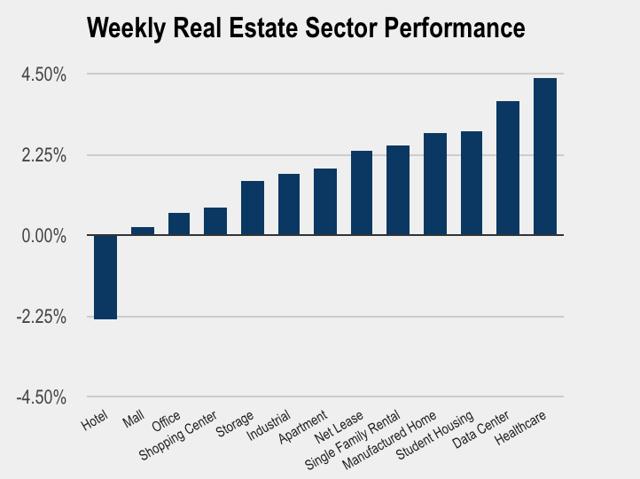 Healthcare, Data Center, and Student Housing REITs were the top performers on the week. The healthcare sector was lead by Welltower (NYSE:HCN), Healthcare Trust of America (NYSE:HTA), Omega (NYSE:OHI), HCP (NYSE:HCP) and Healthcare Realty (NYSE:HR). Data Centers were led by Digital Realty (NYSE:DLR), Coresite (NYSE:COR) and DuPont Fabros (NYSE:DFT).
Hotel REITs were the only sector in negative territory. Pebblebrook (NYSE:PEB) and RLJ Lodging Trust each lost 5% after despite continued strong earnings but weaker than expected guidance.
Mall REITs were largely unchanged on the week, but that hides the intra-sector divergence. As we outlined in our article"No, Malls Are Not Dying," high-end malls have been performing very well despite the overwhelmingly negative sentiment. Low-end malls including CBL Associates (NYSE:CBL), Pennsylvania REIT (NYSE:PEI), and Washington Prime Group (NYSE:WPG) were hit hard on the announcement that JCPenny (NYSE:JCP) would be closing up to 140 stores.
The Yield REIT sectors again outperformed for the fourth straight week after three straight weeks of underperformance. Net lease REITs Realty Income (NYSE:O), Store Capital (NYSE:STOR), VERREIT (NYSE:VER) and National Properties (NYSE:NNN) were all up between 2-3%.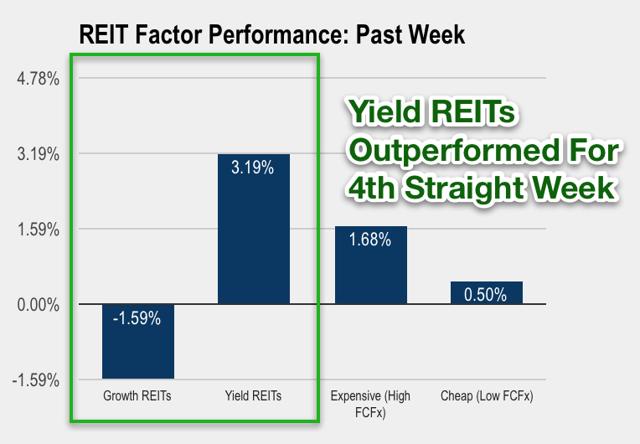 Bottom Line: Q4 Earnings Almost Done
Earnings season is mostly completed, and while Q4 was quite strong across the board, REITs are generally cautious heading into 2017. Over 40% of the REITs we track beat expectations in Q4 while just 10% missed. All else equal, we would say that this was very strong earnings season.
2017 guidance, though, has been weaker than expected. While only about half of REITs provided full-year 2017 guidance, this was one of the more cautious outlooks in recent years. Just 10% of REITs provided better-than-expected guidance while nearly 50% provided guidance below the street consensus. We suspect many REITs may be more conservative than usual amid the obviously high levels of political uncertainty.
As we noted, we will continue to monitor the potentially disruptive effects of a slowdown or reversal in net migration into the United States on the housing markets. While we do believe that the administration understands the importance of immigration and net population growth on overall economic growth, we are interested to see how the GOP leadership balances the politics of being both pro-growth and populist, which we recognize can be countervailing concepts.
As a base-case, we believe there will be a modest slowdown in net migration into the United States resulting from tougher immigration policies, but that the more extreme elements of the proposed immigration 'crackdown' and deportation will not be fully implemented. Some of the negative effects of tougher immigration policies may be offset by better economic growth, which would attract more higher-skilled economic migrants into the country. If we start to see the more extreme policies come to fruition, though, we will revise our outlook.
Please add your comments if you have additional insight or opinions. We encourage readers to follow our Seeking Alpha page (click "Follow" at the top) to continue to stay up to date on our REIT rankings, weekly recaps, and analysis on the REIT and broader real estate sector.
Disclaimer: All of our research is for educational purpose only, always provided free of charge exclusively on Seeking Alpha. Recommendations and commentary are purely theoretical and not intended as investment advice. Information presented is believed to be factual and up-to-date, but we do not guarantee its accuracy and it should not be regarded as a complete analysis of the subjects discussed. For investment advice, consult your financial advisor.
Disclosure: I am/we are long COR, CPT, DLR, MAA, OHI, PEI, STOR.
I wrote this article myself, and it expresses my own opinions. I am not receiving compensation for it (other than from Seeking Alpha). I have no business relationship with any company whose stock is mentioned in this article.