Real Estate Second-Quarter Recap
The real estate sector reported a relatively strong 2Q17, as fundamentals remained quite favorable despite a backdrop of rising development activity and new supply growth. The post-recession period has been particularly favorable for real estate owners. Demand growth has significantly outpaced supply growth as development activity has been stymied by tight credit conditions and burdensome financial regulations. While development activity has picked up in recent years and is currently at problematic levels in several particular sectors, as a whole, new supply growth remains moderate by historical standards.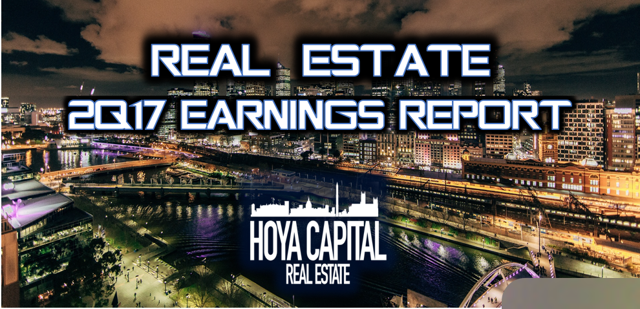 Per FactSet, the real estate sector reported 4.2% revenue growth, beating estimates of 3.8%. Of the 11 equity sectors, real estate delivered the sixth best revenue growth rate. The sector is expected to deliver 4.8% growth in full-year 2017 and 5.1% growth in 2018, per estimates.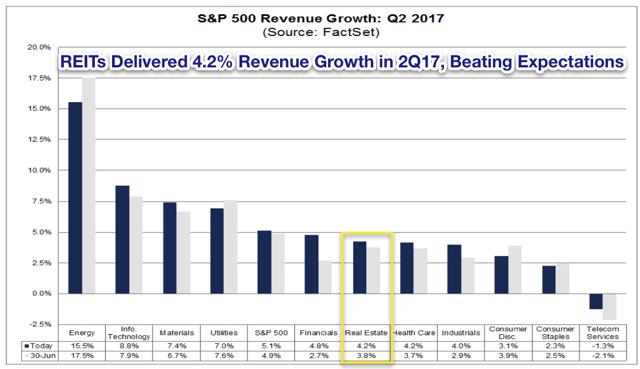 According to NAREIT's T-Tracker, same-store NOI growth was 3.3% across the sector, led by 6.8% growth in Single Family Rental REITs and 5.8% growth in Data Center REITs. The retail and healthcare sectors were the weakest SS-NOI performers.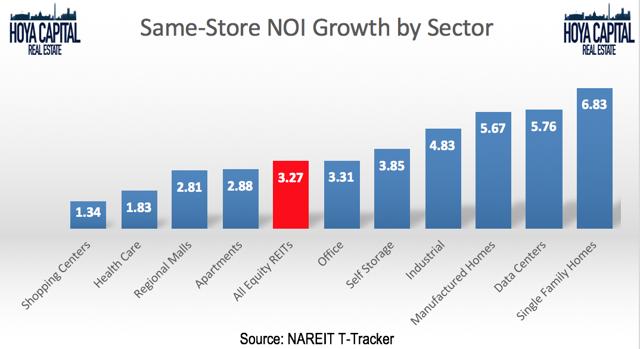 Same-store NOI is perhaps the best reflection of supply/demand fundamentals of real estate operators. Same-store NOI growth has averaged roughly 4% since 2012 and remains at the bottom end of the 3-5% post-recession range. Occupancy remains near peak levels across the real estate sector. This healthy level of SS-NOI reflects moderately strong pricing power for REITs relative to tenants.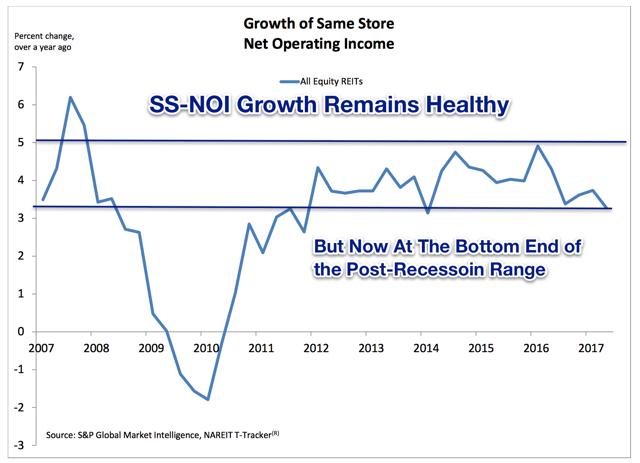 REIT Earnings Report Card
REIT earnings season concluded on a relatively strong note last week. 50% of REITs beat consensus estimates while 20% missed. 35% raised full-year guidance while 15% lowered guidance. This distribution is roughly in line with recent quarter averages. Shopping Center, Industrial, Apartments, Net Lease REITs and Data Centers were the winners of earnings season. Healthcare, Storage, and Student Housing were disappointing.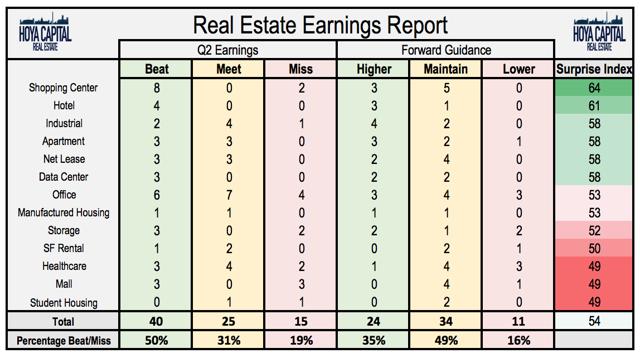 Per FactSet, 77% of REITs beat revenue expectations, the fourth highest percentage among equity sectors.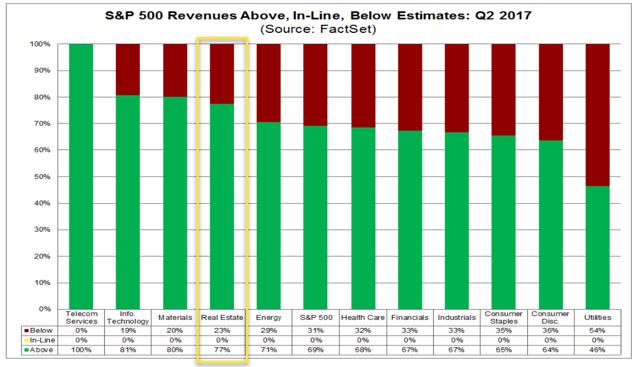 Over the past month, the REIT ETF (NYSEARCA:VNQ) is higher by 1%, slightly outperforming the S&P 500 (NYSEARCA:SPY). Below is our REIT Heat dashboard showing the performance of each sector since the start of earnings season.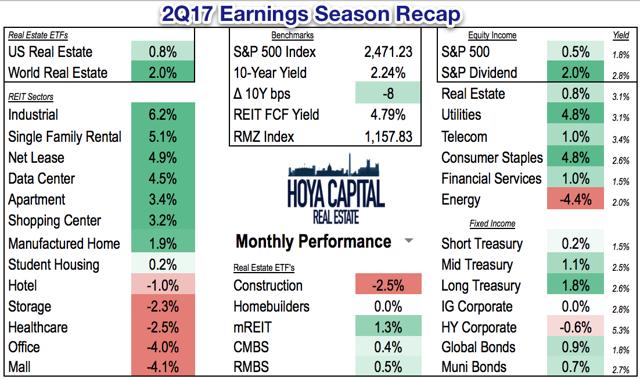 Winners of REIT Earnings Season
We continue to update our "REIT Rankings" quarterly updates for all 13 REIT sectors. Click the link on each sector to view our latest update and performance of individual REITs within the sector.
Industrial: (+6%) Industrial REITs have benefited from the growth in e-commerce over the past decade. E-commerce requires up to three times more warehouse space than traditional retail. 2Q17 earnings generally exceeded expectations, but we note the bifurcating performance between the higher-quality and lower-quality REITs. Logistics-focused REITs concentrated near major metro markets continue to surpass lofty expectations. Rent growth continues to be impressive, rising over 6% YoY and occupancy remains near peak levels above 96%. While demand growth is decelerating, supply growth has also tailed off in 2017. During earnings calls, executives expressed confidence that fundamentals should continue to be strong for the foreseeable future. Global economic trade has been highly impressive despite the populist headwinds.
Single Family Rental: (+5%) Just months after Blackstone's massive IPO of Invitation Homes (NYSE:INVH), and two years after Starwood's merger with Colony, the two mega-sized landlords plan to unite. The combined company will own 80k homes and be the second largest residential REIT by total units. We believe the move makes strategic sense: market density is essential for SFRs. Scale and focus in specific markets have allowed these REITs to keep capex and maintenance costs in check. Investors have applauded these REIT's focus on reaching a critical mass. 2Q17 earnings were generally in line with expectations. AMH met expectations while INVH and SFR slightly beat. Across the sector, cash NOI growth averaged 7% and occupancy rose moderately to 96%. Critics, though, have questioned the sustainability of the business model, particularly if home price appreciation outpaces potential rent growth. Single family homes have historically exhibited irrationally low "cap rates."
Net Lease: (+5%) 2Q17 performance was generally better than expectations. Occupancy improved across the sector. The acquisition market appears healthy and the "Big 3" net lease REITs continue to plow ahead with external growth. Spirit Realty's (NYSE:SRC) credit issues with Shopko were partially put to rest as the REIT announced plans to spin off its troubled assets. Overall, portfolios remain very healthy and have limited apparel exposure. Berkshire Hathaway's (NYSE:BRK.A) (NYSE:BRK.B) investment in STORE Capital (NYSE:STOR) was a critical stamp of approval.
Data Center: (+5%) Data Center REITs continue to be the standouts in the REIT space. 2Q17 earnings in the Data Center sector were stellar across the board. Despite high levels of construction activity in recent years, REIT executives report that supply/demand conditions appear balanced across most markets and supply constrained in several key markets. The shift towards public and hybrid cloud pressures Data Center REITs, though. For now, the hyperscale cloud providers have a symbiotic relationship with these Data Center REITs. Demand for connectivity greatly exceeds their ability to build capacity for themselves.
Apartments: (+4%) 2Q17 earnings and guidance were generally better than expected. While overall job growth is slowing, high-wage job growth has actually accelerated in recent quarters. We caution that this optimism may be short-lived as there is a heavy pipeline of projects that will be completed in 2H17 and through 2018. Demand remains the wild card.
Shopping Centers: (+3%) Shopping Center REITs were the standout performers of 2Q17. Nearly every REIT in the sector beat expectations, which were lowered heading into 2017. Defying the retail apocalypse narrative, these REITs reported strong demand and higher occupancy. Amazon's (NASDAQ:AMZN) purchase of Whole Foods (NASDAQ:WFM) is seen as a confirmation that even the most efficient e-commerce retailers need a brick-and-mortar presence. We continue to dispel many of the incorrect narrative-fueled inaccuracies about the brick-and-mortar retail space.
Manufactured Housing: (+2%) 2Q17 earnings were generally better than expected. Occupancy gains were impressive, as was year-over-year rent growth of 3.7%, outpacing the other residential REIT sectors. Same-unit NOI growth was solid at 5.5%. Job growth has been strongest in the goods-producing sectors so far in 2017. Confidence and economic data for this segment of the labor market have improved dramatically since election day.
Losers of REIT Earnings Season
Student Housing: (0%) Student Housing REITs delivered a mixed 2Q17. ACC slightly missed earnings estimates while EDR was in line. Both EDR and ACC remain roughly on pace for flat YoY occupancy and 3% rent growth. Development remains the modus operandi and growth engine, but recent operational missteps have hurt EDR.
Office: (-1%) West coast office REITs continue to outperform, but we are beginning to question how long this will last given the re-pricing we are seeing in the Venture Capital-backed tech companies like Snap (NYSE:SNAP), and Blue Apron (NYSE:APRN). Surely, private market valuations for the unicorns have dropped, but will hiring slow down in the hot west coast markets as a result?
Hotels: (-1%) From 2013 to 2015, the financial media wrote countless obituaries projecting the impending death of the hotel business at the hands of the sharing economy's newest darling: Airbnb (Private:AIRB). Entering 2016, the consensus opinion on hotel REITs was overwhelmingly negative on fears of oversupply, weakening demand, and this severe threat from Airbnb. Over the last 52 weeks, hotel REITs have outperformed the REIT index by 20%. Q1 2017 was the best year on record for the industry and Q2 was decently strong. The weak dollar and decent business demand have been tailwinds to a sector that continues to deal with oversupply. Coming off a record year of occupancy in 2016, performance metrics have slowed slightly, but remain healthy.
Self-Storage: (-2%) The once under-the-radar sector, the robust performance from 2013 to 2015 promoted a wave of institutional money coming into the space to build up the under-supplied self-storage market. High levels of supply growth continue to weaken the rent growth forecast. 2Q17 earnings were generally weaker than expected. Same-store NOI has fallen nearly 400bps YoY to under 4%. Occupancy has dipped. Public Storage discussed weak demand trends and "significantly" lower asking-rates.
Healthcare: (-2%) Healthcare REITs delivered results that were generally below expectations in 2Q17. Broader trends of deteriorating fundamentals across the entire healthcare provider industry continued. There's hope that GOP-led reforms may reverse this, a possible positive catalyst for Skilled Nursing. Meanwhile, private-pay healthcare REITs are facing a different set of challenges. While longer-term demographics remain highly favorable, supply growth continues to outpace demand for senior housing facilities.
Malls: (-4%) The bifurcation between top-tier and lower-tier mall REITs continued in 2Q17. High-quality mall REITs reported a strong quarter with improved traffic, higher tenant sales, and strong rental rate increases. Lower-quality malls continue to struggle and have been hit disproportionally hard by the wave of bankruptcies and downsizing in the clothing and apparel segments. Department stores continue to lag.
Bottom Line: Real Estate Cycle Heads to Extra Innings
Across the sector, REITs delivered a relatively strong 2Q17. 50% of REITs beat earnings estimates while 20% missed. Forward guidance was generally better than expected as well. While development activity has certainly increased over the last several years, supply growth still remains moderate by historical standards. The real estate cycle appears to be headed for extra innings.
Revenues grew 4.2% and total FFO grew 7.3% year over year. Same-store NOI rose by 3.3%, which is at the lower end of the 3-5% post-recession range. Occupancy remains near peak levels across the real estate sector and most REIT sectors still report moderate pricing power relative to tenants. Shopping Center, Industrial, Apartments, Net Lease REITs and Data Centers were the winners of earnings season. Healthcare, Storage, and Student Housing were disappointing.
Please add your comments if you have additional insight or opinions. We encourage readers to follow our Seeking Alpha page (click "Follow" at the top) to continue to stay up to date on our REIT rankings, weekly recaps, and analysis on the real estate and income sectors.
Disclosure: I am/we are long VNQ, SPY, MAA, CPT, CCP, OHI, PLD, GGP, TCO, PEI, STOR, SHO, SUI, ELS, ACC, EDR, DLR, COR, REG, CUBE, PSA, EXR, BXP.
I wrote this article myself, and it expresses my own opinions. I am not receiving compensation for it (other than from Seeking Alpha). I have no business relationship with any company whose stock is mentioned in this article.
Additional disclosure: All of our research is for educational purpose only, always provided free of charge exclusively on Seeking Alpha. Recommendations and commentary are purely theoretical and not intended as investment advice. Information presented is believed to be factual and up-to-date, but we do not guarantee its accuracy and it should not be regarded as a complete analysis of the subjects discussed. For investment advice, consult your financial advisor.