Introduction and performance
In my article about why you should have growth stocks in your portfolio, I wrote about the foundations of my growth stocks strategy, which are more qualitative than quantitative. That article was somewhat the theoretical corner stone for my series of potential multibaggers. In these articles I pick stocks that I believe have the potential to become multibaggers over the course of years.
In the first article that I dedicated to growth stocks that could go up a lot in the next years (Potential Multibaggers pt.1), I looked at Shopify (NYSE:SHOP). In the second part of this series, (Potential Multibaggers pt.2), I shone a light on Shopify's Chinese (non-identical) counterpart: Baozun (NASDAQ:BZUN). For the third installment of this series, we stayed in booming China with the social app company Momo Inc. (MOMO).
And while I don't intentionally shun the US market, I simply see bigger opportunities abroad at this point in the market, especially in China. The bull market has a lot of tremendous U.S. growth stocks valued richly, even for my taste. Normally I don't look that much at valuation for high growth stocks, since over the very long term price doesn't matter too much for growth stocks. It matters somewhat more for mature dividend stocks for me.
I was writing a potential multibagger article on XPO logistics (XPO) when the rumored interest of Home Depot (HD) came along. I will have to rewrite my article, since I don't think it will be a multibagger anymore, but will be bought out. So out my American choice in a new Chinese stock: Ctrip.com (NASDAQ:CTRP).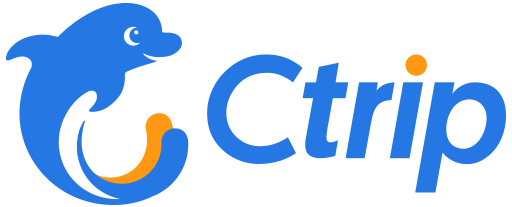 Results
But before I dive into Ctrip.com, first let's check the results of the previous stocks from this series of multibaggers so far:
The first pick, made on May 2 of last year, Shopify is up 33%, beating the S&P 500 (SPY) by almost 20%.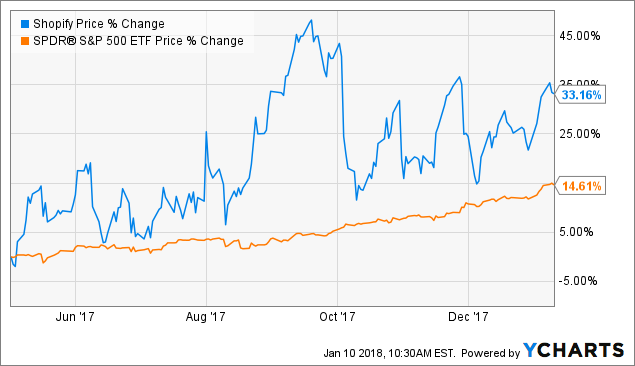 The second stock in our multibagger portfolio was Baozun. As you can see, Baozun has almost doubled, despite the big volatility along the way, beating the S&P by a whopping 85%.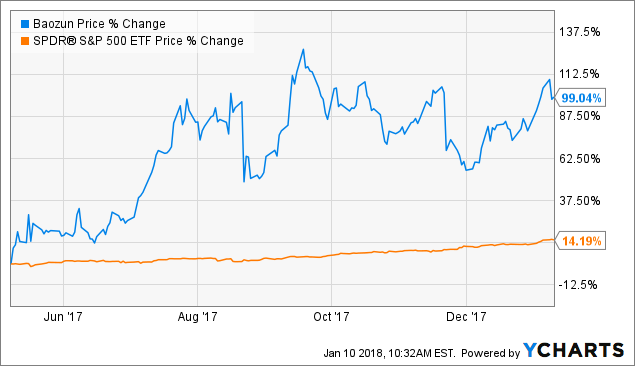 The third pick, Momo, has not lived up to expectations so far by dropping substantially and lagging the S&P by almost 55%. Ouch!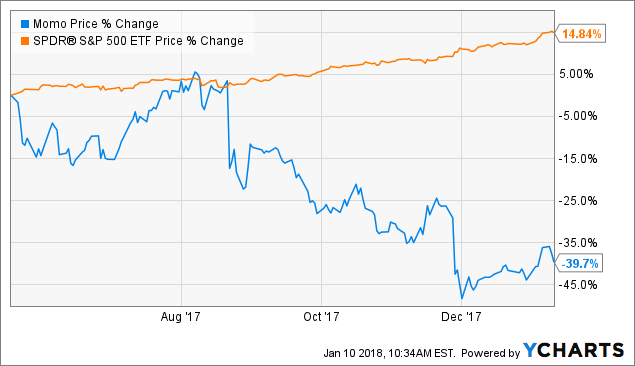 Just to assure my readers: I don't think that the outlook for any of the stocks has changed and there is no reason to sell any of the stocks as of now. I still have them in my portfolio as well. I have averaged up in Baozun and Shopify when big drops occurred along the way, and averaged down in Momo several times. I would still recommend all three for investors who have a long-term investing horizon of more than a decade.
If you would have invested in all three stocks, your portfolio would be up 30.7%, doubling the results of the S&P 500 over that period. And even this small selection of stocks shows what I have written in the article about why you should have growth stocks in your portfolio: It doesn't matter if you have big losers (like Momo here) because the winners are so much bigger than the losers that they make you outperform anyway.
The fourth potential multibagger: Ctrip.com
The fourth potential multibagger that I present is again a Chinese company trading on the Nasdaq: Ctrip.com. It made its IPO on the Nasdaq in September 2003, preceding most other Chinese stocks on the U.S. market.
The company provides travel-related services through its website: Hotel accommodations, airline tickets, packaged tours, business travel services, advertising etc. It is very similar to what Priceline (PCLN) does, but then with a focus on the Chinese market. Ctrip has almost 50% of the Chinese online travel market if you include its 45% stake in partner Qunar.
And that market is growing at a high rate, while a lot of opportunity is still possible, since the online travel market is still only in the low teens: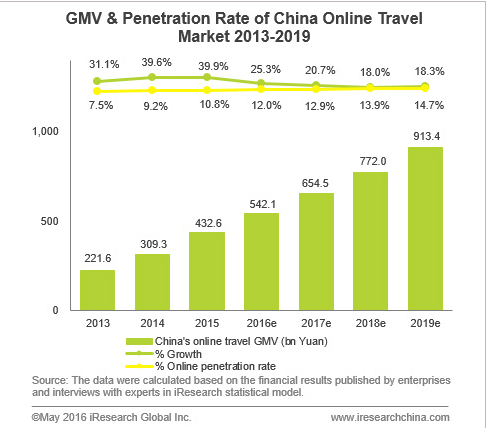 Priceline is very aware of this growth opportunity and has a big investment in Ctrip of more than 4% of the outstanding shares, which could go up to 9% if the convertible debt is added. The company was founded by Jian Zhang Liang, Min Fan, Nan Peng Shen and Qi Ji in June 1999 and is headquartered in Shanghai, China.
Investing in China
But before we go into more detail about the company and the stock, I want to talk about the macroeconomics of Chinese investments.
I have the impression that it is starting to turn somewhat, but a lot of investors are still afraid of Chinese stocks because of the possibility of fraud. I think that you throw out the baby with the bathwater then. I'm not so fond of the Chinese communist government (who is, besides the Chinese communist government itself?). But even though the commies would be probably very angry on the surface, they know too that China is becoming more and more capitalistic. Xi Jinping, the leader of China, reassured foreign investors once again that China's open door would not be closed, but opened even more for investments.
The official policy still is that investors from abroad cannot invest in Chinese stocks, for example, but there are more than 100 Chinese companies listing on the NYSE and Nasdaq now and that number is still growing. For individual investors, it is also the best place to invest in Chinese stocks, rather than in Hong Kong, where international investments are allowed as well.
There is an enormous potential in China, with its population of almost 1.4 billion people and its steadily high economic growth. Yes, there have been fraudulent affairs before, but that is the case anywhere in the world. Remember Enron, Bernard Madoff, Lehman Brothers, WorldCom and other American giant fraud cases? Does that mean that you shouldn't invest in American companies? Of course not! Now, I know that the accounting principles of the USA (GAAP) are better and stricter than the Chinese, but they are catching up. Especially the bigger companies that have ADRs or ADSs on the American stock exchange seem to have better accounting principles and seem as reliable as other companies to me.
Some stocks will have more natural risk than others, but risk often means reward. Whereas the US market still has some gems, I think that there is a lot more value to be found on other markets, which are growing like weeds now and in the decades to come. I know that a lot of investors start to shiver if they simply hear the words "China" and "investing" in the same sentence, but be rational: The country is expected to overtake the US in the near term as the economic superpower in the world. This is the GDP growth of China in the last 10 years compared to that of the US:
While the GDP growth of the US is nothing to sneeze at, that of China is substantially higher. This is the chart of the last 10 years.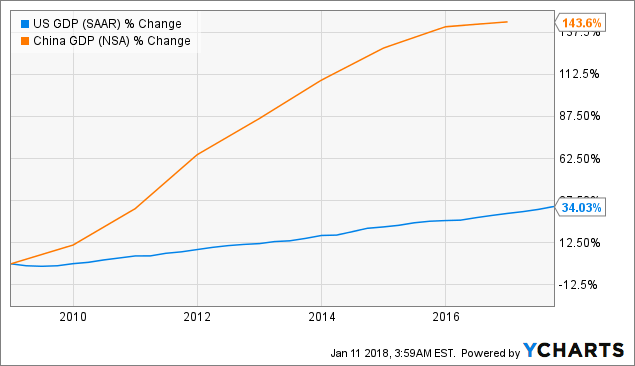 The next chart is somewhat speculative, since it looks forward more than 30 years, but still it shows the huge economic powers at work in the Chinese republic: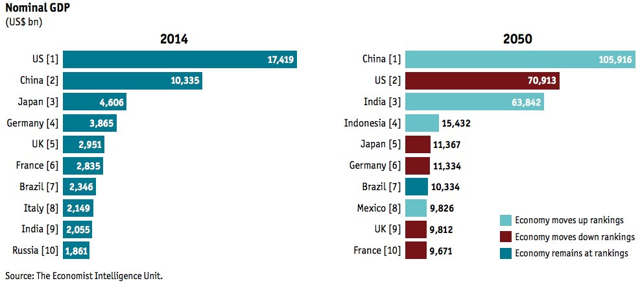 (Source: businessinsider.com)
It is expected that the Chinese GDP will overtake that of the US in 2025, only seven years from now. In 2050, the Chinese economy is expected to be 50% bigger than the second biggest economy, that of the US. That enormous growth creates opportunities for investors.
Ctrip.com, the company
I have already mentioned that Ctrip.com is similar to Priceline: It handles travel services. The first thing that I usually do after I have a grip on what a company does is look at key data. I'm not about all data, though. I have made a selection of what I think is interesting. I will compare each with Priceline's data to have some perspective. All data are taken of this wonderful source called Seeking Alpha, unless otherwise mentioned.
The first thing that I look at is the market cap, which is $24B. This is much smaller than the $91B of Priceline. I like smaller market caps. Not too small, because otherwise they are too risky, but not too big, so there is enough space for huge growth. For potential multibaggers I would like to see a 10 times growth factor as feasible over the next few decades. With China's huge market, a middle class growing considerably and the growing market share of online booking, this is not day dreaming for Ctrip's stock.
The second thing that I notice is that Ctrip's P/S ratio is less than that of Priceline: 6.46 vs. 7.46. Good!
The gross profit margin of both companies are identical at 81%, but the pretax margin of Priceline is, not uncommon for a more mature company, much higher than that of Ctrip: 35% vs. 10%. But that is of the year. In the Q3 2017 results, the margins were up considerably for Ctrip: 83% and 17%. Margin expansions are always a very good sign.
Ctrip's TTM P/E is much higher than that of Priceline, with 73 vs. 26, but the forward P/E ratios (taken from finviz.com) are closer to each other: 22.5 for Priceline vs. 37.5 for Ctrip. Still quite some difference, but it also shows that Ctrip grows a lot faster than Priceline. You also can see that in the revenue growth. Priceline's 17.6% revenue growth is very good for such a big company already, but is dwarfed by Ctrip's 44.1%. As for the EPS, the estimates are very promising too: For the next few years, Simplywall.st shows that the EPS are expected to go up by 50% or more: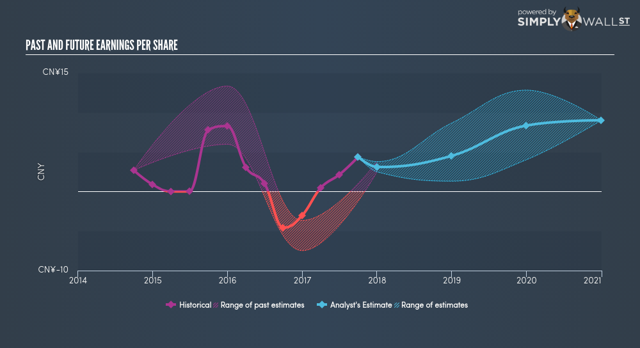 If you look at this chart, you might get scared because the company went EPS negative for some time. That was reflected in the share price as well: Over the last two years, the stock only went up by 3%.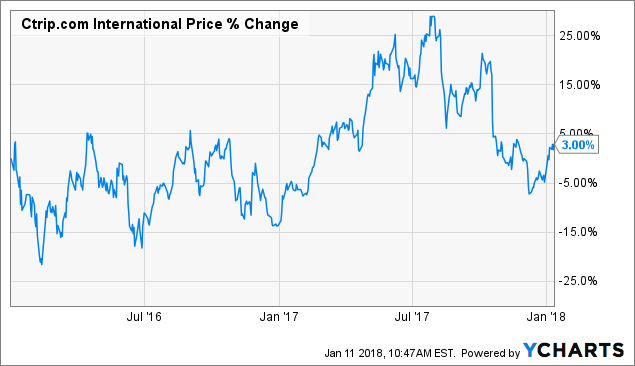 That doesn't look too good, but it is a great opportunity to invest in this high-growth company. The reason why the EPS were affected (and the stock price as well) was that the company has been investing heavily in its technology (implementation of AI and an easier and more straight-forward booking system, for example) and because it has bought the British company Skyscanner for $1.7B, and in November 2017 trip.com. And this international roll-out works just fine:
This quarter, the total tickets Ctrip sold through Skyscanner increased over 250% year-over-year. Skyscanner's direct booking platform has rolled out smoothly and continues to see more adoption by travel partners. The total number of transactions made through direct booking grew almost three-folds from May to September this year.
(Source: Q3 2017 results)
And the impact of the investments is not over yet:
Meanwhile, we heavily treasure feedback from our users and keep refining our offerings as being the most convenient and efficient travel booking platform. In the short term, the change in booking process will be a headwind for our air ticketing revenue growth. The impact was reflected in our Q4 guidance.

Transportation revenue year-on-year growth is expected to decrease from 41% in the third quarter to 25% to 30% in the fourth quarter. And we expect the negative impact on air ticket revenue will gradually decrease in the following quarters.
So, for those who don't have huge lump sums to invest (count me in): there will probably enough opportunity to scoop up shares at about this level for the coming six months or so. I will come back to the investing of Ctrip in my process of checking the qualitative features of Ctrip as a potential multibagger.
1. The company must have a good story
Now this may seem petty, but companies that have ideas that they can articulate and make investors enthusiastic about will probably have the same conviction in trying to win their customers. For Shopify, I summarized it as "it will make your business online sales boom." For Baozun, you could say the same thing. For Momo, there's also a compelling tagline: "Momo is a combination of Snapchat and Tinder," a remark made by Momo's chairman and CEO Tang Yan.
For Ctrip, I think the story is summarized in one short sentence by the company itself on the homepage of its (English) website:

2. A visionary CEO
One of the most valuable aspects of growth stocks is having a visionary CEO, a great leader that has exceptional qualities as to where the company is heading.
In most cases Chinese CEOs are harder to judge for me than European or American CEOs because mostly there is less material in English. But Jane Jie Sun, Ctrip's CEO, is an exception to that rule. She has given quite a lot of interviews in English. That is not that strange, since she has studied both in China and the US and has worked in the US for KPMG as an audit manager in Silicon Valley. She also was on the payroll of Applied Materials (AMAT) from 1997 to 2016. She was CFO there from 2005 to 2012, COO from 2012 to 2016 and co-President of Applied Materials in 2015-2016. Quite an impressive track record.
Maybe this might sound strange to some, but I like to look a CEO into the eye before I buy a stock. If I see how CEOs communicate to the press, I often get a better idea of how they are as a leader of the company I may invest in. For Jane Sun, there are interviews in English out there, but I especially liked a short interview, in which she was interviewed by CGTN's Karina Huber.
I enjoy this beautiful and true thing she says about her leadership at Ctrip:
My leadership skill is quite different from some other leaders. I think a true leader really needs to empower his team, make sure that everyone feels like they are the leader in the team. If I can identify their strength and put them in a position that will expand their strength, they become very confident leaders. I feel I'm leading it by empowering them.
Another great move is that more than 50% of the company's employees are women, and about one third of its VPs. I think that is a good strategy for any company, but especially in the Chinese market, since in the last decade women have slightly overtaken men in college education. But a staggering 75% of women stated in a 2010 survey they were not hired or promoted due to gender discrimination. By empowering women, I think Ctrip will be able to attract top talents more easily.
Besides that, as an investor who wants to outperform, I like female CEOs. Not only because I like women in general, but mainly because they lead their companies better than men. Are you not convinced? Let's bring out the numbers.
Quantopian, a Boston traders platform, tracked the performance of the stocks of companies that had a female CEO from 2002 to 2014. 80 female CEOs were at the helm of a company during that period. The firm invested a hypothetical $100,000 when the female CEO started and sold when she stopped (if she did). The results were baffling: The stocks of the female CEOs outperformed the S&P by 248%. The probable reason is, according to the product manager of the firm, that women had to work harder to become CEO of such big companies and therefore were the cream of the crop. Do you see the resemblance with the situation of the Chinese women? So is Jane Sun visionary? You bet she is!
3. An innovating company
A growth stock must be innovating. If the company doesn't innovate, it doesn't have a growth stock. The Austrian-American economist Joseph Schumpeter, one of the most influential economists ever, coined the term "creative destruction" in 1942. In "Capitalism, Socialism and Democracy," he defined it as the:
Process of industrial mutation that incessantly revolutionizes the economic structure from within, incessantly destroying the old one, incessantly creating a new one.
In a 2013 Goldman Sachs survey the strong correlation between R&D and sales growth and stock price performance was shown: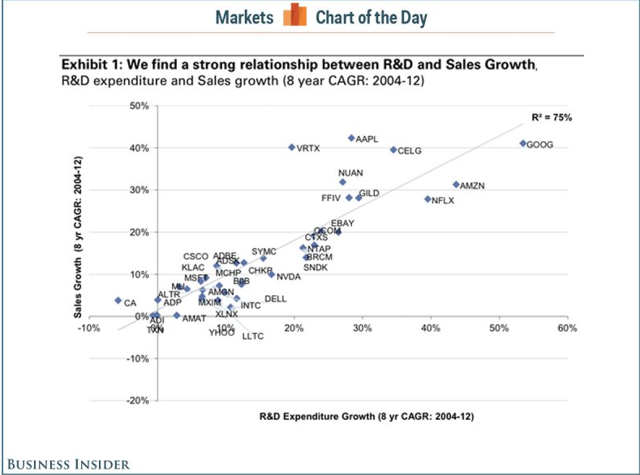 (Source: businessinsider.com)
Therefore, I like companies that have a lot of R&D. Of course, this also depends on the sector, but still. This is the R&D spending of Ctrip for 2014, 2015 and 2016:

Talking about staggering growth in R&D: +205%. This bodes well for Ctrip's future: It invests so much in R&D that is almost enough to bring Schumpeter back to life.
4. A long-term vision
Whether I pick DGI stocks or growth stocks, I don't change my strategy: I buy stocks for the long road. Mostly I'm a buy-and-hold guy. In my bio here on SA, there is the sentence that I think qualifies me very well: I don't think in years but rather in decades.
As a consequence, I pick stocks of companies that have a vision for the future and that I believe will thrive over the next decade (in as far as that is foreseeable, of course). Ctrip is such a stock. I think the company has a lot of tail winds: healthy economic growth in China, international expansion of Chinese companies, a growing online booking market and a growing Chinese middle class are secular trends that are only in their starting phase and will go on for a long time.
Besides that, Ctrip also has bought itself into another growing economic power: India. It bought a 26% stake in the Indian leader in online travel agencies: MakeMyTrip. Ctrip's technology and experience will certainly help MakeMyTrip consolidate and broaden its leadership in the Indian market. With a director on the board and such a big stake, Ctrip will automatically do well too if MakeMyTrip grows.
5. At least double-digit growth over the next five years
This criteria is not so important, since it is not qualitative, but quantitative. There are no estimates of the growth of Ctrip beyond 2020, but this is its operating cash flow estimate for the next years: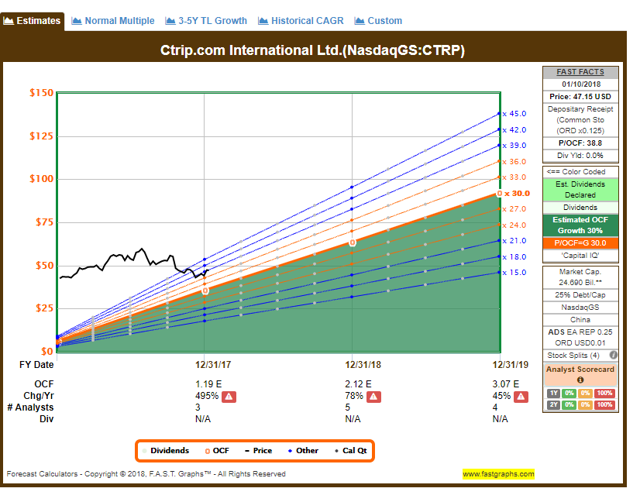 (Source: fastgraphs.com)
I take the operating cash flow because that shows best (for a high growth stock) the increase in cash that a company generates, without subtracting the investments in growth. While we cannot see beyond 2020 in this paragraph, the growth rates for 2017, 2018 and 2019 are really impressive: 495%, 78% and 45%. Because of the high R&D investments, there will be no problem to keep double-digit growth in OCF for years and years to come.
6. The three Os
This is the last point on the checklist for potential multibaggers. They should have as much as possible of what I call the three Os: overachieving, owning, and overdelivering.
Overachieving
Overachieving is trying to do better than other people expect you to. I think that Ctrip has that possibility. Besides Priceline's 9% stake, Ctrip is also 20% owned by Baidu (BIDU), the Google (GOOG) (GOOGL) of China. This is important, since Ctrip wants to include the ABC, as Jane Sun puts it in Forbes:
We have 7,000-8,000 engineers. Technology is very critical to make sure we can give the best user experience for our customers. I call it ABC: "A" stands for artificial intelligence, "B" is big data, and "C" is cloud computing.
And the company really walks the talk, also internally. From Wikipedia:
Ctrip is recognized as a proponent of scientific management in using rigorous data analysis in managerial decision making. One example of this is the randomized control trial Ctrip ran on telecommuting. Given the uncertainty over the impact of telecommuting on company profits they decided to rigorously evaluate its impact before making any management decisions. Ctrip conducted an experiment on 242 employees, sponsored by professors at Stanford University and Peking University. The experiment found that employees randomly assigned to work at home for nine months increased their output by 13.5% vs. the office-based control group, and their turnover rates fell by almost 50%. Adding in the savings from cutting office space telecommuting was found to have substantially reduced costs, leading Ctrip to roll this practice out across the firm.
Owning
I like a management that has got skin in the game. If the stock does well, the managers will do well financially too. Their interests and that of the stockholder are the same. On the other hand, if CEOs are great at their job, but they are not such a big holder of their own company's stock, it doesn't really mean anything. If they are not the founder of the company, then it is hard to own a substantial part of it. Ownership is a bonus.
Ctrip has that bonus. This is who owns the company, again from Simplywall.st:

According to Yahoo Finance, insiders hold 5.54% of the shares. So the interests of the insiders and the stock holders are aligned.
Overdelivering
When you look at the growth rate of the company, well, I surely would say that this is over-delivering already. Here is a statistic of Ctrip vs. the S&P 500 since its IPO: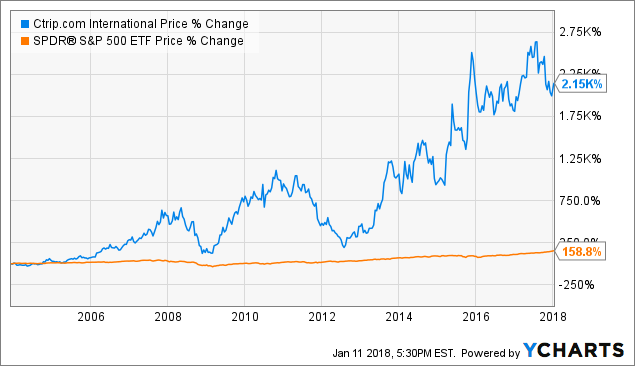 As you can see, there have been big drops in the share price over the years, typical for high growth stocks that become multibaggers. But if you have applied a buy-and-hold strategy (which you always should in my opinion) over the long run, Ctrip has outperformed by 2,000%. That is over-delivering of the best kind.
Another domain on which Ctrip is a big fat over-deliverer is the earnings beatings. This is an overview of Ctrip's performance versus the estimate consensus: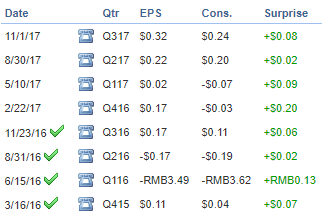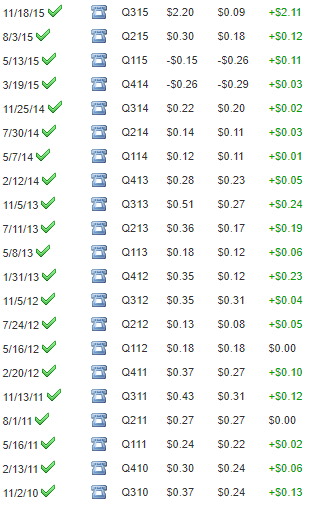 (Source: streetinsider.com)
As you can see, Ctrip has a superior batting average. 29 quarters, two met, 27 over-delivered. That is a company that I'm confident about that they will keep outperforming the market and will become a multibagger over time.
Conclusion
I think Ctrip is another great Chinese company. With such huge growth expectations in a huge market, in which the company could grow extensively over the next years and decades, this is a stock that may be a multibagger over the next years. Therefore, I have opened a position in this stock. I will add and keep adding to my position if they keep delivering.
This was the fourth part of my series of potential multibaggers. With these high growth companies, you should always be prepared for volatility, as Momo's and Baozun's (and Shopify's to a less extent) stock prices have demonstrated multiple times now. But as long as you keep your eyes on the road, mostly they are greatly rewarding, just as Baozun is now. It is also better to take several of these potential multibaggers in your portfolio to spread the risk. But one thing: Don't sell them for any petty reason as a price drop or some speculative assumptions. Probably you will have to buy them back later at a much higher price.
In the next articles in this series, I will highlight some other growth stocks that could be potential multibaggers.
If you don't want to miss those articles, please feel free to hit the follow button.
In the meantime, keep growing!
Disclosure: I am/we are long SHOP, BZUN, MOMO, CTRP, GOOG, AMAT, XPO.
I wrote this article myself, and it expresses my own opinions. I am not receiving compensation for it (other than from Seeking Alpha). I have no business relationship with any company whose stock is mentioned in this article.