Lite-On Tech R&D center in China operational
Siu Han, Taipei; Adam Hwang, DIGITIMES [Thursday 31 August 2017]
EMS provider Lite-On Technology has unveiled an R&D center in Tianjin, China, established through cooperation with Automotive Engineering Research Institute under government-sponsored China Automotive Technology & Research Center (CATARC).
The R&D center is intended to combine Lite-On Technology's R&D talent and manufacturing capability with CATARC's industry resources and technologies for developing smart vehicle solutions, the company said.
Lite-On Technology has entered US- and Europe-based automakers' supply chains for electronic components including head-up displays, automatic control modules, around-view lenses, in-car entertainment devices, wireless charging devices, and LED lighting modules.
In response to clients' request, Lite-On Technology has begun working with China-based automakers for supply of components used in electric vehicles and hybrid electric vehicles.
CATARC is a provider of core technologies and technological partner for several China-based automakers.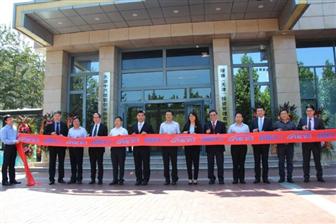 A ceremon marking the opening of Lite-On Tech's R&D center in China.
Photo: Company