REIT Rankings: Industrial
In our "REIT Rankings" series, we introduce and update readers to one of the thirteen REIT sectors. We rank REITs within the sectors based on both common and unique valuation metrics, presenting investors with numerous options that fit their own investing style and risk/return objectives. We update these rankings every quarter with new developments for existing readers.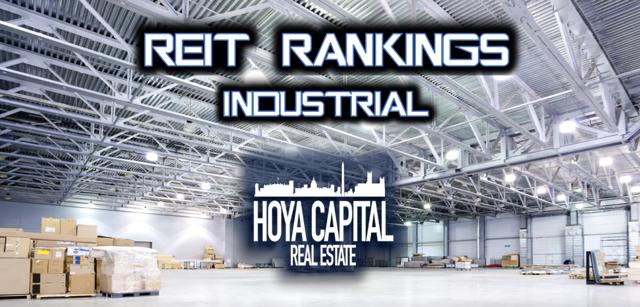 We encourage readers to follow our Seeking Alpha page (click "Follow" at the top) to continue to stay up to date on our REIT rankings, weekly recaps, and analysis on the REIT and broader real estate sector.
Industrial Sector Overview
Industrial REITs comprise roughly 10% of the REIT Indexes (VNQ and IYR). Within our market value-weighted Industrial index, we track eight of the largest industrial REITs within the sector, which account for $66 billion in market value: DCT Industrial (DCT), Duke Realty (DRE), EastGroup Properties (EGP), First Industrial (FR), Liberty Property Trust (LPT), Prologis (PLD), PS Business Parks (PSB), and STAG Industrial (STAG).

Above we show the size, geographical focus, and quality focus of the eight Industrial REITs we track. Quality is determined by the relative value of the underlying properties, which is largely a function of location near major e-commerce demand centers, notably in the coastal cities which have higher barriers to entry and stronger long-term demand trends.
Recent Developments and Quarterly Performance
Industrial REITs have outperformed the broader REIT average over every recent measurement period. The sector is higher by 6.4% over the past quarter and 12.5% YTD.

2Q17 earnings generally exceeded expectations, but we note the bifurcating performance between the higher-quality and lower-quality REITs. Logistics-focused REITs concentrated near major metro markets continue to surpass lofty expectations. The higher-quality REITs reported same-store cash NOI growth of 7.7% and occupancy of 97% compared to 0.2% and 94.8% in the low-quality segment.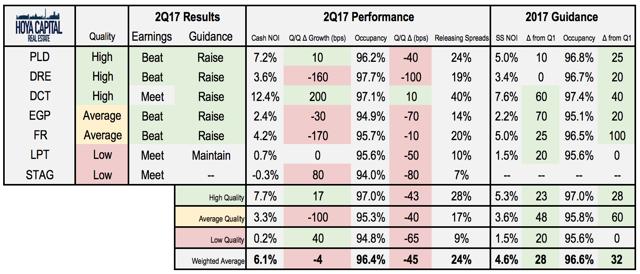 On conference calls and at the recent REITWeek conference, several key themes were being discussed. We focus specifically on the Prologis earnings call and their in-house Prologis Research, as we view PLD as the bellwether and leader of the industrial REIT sector. First and most importantly, demand remains strong for logistics assets near major metropolitan markets. Prologis expressed confidence that this robust demand is expected to continue.
From the PLD earnings call:
"Market conditions in the U.S. continue to be very strong. We remain vigilant in monitoring potential risks to development starts and oversupply. On the margin, we're now even more positive on fundamentals. Supply and demand will effectively offset one another and we expect to remain at historic low levels of vacancy. As we discussed at the outset of 2017, we expect that the rate of market rent growth to moderate as the rent cycle matures, and the difference in performance between the best coastal markets and the rest of the country to expand. We see increased activity from our customers and a greater willingness to pay up for quality spaces and locations."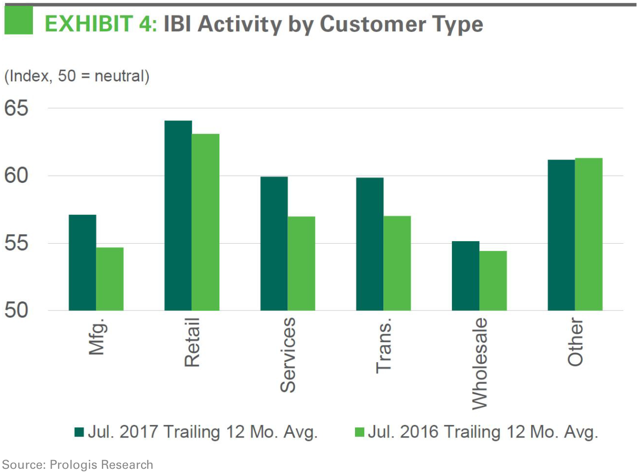 Second, Prologis discussed the reasons for the moderate levels of new supply growth over the past several years at a time when supply growth was widely expected to spike. Lack of desirable space for new development, high construction costs, a tighter financing environment, and longer permitting processes are keeping supply growth in check. Overall annual new supply as a percentage of existing stock is expected to remain under 2%, in line with the longer-term averages.
"The reality is that in the markets, particularly the coastal markets, it's becoming very, very difficult to get built in the space. And remember the buildings are getting bigger, much bigger in the cycle. These buildings require lot of land and transportation areas are getting bigger. So all of a sudden, it is very hard to find flat large sites in these large metro areas, and that's driving pricing power, because product that already exists there is becoming very scarce."
Putting the demand and supply fundamentals together, Prologis sees pricing power favoring REITs, particularly in their coastal markets.
"In the U.S., we have pricing power in lot of markets. In fact, we have pricing power in most. And most U.S. markets are in 6% vacancy range or lower, and that's where your pricing power is. But clearly, the global coastal markets, as mentioned in the preliminary remarks, are leading that."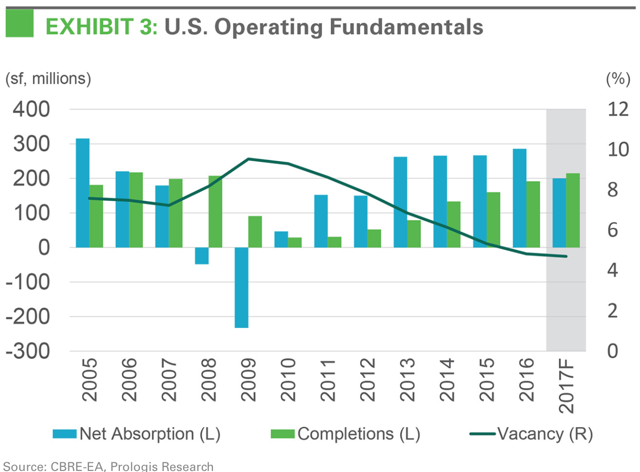 Finally, discussions over politics and trade policies took a backseat after being the focus several months ago. The populist wave that has swept the US and Europe presents risks to the continued growth in global trade, which, along with e-commerce, has been the fuel that has powered the continued strong performance of these companies. Prologis, whose stock got hit amid the European election turmoil, has outperformed as global growth has exceeded expectations despite the populist headwinds.
"In the last 15 years, this is a little secret of our business. Two thirds of our starts have been outside the U.S. and about 75% of our value creation has been outside the U.S. And I just am amazed that I get questions about why you're global, because we make a lot of money developing outside the U.S. There is no logistic supply chain much smaller than the U.S., so the opportunities and the run way is actually pretty big outside the United States."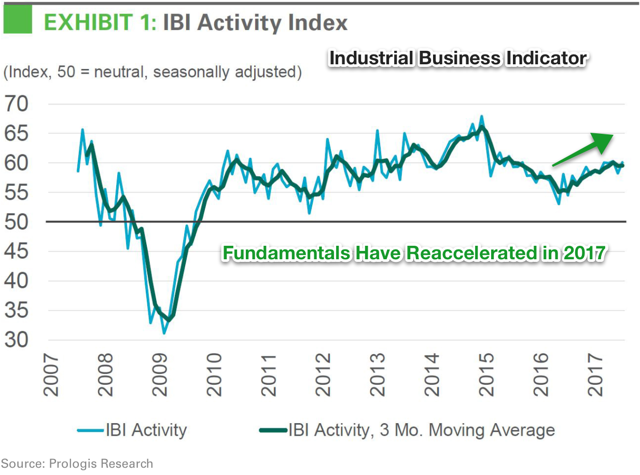 Below is our REIT Heat Map, showing the YTD performance in relation to other sectors. As we mentioned, industrial REITs have significantly underperformed the broader REIT index over the prior quarter and YTD. We also highlight the strength in the S&P 500 (SPY) and Russell 2000 (IWM).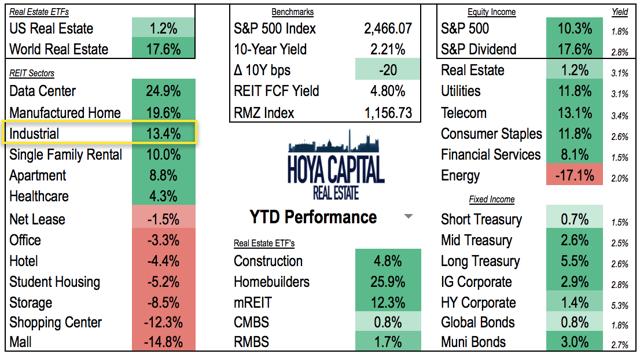 Long-Term Thesis and Supply/Demand Dynamics of Industrial REITs
Demand for industrial space has been substantial over the last five years, driven by the rapid growth of e-commerce. Besides Amazon (AMZN), industrial REITs are perhaps best positioned to capitalize on the growth of e-commerce. E-commerce sales still represent just a small fraction of total retail sales, but roughly half of the incremental growth in retail sales over the past three years have come from e-commerce.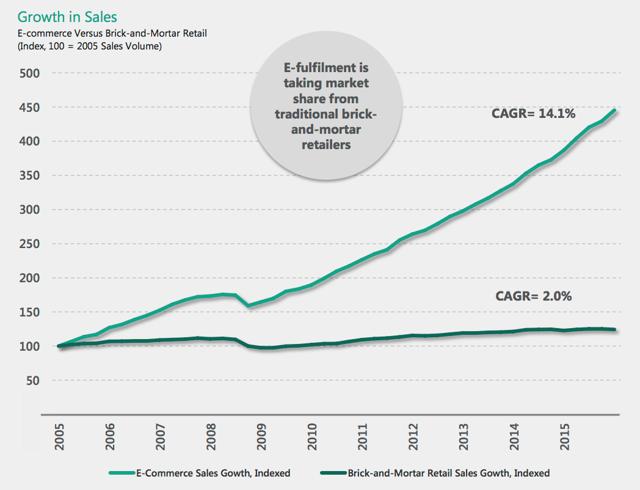 (Prologis Investor Presentation)
We continue to discuss in other articles how cost-efficient last-mile delivery continues to be a puzzle that few retailers have been able to decode. For most retailers, online sales have significantly lower margins than in-store purchases because of logistics-related costs. E-commerce sales require roughly three times the amount of logistics space as traditional store-based retail as the warehouse itself becomes the hub for inventory, shipping, packing, and returns. Retail consultancy AlixPartners breaks down the typical retail margins below.

Rental rates for logistics space have more than doubled in many of the most desirable e-commerce markets since the recession, surely making the economics of in-store versus online more favorable towards the brick-and-mortar channel. In our sector recap on the Mall sector, we discussed that we believe there is a significantly higher probability of the Marketplace Fairness Act, which would essentially force e-commerce companies to pay sales tax in all 50 states, eliminating a perceived loophole that disadvantages traditional retailers. Last year, we had predicted that we may see increased skepticism on tactics of Amazon which may be perceived as using predatory pricing by selling items for zero or negative margin and subsidizing these losses with profits from other business lines. In recent months, this came to friction when President Trump attacked Amazon in nearly a dozen tweets. We caution that if the economics of e-commerce become significantly more unfavorable relative to in-store, we may eventually see moderating demand for e-commerce space.
In regards to supply growth, construction spending on warehouse assets has increased substantially beginning in early 2014. Over 200 million square feet of space was delivered in 2016, the highest level since the early 2000s. New development, however, has moderated in recent quarters. As a percent of existing inventory, new annual supply growth remains near 2%. As discussed above, lack of desirable space for new development, high construction costs, a tighter financing environment, and longer permitting processes are keeping supply growth in check.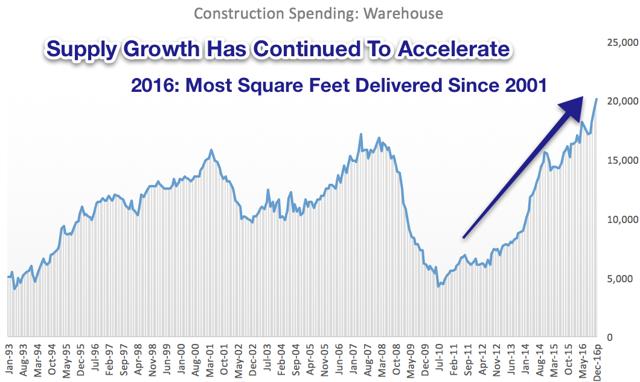 (Census Bureau: Warehouse: General Commercial)
The economic variables that industrial REITs respond to most favorably are growing GDP, consumer spending (particularly online) and global trade. As we will see shortly, industrial REITs are among the least sensitive sectors to rising or falling interest rates. E-commerce growth has settled into a rather predictable 15% year-over-year growth since the recession. Global GDP growth has accelerated in recent quarters, according to the IMF July 2017 update, providing a tailwind for Industrial REITs.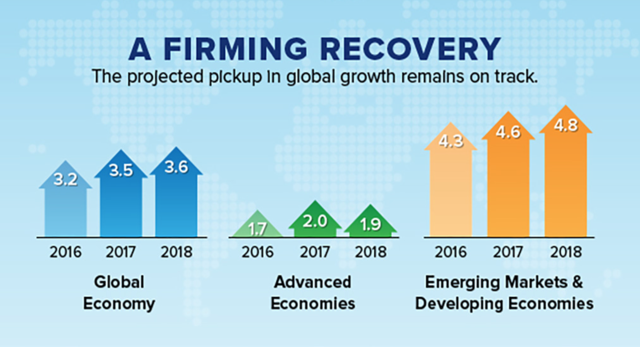 Valuation of Industrial REITs
Industrial REITs trade at significant premiums to the REIT averages. Industrial REITs are the second most expensive sector based on both current Free Cash Flows and forward 2017 FCF. When we factor in two-year growth expectations, the sector still appears expensive. Expected to grow FCF at 8% over the next two years, industrial REITs are among the fastest growing REIT sectors, slightly above the REIT average of 7%.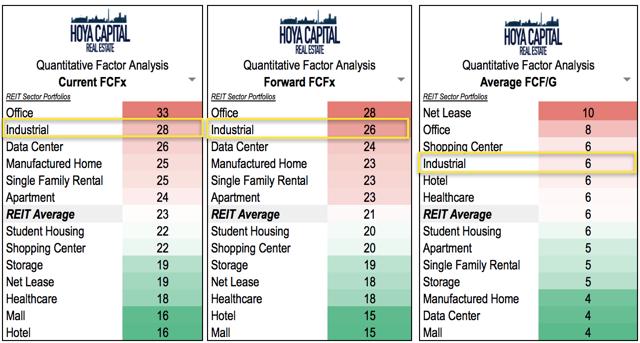 (Hoya Capital Real Estate estimates, Company Filings)
We caution that the Industrial REIT sector is currently trading at the most significant premium on record relative to the REIT average. We believe these REITs are priced for continued perfection and may underperform if fundamentals moderate.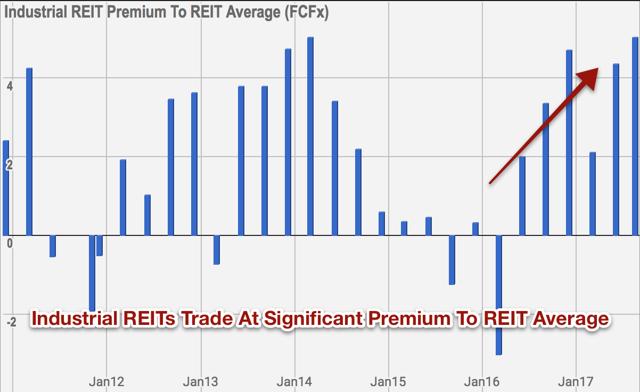 Within the sector, we can see how the high-quality e-commerce focused REITs (DCT, DRE and PLD) continue to trade at sizable premiums to the sector average.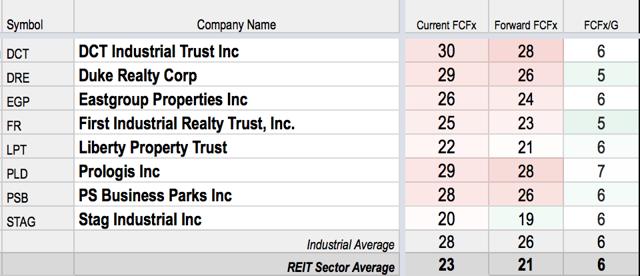 Sensitivities to Equities and Interest Rates
Industrial REITs are not highly sensitive to interest rates and respond more closely to movements in the equity markets. As a sector, industrial REITs fall under our "Growth REIT" category and should be used by investors seeking longer-term dividend growth rather than immediate income.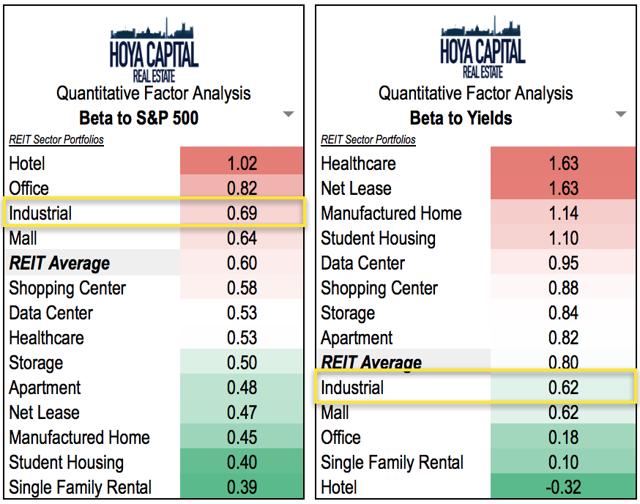 We separate REITs into three categories: Yield REITs, Growth REITs, and Hybrid REITs. (click to read more information about our methodology).
Within the sector, we note the variation in growth/yield characteristics. STAG is a Yield REIT and LPT is a Hybrid REIT, a function of these REITs is low/negative growth profile and high payout ratio. The remaining six are Growth REITs.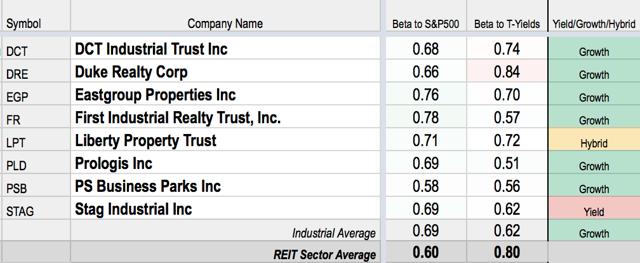 We note that Prologis owns a substantial international portfolio that accounts for almost one-third of its cash flow. We highlighted in a previous article, International REIT Investing, that investors can effectively hedge the interest rate sensitivity of their REIT portfolio by investing in international real estate. We see this effect quite clearly in the case of Prologis.
Dividend Yield and Payout Ratio
Based on dividend yield, industrial REITs rank towards the bottom, paying an average yield of 3.0%. Industrial REITs pay out roughly 83% of their available cash flow, slightly higher than the sector average.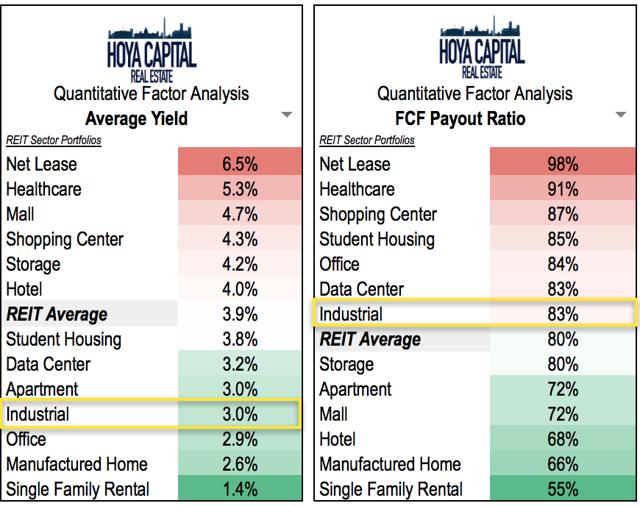 Within the sector, we note the varying strategies of the eight REITs. STAG and LPT command the highest dividend yields, but it's important to see how they do it. STAG pays out close to 100% of available cash flow, giving them less flexibility to deploy their capital towards development and leaving very little cushion to maintain the dividend if fundamentals weaken. Investors should expect more limited dividend growth potential from REITs that pay out excessive amounts of available cash flows. For investors seeking yield and dividend growth, we see PLD, DCT, DRE, and PLD as more attractive options.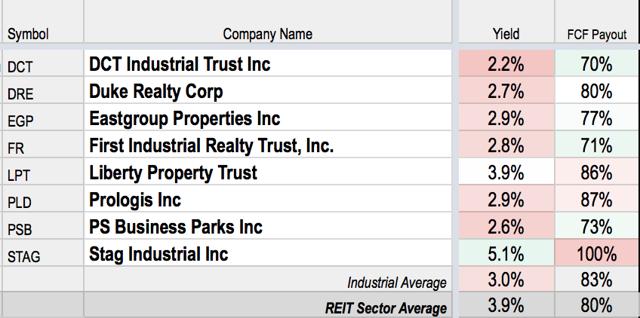 Bottom Line: Industrial REITs Priced for Perfection
Industrial REITs have been the prime beneficiary of the growth in e-commerce over the past decade. Demand for high-quality logistics warehouse space near high-density metro areas has been robust.
2Q17 earnings generally exceeded expectations, but we note the bifurcating performance between the higher-quality and lower-quality REITs. Logistics-focused REITs concentrated near major metro markets continue to surpass lofty expectations. Rent growth continues to be impressive, rising over 6% YoY and occupancy remains near peak levels above 96%. While demand growth is decelerating, supply growth has also tailed off in 2017.
During earnings calls, executives expressed confidence that fundamentals should continue to be strong for the foreseeable future. Global economic growth has been highly impressive despite the populist headwinds. Industrial REITs currently trade at the widest premium on-record compared to the REIT average. We believe these REITs are priced for continued perfection and may underperform if fundamentals moderate.
We remind readers that the retail economics of e-commerce remains unfavorable relative to in-store purchases. E-commerce requires as much as three times more logistics space relative to traditional retail. While we expect e-commerce to continue to grow at a steady rate, we push back on the narrative that it's only a matter of time before everything is purchased online. Brick-and-mortar remains appealing to shoppers and retailers, so we caution that the runway for rent growth and continued outperformance in logistics facilities is not endless.
Industrial REITs have several appealing properties that could make them good long-term additions to a portfolio. Their focus on e-commerce provides an excellent growth opportunity and a hedge against expectations of weakness in brick-and-mortar retail sales growth. Industrial REITs have relatively low sensitivities to interest rates, providing downside protection if rates should increase faster than economic growth. Finally, particularly with Prologis, industrial REITs add international exposure and are leveraged with growth in global trade, a characteristic shared by few other REIT sectors.
We aggregate our rankings into a single metric below, the Hoya Capital REIT Rank. We assume that the investor is seeking to maximize total return (rather than income yield) and has a medium to long-term time horizon. Valuation, growth, NAV discounts/premiums, leverage, and long-term operating performance are all considered within the ranking.

We currently view Liberty Property Trust as the most attractive REIT in the space, followed by Duke Realty and DCT Industrial Trust.
Please add your comments if you have additional insight or opinions. Again, we encourage readers to follow our Seeking Alpha page (click "Follow" at the top) to continue to stay up to date on our REIT rankings, weekly recaps, and analysis on the REIT and broader real estate sector.
Be sure to check out our other sector updates: Self-Storage, Malls, Data Center, Healthcare, Net Lease, Apartments, Student Housing, Manufactured Housing, Single Family Rentals, Shopping Center, Hotels, and Office.
Disclosure: I am/we are long VNQ, SPY, MAA, CPT, CCP, OHI, PLD, GGP, TCO, PEI, STOR, SHO, SUI, ELS, ACC, EDR, DLR, COR, REG, CUBE, PSA, EXR, BXP.
I wrote this article myself, and it expresses my own opinions. I am not receiving compensation for it (other than from Seeking Alpha). I have no business relationship with any company whose stock is mentioned in this article.
Additional disclosure: All of our research is for educational purpose only, always provided free of charge exclusively on Seeking Alpha. Recommendations and commentary are purely theoretical and not intended as investment advice. Information presented is believed to be factual and up-to-date, but we do not guarantee its accuracy and it should not be regarded as a complete analysis of the subjects discussed. For investment advice, consult your financial advisor.