Real Estate Weekly Review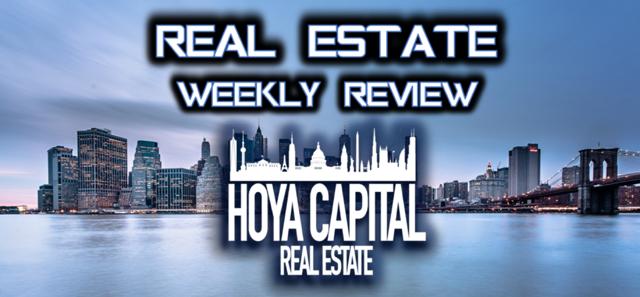 The REIT ETFs (VNQ and IYR) finished the week lower by 3.0%, one week after dipping 2.0% amid continued pressure from rising interest rates. Investors have shunned the yield-sensitive REIT sectors so far in 2017 as the "rates up, REITs down" trend has returned with a vengeance. While REITs are fundamentally uncorrelated with interest rates over the medium and long-term, REITs are often hit over the short-term by fears of rising rates as investors rotate into more growth-oriented sectors.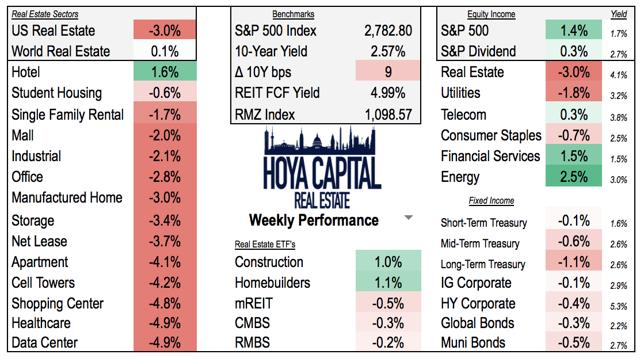 (Hoya Capital Real Estate, Performance as of 12pm Friday)
The 10-year yield approached the 2.60% level this week, reaching the highest levels since 2014. As we'll discuss shortly, this rise in interest rates is related to heightened inflation expectations. While Wall Street economists have been repeatedly wrong in each of the past eight years in their consensus call for rising interest rates, will this time be different?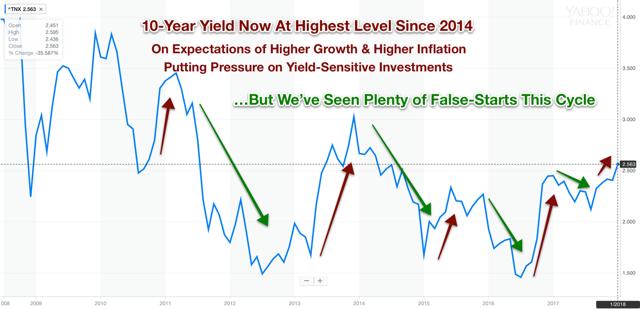 Homebuilders (XHB) climbed another 1% as KB Homes (KBH) and Lennar (LEN) reported positive earnings. Housing data has improved modestly into year-end after a very weak spring and summer. That said, we believe that the tax reform package will reduce the incentive for homeownership, particularly at the high-end of the housing market and in high-tax states. The doubling of the standard deduction, the lower cap on mortgage deductions, and the reduced deduction of property taxes will significantly raise the cost of homeownership for many higher-end homes. We discuss this more thoroughly in a report we published this week: Homebuilders: Go Big or Go Home.
Mortgage REITs (REM) dipped 0.5% while international real estate (VNQI and RWX) climbed 0.1%. Within the Equity Income categories, we note the performance and current income yield of the Utilities, Telecom, Consumer Staples, Financials, and Energy. Within the Fixed Income categories, we look at Short, Medium, and Long Term Treasuries, as well as Investment Grade and High Yield Corporates, Municipal Bonds, and Global Bonds.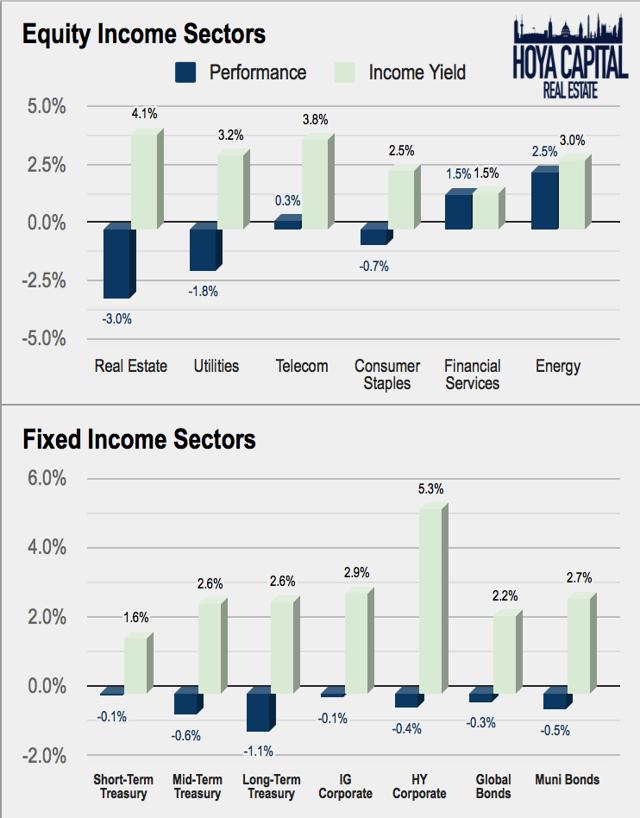 REITs are now lower by 5.1% YTD. REITs ended 2016 with a total return of roughly 6%, lower than its 20-year average annual return of 12%. Going forward, absent continued cap-rate compression, it is reasonable to expect REITs to return an average of 6-8% per year with an annual standard deviation averaging 5-15%.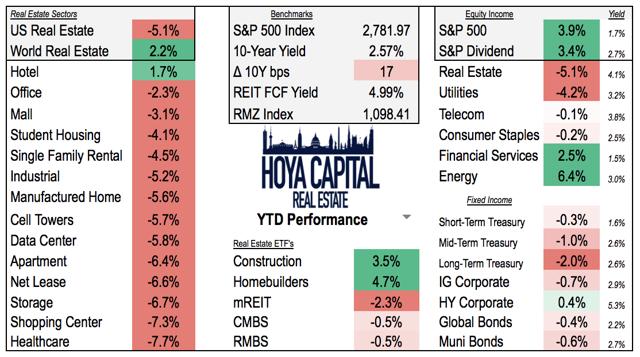 The "Growth REIT" sectors were the best-performers this week. The relative winners this week included Ryman (RHP), RLJ Lodging (RLJ), Pebblebrook (PEB), Lasalle (LHO), Host Hotels (HST), and GGP (GGP).

The "Yield REIT" sectors continue to be hit the hardest by pressure from rising interest rate expectations. Losers this week included Preferred Apartments (APTS), Spirit Realty (SRC), HCP (HCP), Mid-America Apartments (MAA), National Retail (NNN), Healthcare Trust of America (HTA), and Vornado (VNO).

Real Estate Economic Data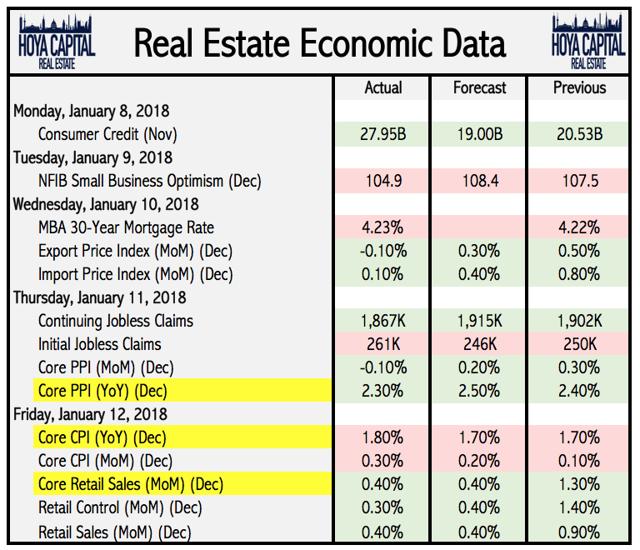 (Hoya Capital Real Estate, HousingWire)
Impressive Holiday Retail Sales
While the financial media was relentlessly pushing the gloom-and-doom "retail apocalypse" false narrative, we've been discussing for months that, in reality, the stars were aligning for a record-smashing holiday season. In our reports, Retail Apocalypse Becomes Retail Euphoria and iMallX: A Holiday Resurgence, we forecasted a robust season for retail spending led by renewed strength in the brick and mortar segment.
December retail sales data was released on Friday, and the Christmas season was indeed quite merry. December retail sales were stronger than expected and November data was revised substantially higher. The "brick and mortar" index (retail sales ex. auto, gas, nonstore) ticked up to 4.8% YoY growth. When you include the online sales purchased through brick and mortar retailers, that rate of growth is even better at 5.2%.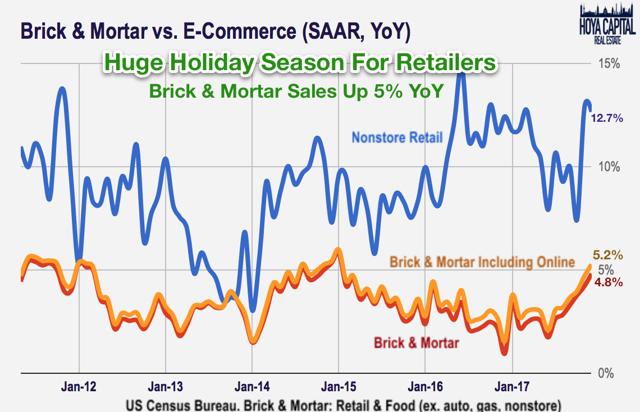 Our favorite chart below shows the "Amazon effect" or lack thereof in many of the retail categories. Restaurants, furniture stores, grocery stores, and building/home improvement retail sales continue to see solid growth. Even in the "retail losers" category, we've seen a recovery in the general merchandise and clothing categories in recent months, which are now in positive growth territory YoY. Out of all of the retail categories, only the sporting goods/books segment has seen negative YoY growth.

This data is consistent with the strong same-store metrics reported by Kohls (KSS), Macy's (M), Target (TGT), and also consistent with other holiday spending data. Mastercard reported that holiday spending grew 4.9%, setting a record for total dollars spent, and growing at the fastest rate since 2011. First Data's SpendTrend Report showed that sales grew 6.2% for the full holiday season, highlighted by solid growth in both the brick and mortar and e-commerce categories.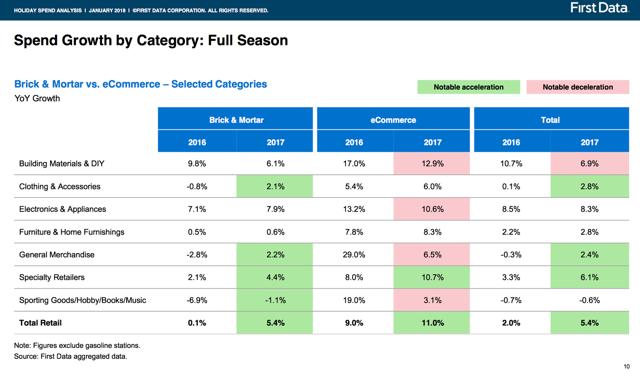 First Data's brick and mortar segment showed robust 5.4% growth despite the modest uptick in total e-commerce market share to 29% of total transactions from 26% last season. Within the e-commerce category, four of the seven categories they track saw "notable deceleration" in growth.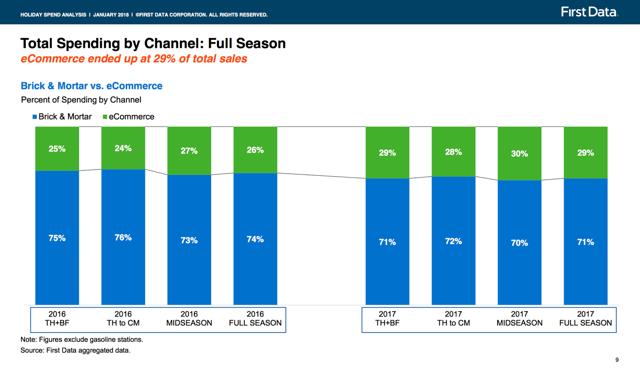 The apparent strength in retail sales is consistent with economic data showing a resurgent and optimistic American consumer. Consumer sentiment in October topped 100 for just the second time since 2004. The unemployment rate remains near its lowest level since the BLS began tracking it in 1948. Household net worth is on pace to rise more than 8% in 2017, buoyed by a 6% rise in home values, a 20% rise in equity market values, and an estimated 4-6% growth in total median family income, capping off a 30% surge in this metrics since the end of the recession. Nearly every economic data metric that correlates with retail sales has broken-out to the upside.
"Higher Inflation" Narrative Emerges. No Real Evidence Yet
History is quick to repeat itself. As we saw in the immediate aftermath of the 2016 election, inflation data has again become a central focus for investors. Tax reform has renewed expectations of higher inflation, which would push interest rates higher, and perhaps finally vindicate the Wall Street economists who have been recurrently wrong in their consensus calls for rising interest rates for each of the past eight years.
So far, while market-implied inflation expectations have increased 20bps since November, the CPI and PPI data has yet to show any real evidence of a pickup in prices. Core CPI data came in modestly hotter than expected in December, rising 1.8% YoY from the November rate of 1.7%. Core PPI data, however, surprised to the downside in November. Core PCE, the Fed's primary measure of inflation, was just 1.5% in November, remaining well below the Fed's 2% target.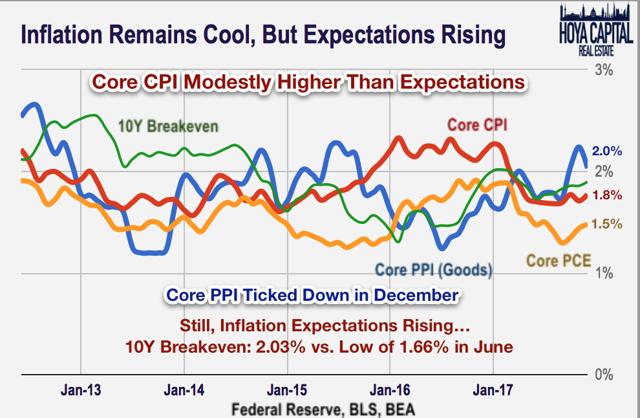 The financial media has picked-up on the nuanced trends occurring within the inflation data that we've been discussing for several months, specifically related to rent inflation. Shelter inflation (specifically apartment rental rates) continues to account for a disproportionate amount of total inflation. Shelter inflation accounts for nearly 30% of the CPI basket, and the robust growth in rents since 2013 explained most of the modest spike in inflation seen in 2015 and early 2016. For most of 2017, shelter inflation was one of the few components keeping inflation in positive territory. As discussed above, the supply growth in multifamily has halted the upward pressure on primary rents, but shelter inflation remains well above the overall inflation average.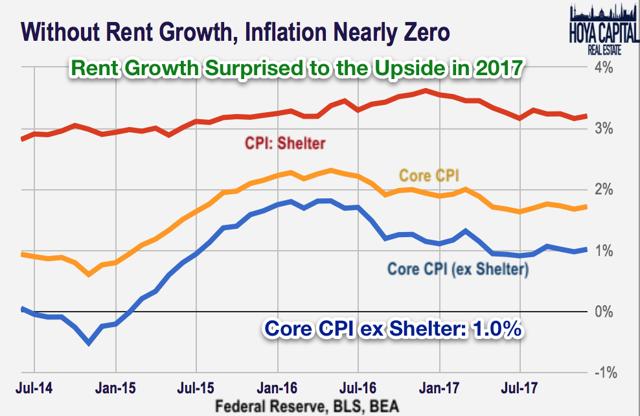 Axiometrics publishes a monthly rent growth tracker. They noted that rents rose 2.3% YoY in November, showing continued signs of stabilization after the decline from 2015 to 2016. It's clear that the unusual flurry of natural disasters has had an upward effect on rental rates. Houston, one of the weakest apartment markets, saw significant 2-4% jump in rent growth from the prior trend. We expect December to be above-trend and that full-year 2017 will see 2.5% growth from the previous year, roughly matching 2016 and exceeding consensus estimates for 2017.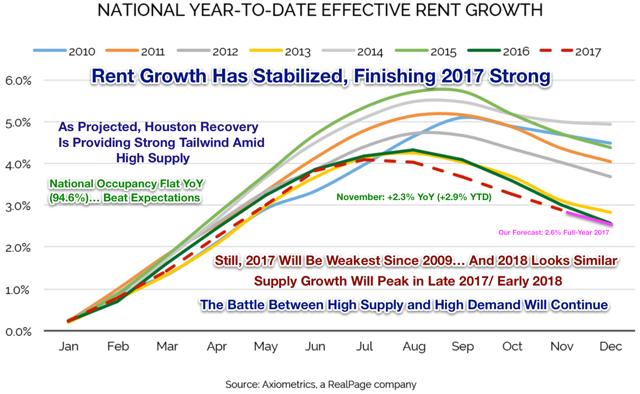 While supply growth will continue to be an issue for apartment markets in 2018, we continue to be more optimistic than consensus on rent growth. We continue to discuss home price affordability (or lack thereof) and how we believe that rental demand will continue to surprise to the upside as potential homebuyers remain in the rental markets for longer than expected. The effects of tax reform, we believe, will make homeownership even more unaffordable relative to renting, particularly at the high-end of the market where property taxes exceed the new $10k cap on state and local tax deductibility. Since 2012, rent growth has significantly lagged home price appreciation, a gap that we expect to close over the coming years.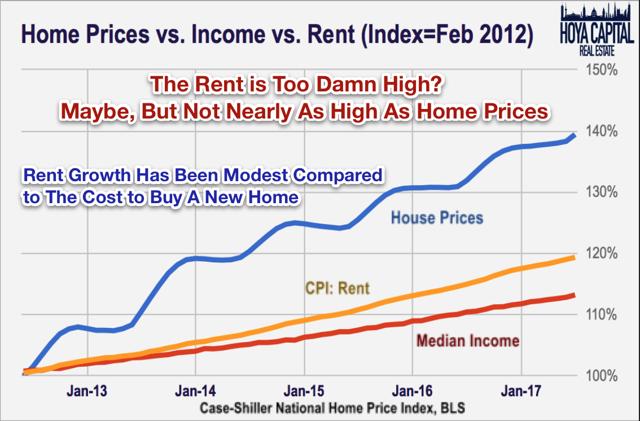 Bottom Line
The "Rates Up, REITs Down" trend has returned with a vengeance. Despite fundamental conditions that should boost REIT earnings, expectations of rising rates continue to hit REIT shares. REITs declined 3% this week and are now lower by 5% in 2018 as the 10-year yield flirted with the 2.60% level this week, the highest level since 2014.
So much for the "retail apocalypse." Retail sales smashed records this holiday season led by strength in the resurgent brick and mortar segment. Retail sales rose 4-6% across most metrics. While market-implied inflation expectations have shot-up in recent weeks, we have yet to see any real evidence of higher inflation in the data. Core CPI remains just 1.8%. Rent inflation has come roaring back. Despite pressures from oversupply, CPI rent growth continues to outpace expectations. Excluding rent growth, inflation remains almost nonexistent, rising just 1.0% in December.
This week, we published our Homebuilder quarterly update: Go Big or Go Home. A decade after the housing collapse, Wall Street is once again feverishly bullish on homebuilders. Homebuilders surged more than 60% in 2017 despite a 7% rise in new home sales. Size and scale have become essential for homebuilders. Stifling regulations, rising construction costs, and sluggish demand have squeezed margins and made it nearly impossible for smaller builders to compete. The rapid recovery in home prices since 2012 has made the economics of homeownership unfavorable relative to renting. Tax reform has tilted the scale even further towards renting. Homebuilders are banking on a wave of millennials flooding into the housing markets. Homeownership data shows little evidence of this. Unaffordability and attitudes towards homeownership remain constraints on demand. While the overall housing recovery remains lethargic, we expect continued bifurcation as the competitive positioning of the largest homebuilders has strengthened amid continued consolidation.
Please add your comments if you have additional insight or opinions. We encourage readers to follow our Seeking Alpha page (click "Follow" at the top) to continue to stay up to date on our REIT rankings, weekly recaps, and analysis on the real estate and income sectors.
For further analysis on all fifteen real estate sectors and how they all stack-up, be sure to check out all of our quarterly updates: Hotel, Cell Tower, Single Family Rental, Industrial, Healthcare, Apartment, Mall, Net Lease, Data Center, Shopping Center, Manufactured Housing, Student Housing, Office, and Storage sectors.
Sector ETFs Mentioned: (VNQ, IYR, SPY, XHB, ITB, PKB, REM, VNQI, IYZ, IDU, KXI, IYF, LQD, JNK, IEF, VDE, VGLT, ISTB, BNDX)
Disclosure: I am/we are long VNQ, SPY, MAA, CPT, OHI, PLD, GGP, STOR, SHO, SUI, ELS, ACC, EDR, DLR, COR, REG, CUBE, PSA, EXR, BXP, EQR, INVH, SPG, HST, TCO, AMT, SBRA.
I wrote this article myself, and it expresses my own opinions. I am not receiving compensation for it (other than from Seeking Alpha). I have no business relationship with any company whose stock is mentioned in this article.
Additional disclosure: All of our research is for educational purposes only, always provided free of charge exclusively on Seeking Alpha. Recommendations and commentary are purely theoretical and not intended as investment advice. Information presented is believed to be factual and up-to-date, but we do not guarantee its accuracy and it should not be regarded as a complete analysis of the subjects discussed. For investment advice, consult your financial advisor.