The SASR-WFBI deal is a fairly straightforward small cap bank merger of two banks in the greater Washington DC area with no financing risk (all-stock deal) and is highly likely to close due to the small size of the combined entity which falls well below systemic regulatory thresholds. As with other bank deals with a high probability of closing, the deal currently trades at a very tight spread 0.9% gross and 2.7% annualized. We would recommend buying WFBI as SASR's share price approaches the bottom part of the collar (which may happen due to shorting pressure on SASR's stock) given its attractiveness as a target in the consolidating DC banking market, implicit downside protection from the deal structure and the reverse-breakup fee. Owning WFBI gives investors exposure to potential upside from rate increases and regulatory reform with defined downside and limited volatility. In addition, WFBI shareholders will receive a dividend of $0.07 between now and deal closing, an additional 0.2% gross yield (0.6% annualized).
Situation Overview
SASR and WFBI are ~100 days into a merger announced on May 16th which is expected to close in Q4 2017. The deal was struck at an implied offer price of $36.50 per WFBI share based on an exchange ratio of 0.8713 WFBI/SASR, representing a ~31% premium to WFBI's closing share price of $27.91 on May 12th. The offer price at announcement values WFBI at ~$490 million at a P/TBV multiple of 2.56x and at a forward P/E multiple 24x 2017E EPS (consensus). With WFBI at $33.13 and SASR at $38.38, the deal is trading at a fairly tight gross spread to the implied offer price of $33.44, representing a gross return of 0.9% and 2.7% annualized assuming a closing date of December 31, 2017.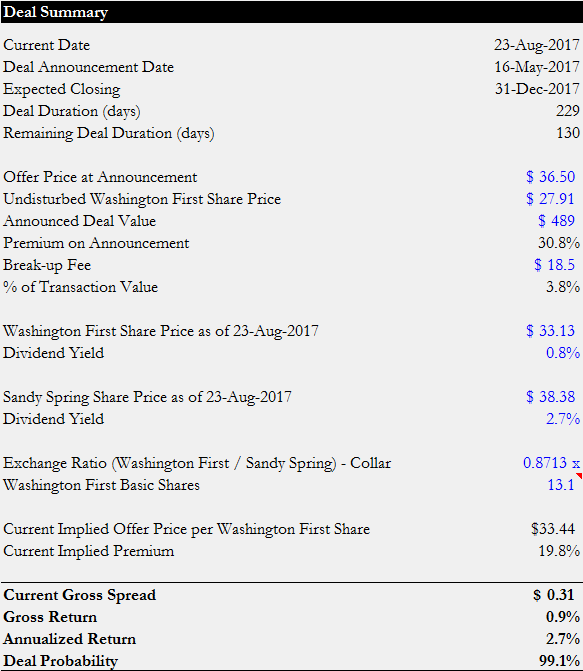 Deal Structure
The deal consideration is structured as a multi-step collar based on SASR's 20-day VWAP 5 business days before closing. The exchange ratio is fixed at 0.8713 WFBI/SASR if SASR's share price falls between $37.07-$50.15, with the offer value fixed at $50.15 and $32.30 above and below this band. The exchange ratio is fixed again at 0.8213 if SASR rises above $53.23 and at 0.95 if SASR falls below $34.00.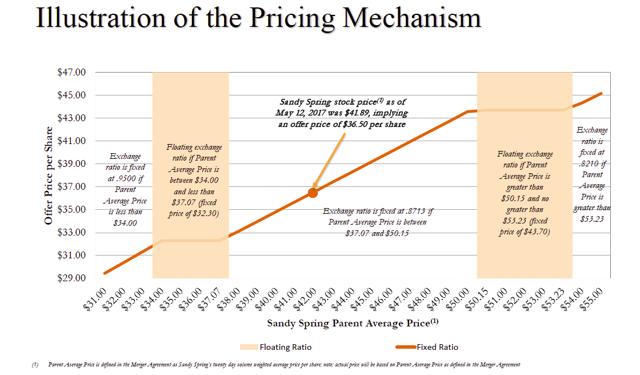 Source: SASR Investor Presentation
The collar has a break clause (Section 8.1 [h] p.67 of the S-4) which allows WFBI to terminate the deal if SASR's stock price falls below $34.00 and SASR doesn't elect to increase the offer to $32.30 either by adjusting the exchange ratio or topping up with cash. The collar structure was specifically requested by WFBI in order to provide price protection against potential volatility in SASR's share price between announcement and closing. We view the collar as a target friendly structure that which together with the walk away option sets an effective floor price for the deal at $32.30 (~16% premium to WFBI's pre-announcement price).
There is an $18.5 million break-up fee (~4% of the deal value or $1.38/share) payable by WFBI if shareholders do not approve the deal or it terminates the deal due to a superior offer or agrees to be acquired by another party within 12 months after terminating the merger with SASR. There is a reverse breakup fee of $18.5 million ($0.77/share) payable by SASR if shareholders do not approve the deal. A breakup fee / reverse breakup fee would not be payable if the deal is terminated because SASR's share price falls below $34.00.
Rationale for the Merger
WFBI has been rumored to be target of interest for several banks looking to expand in the greater Washington DC metropolitan area which is a higher growth market. As a bit of background, WFBI's Chairman (Joseph Bracewell) and CEO (Shaza Anderson) have been exploring a possible merger/sale since April 2014. Bank stocks rallied in 2016 – on the Trump effect encouraged by higher interest rates, tax reform and regulatory relief driving multiple expansion. One of WFBI's closest competitors, Cardinal Financial (NASDAQ:CFNL) was acquired by United Bankshares (NASDAQ:UBSI) in August 2016 at 2.24x P/TBV. WFBI actively engaged with UBSI (presumably "Party A" in the DMA) as recently as November 2016 before discussions with SASR began – UBSI indicated interest but was focused on integrating its most recent acquisition.
The offer value for WFBI looks optically expensive at 2.56x TBV and 24x 2017E P/E (based on consensus EPS of $1.52). However, after adjusting for significant expected pre-tax synergies at 39% of WFBI non-interest expense (~$22-23 million or ~5% of the deal value), the valuation of WFBI looks more reasonable even giving partial credit for the synergies. WFBI is a high-growth asset (~10-11% loan growth) and desirable franchise in the DC market.
Timeline and Required Approvals
SASR management has guided to a Q4 completion (~229 days from announcement assuming a December 31st close) which we do not find to be aggressive and is in line with other transactions in the space which have taken ~200 to 250 days to close from announcement). The expected timeline is as follows:
May 16th: Deal announced
June 19th: Regulatory filing made with the Federal Reserve Board
July 5th: Regulatory filings made in Maryland and Virginia
July 19th: Proxy/Prospectus filed with the SEC
Q3-Q4: WFBI and SASR shareholder vote (majority approval required for both), exact timing depending on progress with regulators
May 15th (2018): Outside date (12 months from announcement)
The regulatory approval process is expected to be pretty smooth for a merger of this size. The US Fed has made it easier for smaller bank mergers to be approved without a rigorous review process and considers proposals involving an acquisition of less than $10 billion in assets or a resulting firm with less than $100 billion of assets not likely to pose systemic risks. SASR is acquiring $2 billion of assets and the pro forma SASR-WFBI would only have $7.5 billion in assets.
The pro forma SASR-WFBI will be adequately capitalized with a total capital ratio of 12.00% (including $8 million of trust preferreds and $25 million of sub debt at WFBI which will be retained) and a tier 1 leverage ratio of 9.30%. SASR management has indicated that even through the pro forma SASR-WFBI will end up slightly north of the 300% guideline for CRE/risk-based capital they do not expect this limitation to curb their growth plans and in any event, we do not believe that more capital will be required by regulators in order to close the transaction.
The transaction has a de -minimis impact on competition as the combined SASR-WFBI would have only ~1-2% deposit market share in the Greater Baltimore and DC markets and would be the 10th largest in the region behind Eagle and United. Our view is that this deal will get done as almost all bank mergers of this kind close without any hiccups.
Conclusion
When the deal was struck, SASR's share price was in the middle of the collar range at $41.89 and is currently 8% off post-announcement after a good Q2 print as a result of arb shorting pressure on SASR's stock (~3% of float). Based on consensus estimates, the pro forma SASR-WFBI is expected to generate 2018 EPS of $2.38 giving zero credit to synergies and $2.58 giving 50% credit to pro forma synergies which would imply that the pro forma SASR-WFBI is created at 14-16x P/E which is reasonable (SASR's comps trade at 17-19x P/E).
Given low market volatility, we believe that it is highly unlikely that SASR's stock price falls below $34.00 which would be a ~11% drop from current levels. We are comfortable owning WFBI outright without the hedge as we believe that it is highly unlikely that the deal breaks and that SASR would choose to renegotiate the deal at the floor price. At the same time, by buying WFBI when SASR's share price is towards the bottom of the collar, there is significant upside exposure to a rebound in SASR's share price with downside effectively capped at $32.30.
Disclosure: I/we have no positions in any stocks mentioned, and no plans to initiate any positions within the next 72 hours.
I wrote this article myself, and it expresses my own opinions. I am not receiving compensation for it (other than from Seeking Alpha). I have no business relationship with any company whose stock is mentioned in this article.