REIT Rankings: Malls
In our "REIT Rankings" series, we introduce and update readers to one of the 13 real estate sectors. We rank REITs within the sectors based on both common and unique valuation metrics, presenting investors with numerous options that fit their own investing style and risk/return objectives.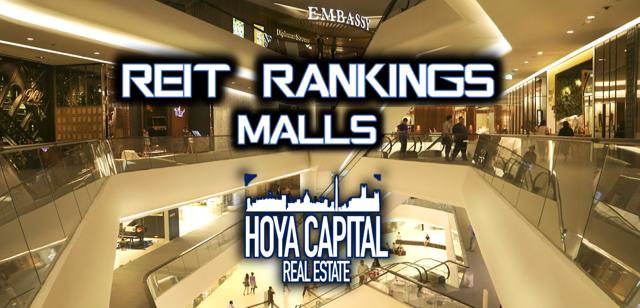 We encourage readers to follow our Seeking Alpha page (click "Follow" at the top) to continue to stay up to date on our REIT rankings, weekly recaps, and analysis on the REIT and broader real estate sector.
Mall REIT Overview
Mall REITs comprise roughly 13% of the REIT Indexes (VNQ and IYR) We track eight mall REITs within the sector, which account for nearly $90 billion in market value: CBL & Associates (CBL), GGP (GGP), Macerich (MAC), Pennsylvania REIT (PEI), Simon Properties (SPG), Tanger Facotry Outlets (TCO), Taubman Centers (TCO), and Washington Prime (WPG).

More than other sectors, it's critical to note the "quality focus" of these REITs. There has been a significant divergence in fundamentals and stock performance between higher-quality malls and lower-quality malls since the beginning of the prior recession. Top-tier malls, as measured by tenant sales per square foot, continue to perform well as downsizing retailers have focused their investment into higher-performing stores while closing weaker performing stores in lower-tier malls. Amid the unusual binge in retail bankruptcies in early 2017, this bifurcation in performance has accelerated.
Recent Developments and Performance
The stock performance of mall REITs has not been pretty over the past year. Mall REITs are lower by 13% YTD and 31% over the past 52 weeks. After a period of relatively strong performance from 2014 through mid 2016, this recent negative trend was sparked by Macy's (M) August 2016 announcement that it could be closing as many as 20% of its existing stores and has intensified through a barrage of negative press despite relatively strong operating performance.

The bifurcation between higher quality mall REITs and lower quality mall REITs has intensified, and 2Q17 earnings and comments during earnings season generally reflected this. Tenants of high-quality mall REITs reported 2.2% growth in same-store sales, and these REITs realized 2.1% higher average rents. Tenants at lower-quality mall REITs, however, reported just 0.6% growth in same-store sales while the REITs realized a 0.9% decline in average rent. Again, occupancy remains above a steady 95% at the higher-tier malls and 91.1% at lower-tier malls. A full summary of the results are below.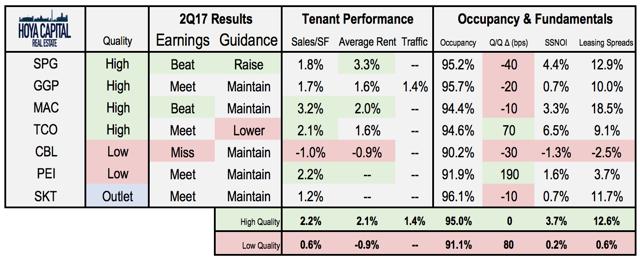 During REITWeek in June, we noted the same bifurcation in the general tone and confidence level of the mall REIT executives during the presentations and questions. The Tier-1 REITs executives were notably confident and relaxed in the face of a difficult line of questioning. They seemed somewhat amused and unconcerned about the negative price performance of late, which we took as a positive read-through. The lower-quality mall REIT executives, on the other hand, seemed defensive and perhaps overwhelmed by the task at hand. "The party is over," remarked one, noting that the firm used to be able to sit back and have retailers come to them, but now, they are forced to be proactive and find solutions to improve their space and value proposition.
The same general tone continued during 2Q17 earnings calls with several key topics being discussed. First, the top-tier REITs continue to shift away from apparel-based retailers and have reported impressive demand within the more experience-oriented categories. Several mall REITs now report operating metrics "ex-apparel," and we understand why: When apparel retailers are removed, same-store sales are notably stronger.
From the MAC conference call:
The dislocation in apparel brands has been the transition from smaller traffic-based stores to larger brand dominant presentations. To us, this makes sense as building a retailer's brand with larger presentations in dominant centers fuels online and off-price distribution points. … Longer term, we see the apparel category evolving, led by retailers presenting larger formats with stronger brand identity and better financial resources. This should bring more stability into the apparel tenant base. Since many of the larger format retailers are expanding from smaller store fleets, we continue to believe the new store activity will be disproportionately higher in the better quality centers. These changes in the existing tenant base, combined with growth in digitally native retailers and the introduction of new uses catering to changing lifestyle desires of our customers, will provide the support in the near-term to maintain our high occupancy levels.
Second, redeveloping vacant department store space is perhaps the biggest positive catalyst for the higher-quality mall REITs over the next several years. Operating fundamentals and redevelopment of department stores were the focus of the discussions during REITWeek as well. While malls have been successful in redeveloping this space and earning significantly higher rents, the accelerated pace of department store closings may outpace the mall's ability to release the space in the near term.
From the GGP conference call:
The recapture, redevelopment and re-tenanting of department store boxes is what we do. We've done over 115 to date. We have no vacant boxes. Each anchor box opportunity is different in its potential economics. What we found is that the tenants of all types want to be located in the best real estate, so when we recapture department store at one of our properties, we generally have it pre-leased prior to redevelopment. Future upside resides all with GGP.
Third, traffic and retail sales continue to be solid at mall locations, contrary to the prevailing narrative. Mall REIT executives expressed both optimism and frustration that the public market valuations are so far departed from underlying fundamentals and private market valuations. GGP stock was hit after it reported that it wants to "stay the course" and hold onto these undervalued assets rather than sell them to capture the arbitrage. While the market didn't like that, we remain confident in GGP's strategy.
From the GGP conference call:
Malls are getting a bad rap, but the reality is … they all want to congregate in the best location and where the traffic is and by and large in communities throughout the country, that's the mall. And that has not changed. The narrative might be a little bit different and I know, obviously, retail is under more pressure than it has been in the past … you have to cycle some of the poor performers out with some of the better ones. And by the way, we've been doing this for quite some time.
Macerich made an interesting point, highlighting that brick and mortar retailers are, in fact, the elusive "last mile of retail distribution" hurdle that e-commerce retailers have not yet figured out how to crack.
From the MAC conference call:
Our properties are, in fact, the last mile of retail distribution in some of the most densely populated and affluent markets in the U.S. The value of this model, I think to some degree, was enhanced and validated through the announcement in the last quarter that Amazon is going to stake a claim to that last mile with their purchase of Whole Foods. We own the number one gathering place for town square in each of these great markets. Rents and demand for our centers have been strong.
Finally, Mall REIT executives also point to the weak US dollar as a tailwind heading into the end of 2017. There was far less discussion over tax-code changes and political uncertainty, but we continue to believe that the policies of the new administration over the next four years will be more beneficial to brick-and-mortar retail than past administrations. We believe that the Trump administration's policies will be oriented, above all else, to grow and protect jobs. We think there is a significantly higher probability of the Marketplace Fairness Act, which would essentially force e-commerce companies to pay sales tax in all 50 states, eliminating a perceived loophole that disadvantages traditional retailers. Last year, we had predicted that we may see increased skepticism on tactics of Amazon (AMZN) which may be perceived as using predatory pricing by selling items for zero or negative margin and subsidizing these losses with profits from other business lines. In recent months, this came to friction when President Trump attacked Amazon in nearly a dozen tweets.
Long-Term Dynamics and Thesis for Mall REITs
"Shopping malls dying; trend expected to continue" reads a headline in the New Castle News. The article cites mounting threats from alternative electronic shopping, urbanization, a more cost-conscious consumer, and a shifting attitude of the younger generations that no longer view malls as "cool." The date: March 2, 1991.

(New Castle News, NewspaperArchive.com, March 2, 1991)
Three years after this article hit the newsstands, Simon Property, the largest mall REIT, went public. Since its IPO, SPG has more than doubled the performance of the S&P 500, returning a compound annualized return of over 10%.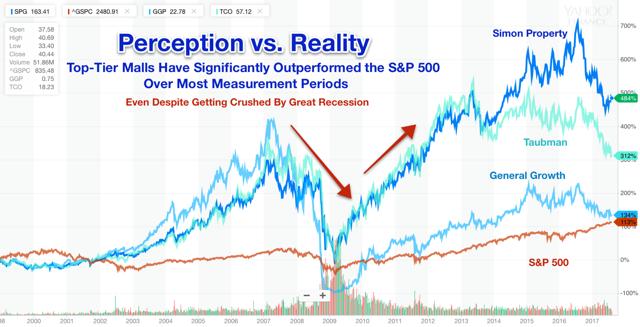 As retail and entertainment trends have come and gone, malls have shown notable resilience in the face of a continuously dim outlook. Threats associated with urbanization, then TV shopping, and now e-commerce have prompted endless flows of negative press coverage.
Department stores, which were once the primary attraction of malls, have given way to Apple (AAPL), Tesla (TSLA), restaurants, gyms, grocery stores, and healthcare facilities as primary traffic-drivers. We continue to hear retailers discuss the importance of the omnichannel retail strategy: reaching the consumer in both physical and virtual formats. Even Amazon has begun to enter the brick and mortar format, and after their Whole Foods (NASDAQ:WFM) acquisition, clearly, their focus on this strategy will intensify in coming years.
It's important to clarify some misperceptions about the retail space. There is a narrative prevalent in the financial press that the US is extremely over saturated with retail space. While it is true that the US has the highest retail space per capita, when this data is adjusted for the actual amount spent on retail trade by country, we see that the US is not far out of line with the rest of the world.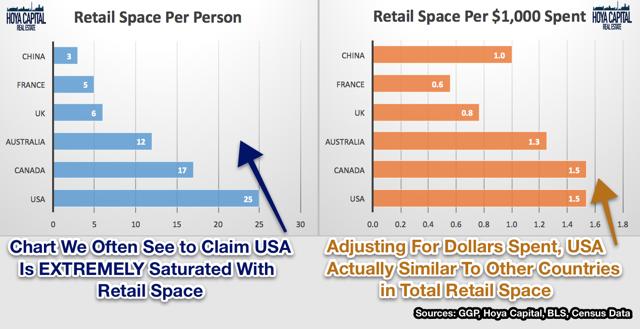 There is another financial-media-fueled misperception related to the actual number of store closings and openings. In pursuit of the "retail is dying" narrative, store openings are rarely reported by financial media outlets, but store closings often get front-page treatment. Anecdotally, we have found that casual observers are somewhat shocked to learn that net new store openings/closings has averaged more than positive 1,000 per year since 2010. While the early part of 2017 has seen elevated store closings, analysts still forecast positive 500-1,000 net new store opening for full-year 2017. Store closings, however, has been concentrated in the apparel and fashion segments, a relatively larger share of the mall retail mix.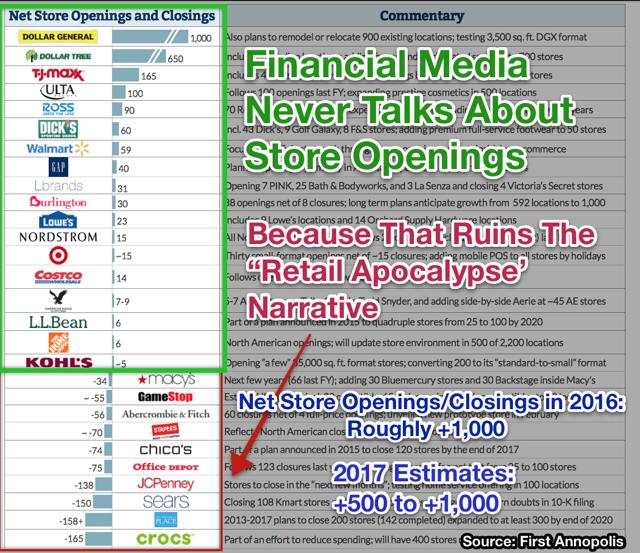 As a proxy for brick and mortar retail sales, we look at monthly retail sales excluding autos and nonstore. Growth in brick and mortar sales have slowed in recent years as e-commerce has taken a bigger market share, but growth remains positive and has shown signs of acceleration in recent quarters.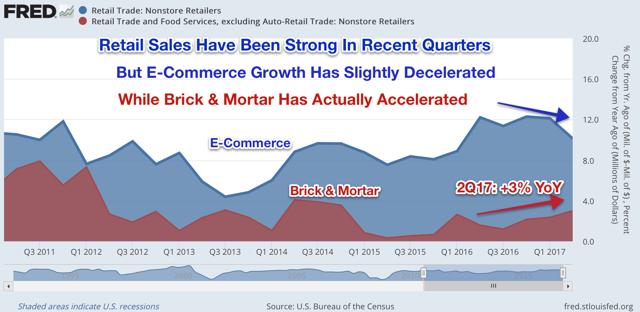 Diving deeper into the data, department stores continue to be disappointing and is driving the profoundly negative narrative in the broader retail space. We continue to push back, noting that department stores are a very small slice of the total retail pie and even relatively small within the mall as a percent of NOI, but many people disproportionally equate the health of the total "retail" space with the health of the department store retailers.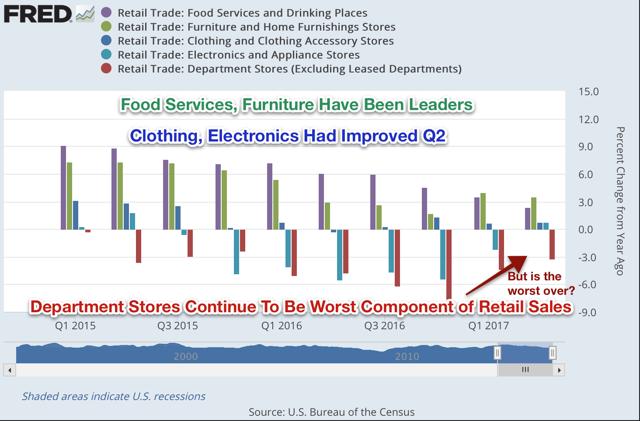 E-commerce is, and will continue to be, the elephant in the room, however, and will continue to pressure retail categories that are most at risk. Malls, particularly high-end malls located in desirable retail locations, have shifted their tenant mix towards retailers and entertainment establishments that are more "experience oriented" and have been extensively renovated existing malls to make the space more inviting as a social gathering space. Below is GGP's new SoNo Collection in Norwalk.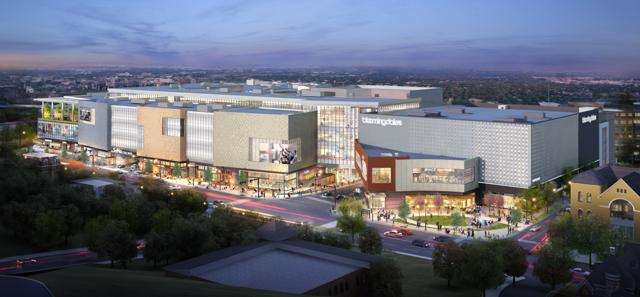 While there is a significant existing stock of retail space, there is very little new retail space being built or planned, particularly in the more desirable urban markets. Mall REITs are notable for what we call a "supply-side" thesis: Even with moderate or weaker expected demand, the lack of new supply can be expected to drive effective rents higher as retailers compete for a limited supply of high-end space. Annual completions are expected to average less than 0.5% of existing stock per year for the foreseeable future. As retailers have very little economic reason to consolidate, mall landlords benefit from the fragmentation and competition that ensues.
Despite this, malls face considerable "headline" risk from the seemingly endless negative news flow. Potential bankruptcies from major department stores or multi-store retailers are considerable risks, even as these department stores and retailers are no longer a focal point of the mall experience. The success of mall REITs, particularly at the high end, is more a function of the quantity of retailers needing space rather than the profitability of these retailers.
Valuation of Mall REITs
Compared to the 12 other REIT sectors, mall REITs appear quite cheap. Mall REITs are the second cheapest sector based on both current Free Cash Flows and forward 2018 FCF. Mall REITs are expected to grow FCF at a decent 6% rate over the next two years, which gives them a similarly cheap FCFG multiple.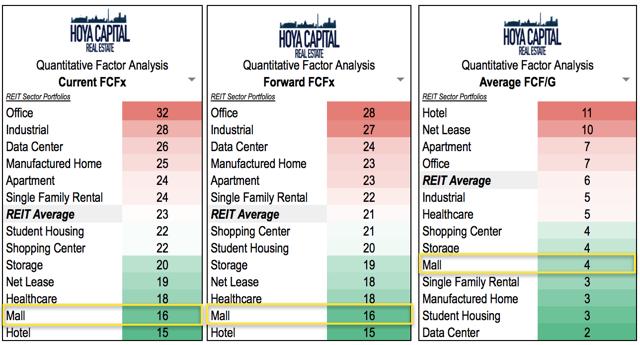 (Hoya Capital Real Estate estimates, Company Filings)
Within the sector, we see how important it is to use FCFG and not just current FCF multiples. Investors merely looking at FCF multiples would jump at the appearance of value in CBL and WPG. FCFG suggests that these are merely value traps, and their low multiples do not compensate for the complete lack of near and medium-term growth.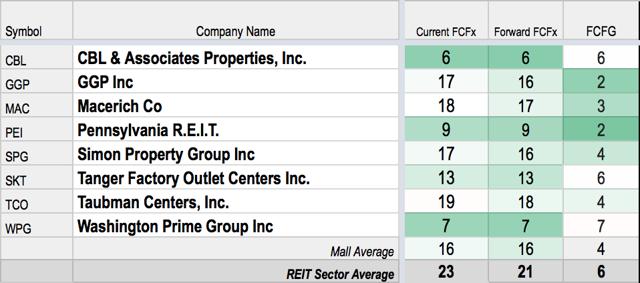 Sensitivities to Equities and Interest Rates
Mall REITs are not highly sensitive to interest rates and respond more closely to movements in the equity markets. As a sector, mall REITs fall under our "Hybrid REIT" category and should be used by investors seeking longer-term dividend growth rather than immediate income.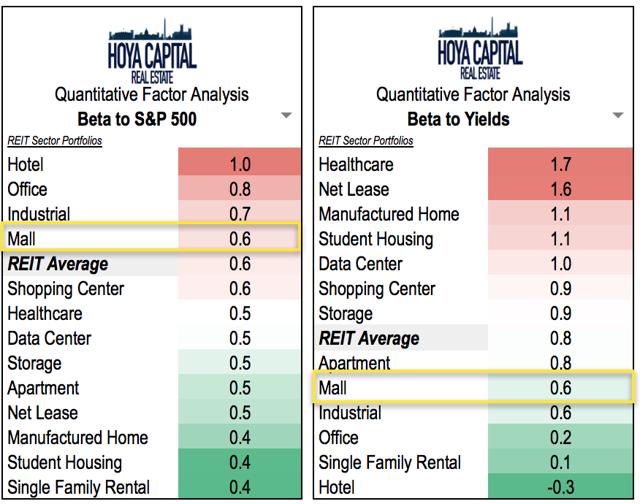 We separate REITs into three categories: Yield REITs, Growth REITs, and Hybrid REITs. (click to read more information about our methodology).

Within the sector, we note that there are several REITs that do, in fact, exhibit heightened levels of interest rate sensitivity. Simon and Tanger fall into the Yield REIT category while Macerich and Pennslyvania REIT are Growth REITs.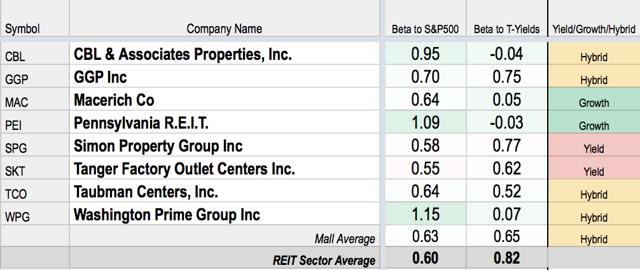 Dividend Yield and Payout Ratio
Based on dividend yield, mall REITs rank towards the top, paying an average yield 4.6%. Mall REITs payout just 72% of their available cash flow, one of the lowest payout ratio of any REIT sector. This low payout ratio gives mall REITs quite a large reserve to increase dividend distributions or fuel redevelopment.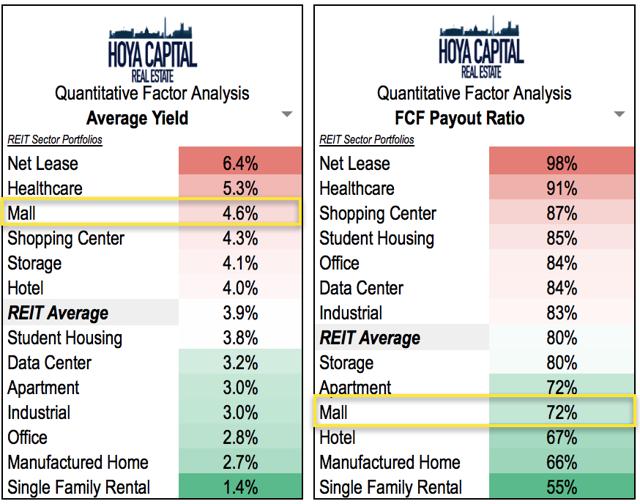 Within the sector, more than other REIT sectors, investors need to be cautious not to fall into common "value traps." CBL and WPG, both yielding over 11%, appear to be diamonds in the rough. The valuation analysis above, though, shows that these high-yielders have a bleak growth outlook in the near term and could very well see declining free cash flows and declining dividends if the demand for lower-quality suburban mall space doesn't reverse the current downtrend.
Bottom Line
The bifurcation between top-tier and lower-tier mall REITs continued in 2Q17. High-quality mall REITs reported a strong quarter with improved traffic, higher tenant sales, and strong rental rate increases. Lower quality malls continue to struggle and have been hit disproportionally hard by the wave of bankruptcies and downsizing in the clothing and apparel segments. Department stores continue to lag.
For stronger mall REITs, occupancy remains steady above 95%. NOI growth should be 2-4% this year. Net store openings are expected to be positive and releasing spreads are 10%+. The "Darwinian" process of weaker retailers closing stores and stronger retailers moving in has ultimately benefited these stronger mall REITs as this space has been put to more productive uses.
The media narrative surrounding malls and brick-and-mortar retail remains decidedly and universally negative, as it has been for decades. The data simply does not support the anecdotal evidence discussed. While the mainstream financial media has a tendency to selectively pick and choose facts and anecdotes that align with their intended narrative, the retail sales data and operational performance of the mall REITs strongly indicate that there is a disconnect between sentiment and reality.
We aggregate our rankings into a single metric below, the Hoya Capital REIT Rank. We assume that the investor is seeking to maximize total return (rather than income yield) and has a medium- to long-term time horizon. Valuation, growth, NAV discounts/premiums, leverage, and long-term operating performance are all considered within the ranking.

We currently rank GGP as the most attractive name in the space, followed by Simon Property and Pennsylvania REIT.
Please add your comments if you have additional insight or opinions. Again, we encourage readers to follow our Seeking Alpha page (click "Follow" at the top) to continue to stay up to date on our REIT rankings, weekly recaps, and analysis on the REIT and broader real estate sector.
Be sure to check out our prior sector updates: Data Center, Healthcare, Net Lease, Apartments, Student Housing, Manufactured Housing, Single Family Rentals, Industrial, Self-Storage, Shopping Center, Hotels, and Office.
Disclosure: I am/we are long VNQ, AAPL, GGP, TCO, PEI.
I wrote this article myself, and it expresses my own opinions. I am not receiving compensation for it (other than from Seeking Alpha). I have no business relationship with any company whose stock is mentioned in this article.
Additional disclosure: All of our research is for educational purpose only, always provided free of charge exclusively on Seeking Alpha. Recommendations and commentary are purely theoretical and not intended as investment advice. Information presented is believed to be factual and up-to-date, but we do not guarantee its accuracy and it should not be regarded as a complete analysis of the subjects discussed. For investment advice, consult your financial advisor.