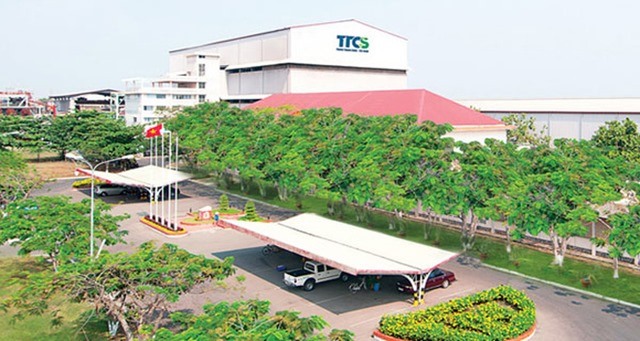 Thành Thành Công Tây Ninh Joint Stock Company (TTCS) will fully acquire Biên Hòa Sugar Joint Stock Company (JSC), becoming in the process the biggest sugar producer in Việt Nam. — Photo nhadautu.vn

Thành Thành Công Tây Ninh Joint Stock Company (TTCS) will fully acquire Biên Hòa Sugar Joint Stock Company (JSC), becoming in the process the biggest sugar producer in Việt Nam.

TTCS will issue nearly 304 million shares in a stock swap to acquire all outstanding shares of Biên Hòa Sugar at a ratio of 1:1.02.

The conversion ratio was calculated by a third-party company that valued the shares of TTCS and Biên Hòa Sugar at VNĐ20,944 ($0.92) and VNĐ21,356 ($0.94), respectively.

The deal will be carried out within 90 days.

After the merger is completed, the chartered capital of TTCS will increase by VNĐ3.04 trillion ($133.75 million) to VNĐ5.57 trillion ($245.07 million). The new company will be renamed Thành Thành Công Biên Hòa-Đồng Nai Sugar Co., Ltd.

The combined turnover of the companies last year was VNĐ8 trillion ($353.42 million) with its capital of VNĐ10 trillion (US$$440.53 million)

Thành Thành Công is one of several major companies to invest in the agricultural sector through mergers and acquisitions (M&A).

In recent years, though M&A activities in agriculture have admittedly not been as frequent as in other sectors, the agricultural sector too has seen a significant increase in the number of successful M&A deals, and several major investors like Vingroup, Trường Hải, PAN, and Unifarm have been involved.

They have benefited in the form of trillions of đồng worth of turnover.

VinEco, a member company of Vingroup, the leading estate developer in Việt Nam has invested around VNĐ4 trillion in agriculture, generating revenues of VNĐ354 billion last year and an estimated VNĐ2.25 trillion this year.

The Fresh Vegetables and Fruits Production and Supply Joint Stock Company, a subsidiary of TH Corporation, has announced plans to inject US$35 million to develop 3,000 hectares of vegetables and fruits in the northern province of Thái Bình and 180 hectares in the north-central province of Nghệ An.

Masan Nutri-Science owns 75.15 per cent of Vietnamese-French-owned Cattle Feed JSC (Proconco) and 99 per cent of International Agriculture Nutrition JSC (Anco), which added VNĐ24.42 trillion to the company's turnover and VNĐ1.54 trillion to its net profit last year.

PAN Farm owns a 75 per cent stake in the Việt Nam National Seed Joint Stock Company (Vinaseed) and a 63.8 per cent stake in PAN Saladbowl.

Those companies, all of which have strong resources and ambitious and methodical strategies, are expected to help improve the quality as well as productivity of the agriculture sector, thus creating more opportunities for M&A deals.

Analysts have come up with many reasons to explain giant companies'great interest in M&A deals in the agricultural sector.

Many of the Government's recent policies are aimed at developing the agricultural sector with high quality and productivity.

Notable among those is a resolution to provide credit worth VNĐ100 trillion (US$4.4 billion) at lower than market interest rates to develop high-tech agriculture.

It stipulates that banks must cut costs so they can reduce interest rates for enterprises and individuals engaged in high-tech agriculture by 0.5-1.5 percentage points. They also need to simplify disbursement procedures to ensure that these enterprises can borrow.

The Government is set to table amendments in the National Assembly to Land Law provisions stipulating limits on individual farm holding and to encourage development of technology-based farming models.

The Government's plans to equitise several major agricultural enterprises and sell stakes in them will also encourage investors to enter the agricultural sector, energising the M&A market.

This year the Government plans to equitise the Việt Nam Rubber Group, Southern Food Corporation, Vegetables, Fruits and Agro-Products Corporation, Việt Nam Tea Corporation, and Việt Nam Coffee Corporation.

Besides, the Government will sell stakes in them estimated at VNĐ1.643 trillion ($64.45 million).

Many of the agricultural companies have strong brands as well as extensive land use rights, which would also be attractive to investors.

Vinamilk to again try to sell stake

The State Capital Investment Corporation (SCIC), the country's sovereign fund, recently announced plans to sell 48.3 million shares in Việt Nam Dairy Products Joint Stock Company (Vinamilk), equivalent to a 3.33 per cent stake, in October.

This is part of the 3.6 per cent stake remaining from 2016 when it had planned to sell 9 per cent.

The SCIC hopes to earn at least VNĐ7 trillion (US$308.4 million) from the sale.

Market observers said they expect the share sale to be more successful this time than the last time.

Vinamilk, Việt Nam's top listed firm by market value, has a 50 per cent market share of dairy products and has seen steady earnings growth.

Last October, when SCIC sought to sell a 9 per cent stake in the company, despite the ostensible interest in the company among foreign investors, it turned out to be a disappointing exercise. 

There were only two bids, each for 2.7 per cent, worth a combined $500 million.

They came from two wholly-owned units of Singapore-headquartered Fraser and Neave Ltd (F&N), owned by Thai billionaire Charoen Sirivadhanabhakdi.

The failure to sell out was blamed on certain reasons, one of which was the timing of the sale: It was during Christmas when western investors are busy with other things.

The minimum price of VNĐ144,000 ($6.35), which was much higher than the market rate, was also cited as a reason.

The SCIC wanted to wrap the whole exercise in such a short time that consultants did not have enough time to complete the process of book building, which refers to the process of generating, capturing, and recording demand for shares to support efficient price discovery.

Investors had to start register and deposit between November 28 and December 9; the auction was scheduled from December 12 to 21.

The failure of the first attempt suggests SCIC needs to make some changes this time if it expects a different outcome.

The company should announce detailed plans related to the sale and pricing early so that potential investors have enough time to make a considered decision.

But, experts said, the company might face some problems with book running since Việt Nam lacks a proper legal framework for it.

Unlike last time, the company should not ask bidders to make a 10 per cent deposit, they said. — VNS