Background
After receiving final clearance from the FCC last week, CBS (CBS) (CBS.A) will spin out its radio business to Entercom (ETM) in a Reverse Morris Trust transaction. The resulting company, "new" Entercom, will more than triple in size with revenues growing to more than $1.5b and become the second largest US radio player behind iHeartMedia (OTCPK:IHRT). To say radio, which generates basically all its revenue from advertising, is unloved may be an understatement. With so much change in the media industry, and particularly the change in the way advertisers spend money and target consumers, it's not surprising that a small cap radio company might be out of favor.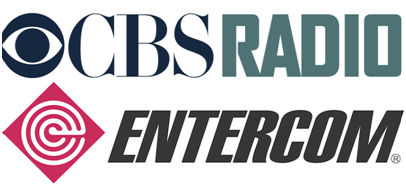 Radio's Not Dead Yet
While you might think traditional radio is a dying industry, that doesn't appear to be the case. The below slides show audience reach at over 90% of the US population, stable/growing listeners, and are even forecasts of modest ad revenue growth over the next few years (slide 48, Company Road Show Presentation). A huge reason for radio's resilience is cars. People continue to listen in cars to a huge extent. Although there are lots of other options when driving, the radio is always there, and always free. I won't argue that long-term radio listenership won't decline. I just think it's a long way from dead.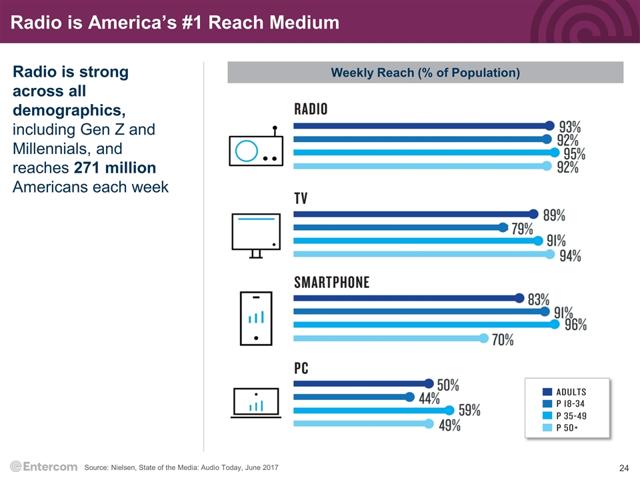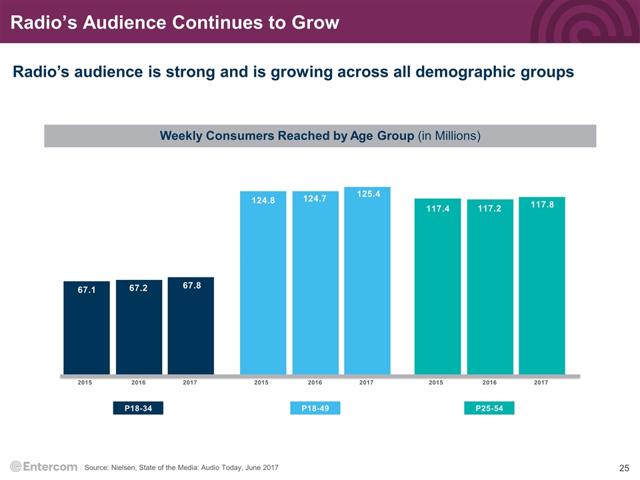 Entercom
Entercom's business model is just about what you would picture as a traditional radio broadcaster. They own local broadcast licenses and create content to distribute over their radio stations. Revenue comes almost entirely from advertising on those radio stations. Entercom's pre-merger business is fairly impressive. Revenues have grown at 2.3% on a same station basis over the last three years while maintaining healthy margins. The below slide summarizes the business pretty well.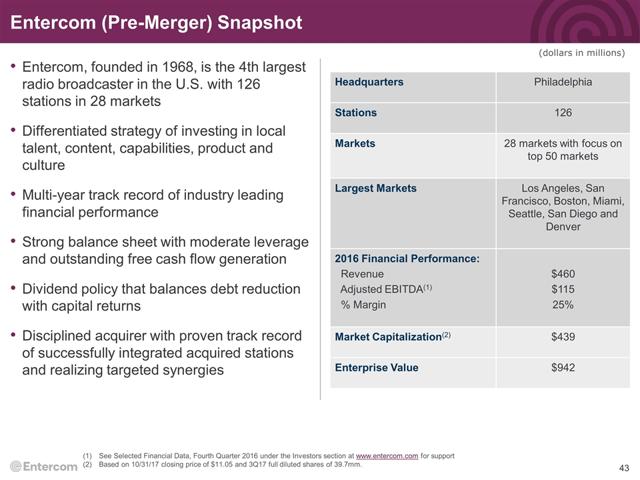 Some other business highlights:
Increasing revenue from digital ad spending (station related websites/digital content)
Further non-traditional business development: Acquired 45% of Cadence13, the number two podcast content creator, they have an option to buy the rest
Strong management team, run by David Field since 2002; impressive new hires
Successful history of acquisitions
CBS Radio Integration
CBS Radio boasts some impressive content but has been declining (revenue wise) to the tune of 2% per year over the last three years. Worse, since the deal with Entercom was announced, revenues have continued to decline at an increasing pace. Revenues declined over 4% YoY in Q3 while expenses increased. So why does Entercom's management think they can turn this around? It's pretty easy to come up with possible reasons for CBS Radio's lack of performance outside of fundamental business issues. Radio was a small segment within CBS which had been looking to get rid of it for years. That type of situation usually results in a lack of investment by the parent, poor incentives for management, and employee turnover. Basically all the classic Greenblatt reasons for looking at stock spin-offs.
As for the new company I think there are reasons Entercom can achieve both top line growth and cost synergies that aren't hard to imagine. In terms of revenue growth, with a much larger station network, it becomes easier to sell to national advertisers while paying fewer sales people. It's also fair to assume decent cost synergies. The new company will have a bunch of overlapping markets. The below list shows markets where they will continue to operate both CBS and Entercom stations in the same market. These are big cities where it seems like a no brainer to move these operations under the same roof and eliminate duplicate employees both from a content creation and sales perspective.
Station Overlap: Atlanta, Boston, Miami, Sacramento, San Diego, San Francisco, Seattle

Entercom's original guidance for cost synergies was $25m (reference point – combined company 2016 operating expenses were $1.1b). With their last earnings release they mentioned that they had spent time with a consulting firm meticulously scrutinizing the businesses and now think they can actually get to $100m (after an additional $30m in growth spending). I'm using a more conservative number in my modeling, but this is a huge jump on a forecast of $370m in 2017 EBITDA.
Industry Tailwinds
There are two other things I think that are worth mentioning. For one, many of Entercom's competitors are heavily leveraged, and will likely have to restructure debt in the near future. I think this gives investors the impression that the radio market is hurting. iHeart Media for example has maintained/grown revenue, has impressive margins (24% EBITDA), but is simply crushed by its debt load. Cumulus Media (NASDAQ:CMLS) is in a similar situation. In addition to casting a negative shadow over the industry and keeping some investors away, Entercom might actually benefit in the future if any of these competitors need to sell stations. Turmoil within competitors might also allow Entercom to pick up top talent. These aren't central points to my thesis but don't hurt either.
Another tailwind for the radio industry is a much more forward-thinking FCC, where newly appointed Ajit Pai seems to be making business-friendly changes. He already has repealed a rule forcing radio broadcasters to maintain a studio in every market they broadcast in. There also are a variety of proposed changes that would allow for further broadcaster consolidation which will be voted on later this week. Regardless of how specific rules are changed, it's clear Pai's intent on rolling back regulation and ownership restrictions are both positive for Entercom. Entercom also would be a beneficiary of any corporate tax reform after it uses its remaining NOLs.
Financial Estimates
2017 E

2018 E

2019 E

Net Revenues

$1,587

$1,582

$1,614

Synergies

$0

$35

$35

D&A

$36

$40

$40

Total OpEx

$1,346

$1,230

$1,196

Interest

$104

$98

$97

Tax (33%)

$51

$84

$106

Net Income

$85

$170

$215

NI Margin

5%

11%

13%

EBITDA*

$343

$392

$458

EBITDA Margin

21%

25%

28%

* 2017 E excludes one time items

CapEx

$36

$39

$40

Free Cash Flow

$140

$181

$225

Free Cash Flow %

9%

11%

14%

Capitalization

Cash

$10

$35

$60

Debt

$1,784

$1,709

$1,589

Shares Out

142.3

140.6

139.2

Price

$10.70

$10.70

$10.70

Market Cap

$1,523

$1,505

$1,489

Enterprise Value

$3,297

$3,179

$3,019

Current Valuation

Price/Earnings

18.0

8.8

6.9

EV/EBITDA

9.6

8.1

6.6

Price/Cash Flow

10.9

8.3

6.6

Debt/EBITDA

5.2

4.3

3.3
Assumptions: Flat revenue in 2018, 2% growth in 2019, 33% tax rate, $35m in net cost synergies each year, $75m & $125 debt repayments for 2018 & 2019, no increase in dividend, interest from my debt table (more conservative rates than Entercom forecast), no one time items (i.e merger costs), accounting for divestitures, $30m/year of share repurchases (at $12 & $14). $10m after 2017 in non-cash stock comp. 2017 Estimate uses separate company filings until 3Q 2017, estimates Q4.
I should note that I think my estimates (revenue, synergies, EBITDA margin) are considerably more conservative than management's. For example, management has guided 2%-3% annual revenue growth vs. my 0% and 2%. They are guiding to $100 million in cost synergies over 18 months vs. my $35m in each year. They are guiding toward a 29% EBITDA margin while my estimates get to 25% in 2018 and 28% in 2019.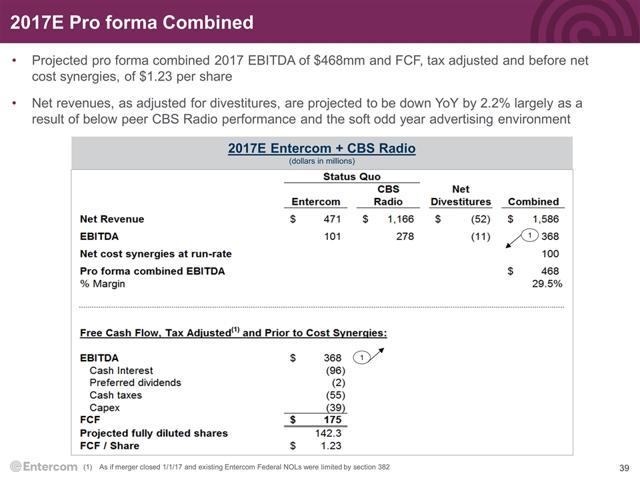 Comps
This gets a little difficult as there are few public companies that will be similar to the new Entercom. iHeartMedia is similar business wise, but has huge debt and will likely restructure in the future. Other radio players such as Beaseley, Saga, and Salem are quite a bit smaller. One of the best comps might actually be the old Entercom. The below chart shows where ETM has traded on a forward P/E and EV/EBITDA basis.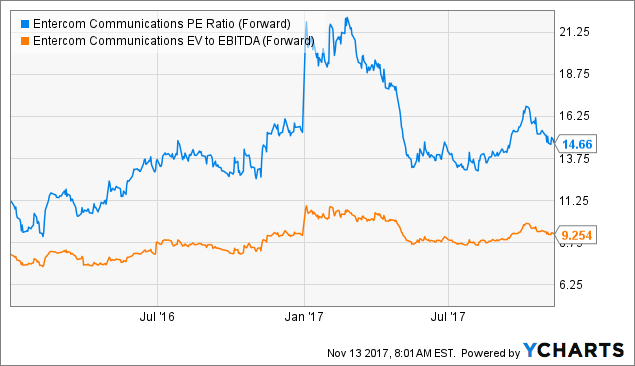 The below table shows some of Entercom competitors (basic TTM from Yahoo):
| | | | | | | |
| --- | --- | --- | --- | --- | --- | --- |
| Ticker | Company | Market Cap | P/E | EV/EBITDA | D/EBITDA | EBITDA Margin |
| BBGI | Beasley | $285 | 4.8 | 13.1 | 5.78 | 18.7% |
| IHRT | iHeart | $73 | | 13.7 | 13.77 | 23.8% |
| SGA | Saga | $248 | 14.7 | 7.2 | 1.00 | 25.0% |
| SALM | Salem | $135 | 17.8 | 8.6 | 5.62 | 16.9% |
If we use a P/E of 14x and 9x EV/EBITDA on 2018 numbers it looks like shares are undervalued. I don't think these are unreasonable multiples given Entercom's margins and cash flow going forward. That would put ETM at about $15, roughly 40% about Friday's closing price of $10.70. Looking at 2019 numbers using the same multiples get us to about $20.
| | | | |
| --- | --- | --- | --- |
| Valuation at Multiples | 2017 E | 2018 E | 2019 E |
| Earnings Multiple | 14x | 14x | 14x |
| Price at x Earnings | $8.32 | $16.97 | $21.61 |
| EBITDA Multiple | 9x | 9x | 9x |
| Price at x EBITDA | $9.21 | $13.16 | $18.65 |
| Average | $8.76 | $15.07 | $20.13 |
The below tables shows price estimates for Entercom at various multiples based on earnings and EBITDA estimates in 2018 and 2019.
| | | | | |
| --- | --- | --- | --- | --- |
| | 2018 | | 2019 | |
| P/E Multiple | Implied Price | Return | Implied Price | Return |
| 8 | $9.70 | -9% | $12.35 | 15% |
| 10 | $12.12 | 13% | $15.44 | 44% |
| 12 | $14.55 | 36% | $18.53 | 73% |
| 14 | $16.97 | 59% | $21.61 | 102% |
| 16 | $19.40 | 81% | $24.70 | 131% |
| | | | | |
| | 2018 | | 2019 | |
| EV/EBITDA Multiple | Implied Price | Return | Implied Price | Return |
| 7 | $7.59 | -29% | $12.06 | 13% |
| 8 | $10.38 | -3% | $15.35 | 43% |
| 9 | $13.16 | 23% | $18.65 | 74% |
| 10 | $15.95 | 49% | $21.94 | 105% |
Reasons for the Opportunity
Entercom is currently a small cap with a market cap of just over $400m, limited float, and the majority of voting power held by the Field family. The new company will have a market cap of $1.5b, a much higher float, and the Field family voting power will be diluted down to 25%. It also will pay a dividend yielding 3.4%. I think this will put it on the radar for a much larger investor base, increase analyst coverage, and get Entercom included in more indices (i.e. ETF buying).
There also is a temporary reason Entercom's share price is low at the moment. I won't get into the details of the trade but there's a trade hedge funds likely have on at the moment due to the spin-off from CBS where they would go short Entercom. The current borrow fee for Entercom is around 30%, and it's not hard to see why. Just look at the below chart showing the percentage of float sold short. Traders involved in this trade are making no assumptions on Entercom's value going forward but they have artificially depressed the price in the short term. CBS' recent price weakness also has contributed to this. I also should note there could be some wacky trading with Entercom as the CBS tender expires. With any luck, this will lead to even cheaper ETM shares.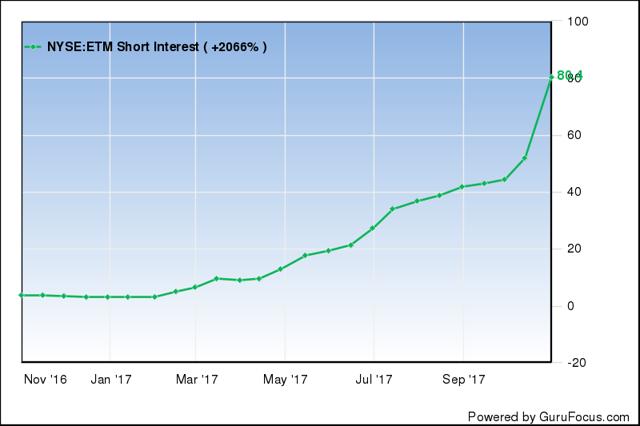 Risks
Although I think my assumptions are fairly conservative, I'm assuming that radio isn't going anywhere for a while and that Entercom will be able to stop the bleeding at CBS. I could be wrong, and if advertisers start to abandon radio en mass, cost cutting won't do much if the top line is perpetually falling. Integrating CBS into Entercom could also prove more challenging than management is expecting. In general, a recession or sector-specific trouble (auto for example) also could hurt Entercom's top line. Given that I've been pretty conservative in my assumptions below the top line, I think the downside is actually fairly limited at these levels. And with the upside potential (again, I feel my numbers are fairly conservative) I think the risk reward is strongly in favor of being long. There might also be some wacky, short-term, trading as hedge funds unwind any excess shares or CBS holders dump shares (this would be excellent in my mind).
Key Points
Entercom's acquisition of CBS radio presents a unique opportunity with great risk/reward.
Entercom's current leadership have managed organic growth in a difficult environment and have a history of successful acquisitions.
CBS Radio's revenues have been declining, but that's understandable given its uncertainty within CBS.
There are favourable industry tailwinds such as decreased regulation that will likely benefit Entercom.
It's not hard to understand where the synergies will come from given the amount of overlap within markets. The affect on margins will be huge.
The company will have good margins that will only get better. It will likely generate a large amount of cash. After paying a decent dividend, it will pay down debt and buy back shares which will be hugely accretive to shareholders.
Given this is a Reverse Morris Trust spinoff, there is a huge amount of selling pressure in the stock from players who are not taking a fundamental view of the company.
After the transaction closes, the resulting company will be more than triple the size of the current Entercom putting it on the radar of a much larger investor base. It also will likely increase its inclusion and weighting in indices.
Using conservative estimates I think the stock is worth $15 (40%+) and possibly more.
Disclosure: I am/we are long CBS, ETM.
I wrote this article myself, and it expresses my own opinions. I am not receiving compensation for it (other than from Seeking Alpha). I have no business relationship with any company whose stock is mentioned in this article.