Posted on : Nov.1,2017 17:30 KST
Modified on : Nov.1,2017 17:30 KST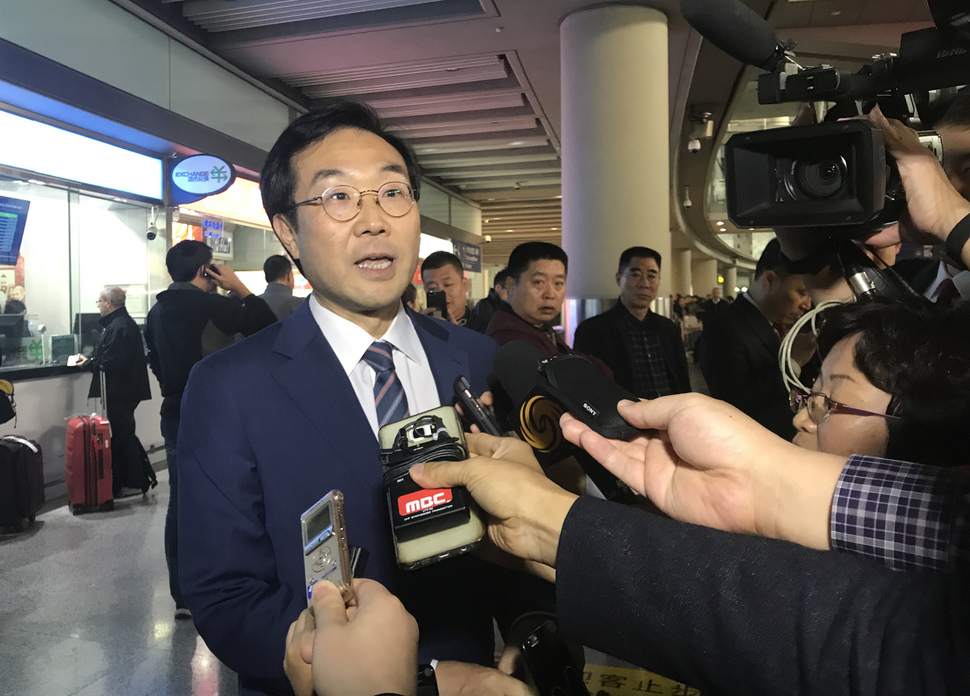 Lee Do-hoon, South Korea's representative for the Six Party Talks answers a question from reporters after arriving at Beijing's Capital International Airport on Oct. 31. Lee is visiting the country to discuss the North Korean nuclear issue with his counterpart Kong Xuanyou. (Yonhap News)
South Korea-China relations are breaking out of their deep chill caused by the THAAD deployment. Their foreign ministries jointly stated on Oct. 31 that they planned to "put the THAAD conflict to rest and return to exchange and cooperation in all areas of South Korea-China relations on a normal development track." The Blue House also announced an agreement to hold a summit between South Korean President Moon Jae-in and Chinese President Xi Jinping.
The thaw became visible the day before when South Korean Minister of Foreign Affairs Kang Kyung-wha responded to parliamentary audit questioning with a statement of "three positions" – that trilateral military cooperation with the US and Japan would not develop into a military alliance, that South Korea would not be pursuing additional THAAD deployments, and that South Korea would not be participating in the US-led missile defense system – which was met with approval from the Chinese Foreign Ministry.
This is all very fortunate. Not only did China's retaliatory measures for THAAD cause a great deal of trouble for South Korean businesses and employees, but the breakdown in South Korea-China exchange left the very future of their ties and possibility of cooperation unclear. The North Korean nuclear issue in particular cannot be resolved without restoring ties between Seoul and Beijing. The THAAD issue can be viewed as closely tied to the security situation not just for the US, North Korea, and other countries involved in Korean Peninsula issues, but for the world as a whole. It's a situation where Seoul cannot really make any completely independent decisions or unilateral pledges. It's also impossible to satisfy both Washington and Beijing, which hold such opposing perspectives.
This clearly is an achievement for South Korean diplomacy in terms of winning China over and gaining US understanding. It goes without saying that it was also rooted in China's practical needs and inability to sustain the current situation. The THAAD agreement seems more or less like a promise from China that it will implicitly accept the current situation so long as its biggest fear – a northeast Asian trilateral military alliance linking South Korea, the US, and Japan – does not come to pass. Seoul opted for the immediate practical benefits of normalizing exchange and cooperation, while Beijing won a promise that South Korea will not take part in the US missile defense system. The key question that remains is how Seoul will maintain a balance amid the strategic competition between Washington and Beijing and its ongoing and intensifying cooperation with the US and Japan.
In the end, peace on the Korean Peninsula will also contribute to stabilizing relations between South Korea and China. In that sense, the agreement to normalize ties should not stop at a return to the way things were before, but become a first step toward the tasks of resolving the nuclear and other Korean Peninsula issues and achieving coexistence between the US and China in northeast Asia. Indeed, some are predicting the thaw between Seoul and Beijing will infuse some new energy into the previously flailing efforts to resolve the North Korean nuclear issue.
In retrospect, the conflict between South Korea and China over THAAD seems to have been exacerbated by a breakdown in mutual trust: the hastiness of the THAAD deployment process and China's excessive economic retaliation. Going ahead, it will be important to use this agreement as a basis for avoiding another such breakdown, whatever difficulties arise.
Please direct questions or comments to [english@hani.co.kr]