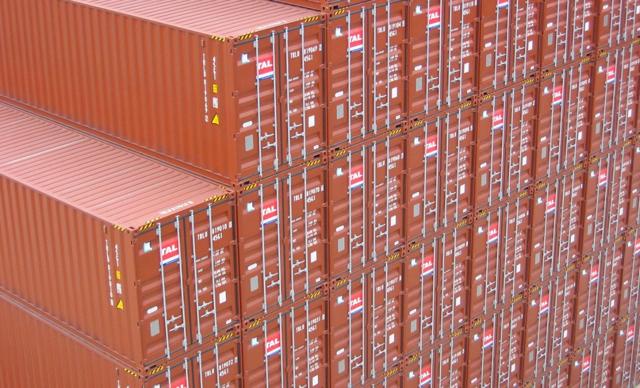 Source: Google Images
Overview
For 2017, container lessors have been the best-performing industry for all transports (excluding bulk shipping lines). This has been partly driven by the small number of companies available to investors: CAI International (NYSE:CAI), Textainer Group Holdings (NYSE:TGH) and Triton International (NYSE:TRTN); but has also been driven by both industry and market dynamics.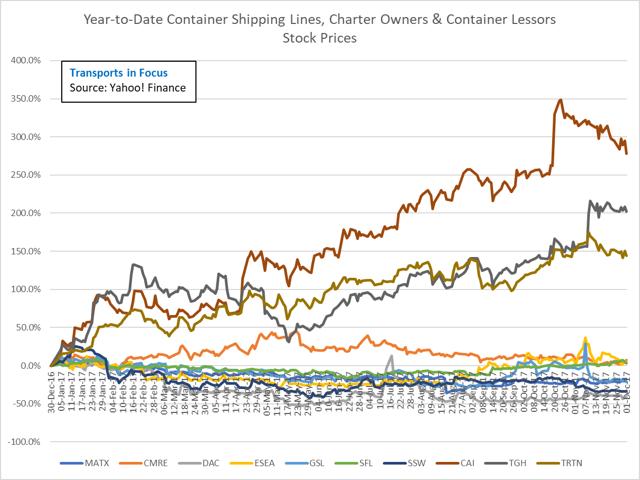 As of last week, CAI, Textainer and Triton were up 278, 202 and 144 percent respectively for the year. The only other major transport companies even remotely close to this type of performance have included USA Truck (NASDAQ:USAK) and XPO Logistics (NYSEMKT:XPO), up 113 and 81 percent respectively.
Within the container shipping industry, container lessors have been a top performer even when considering global container shipping lines, which have witnessed as strong return to profitability throughout the year.
This type of scenario might dissuade investors from considering a new position in one of these companies, as substantial gains have already been made. But these companies were highly depressed during the energy and freight recessions that occurred from the summer of 2014 through March/April 2016. Recent performance for 2017 is not necessarily it, as continued global growth is likely to sustain positive momentum.
I have exposure in the portfolio I manage to most every major freight industry, with the exception being container lessors. This was the case until yesterday, when I decided to initiate a long position in Triton. The tailwinds that have taken form during 2017 are expected to continue into 2018, which offers investors the opportunity to achieve stock price appreciation further from today's levels.
For those thinking that the recent run-up is enough, companies like Saia (NASDAQ:SAIA) and XPO have witnessed back-to-back solid performance over the past two years (returns of greater than 50 percent each year), as business fundamentals and markets have improved. This is the same opportunity facing container lessors today.
The key drivers for the market include strong container trade growth, improved new container prices, low leasing inventories including favorable drop-off/pick-up activity, improved utilization and overall increases for lease rate and used dry container sales price indices. Of all of these tailwind factors, I am keeping an eye on inventories for both new production from factories as well as for existing capacity. There could be a pinch as the Chinese New Year approaches as well as for the expected uptick for spring 2018 shipping demand.
The question for investors remains as to which container lessor offers the best opportunity. I will provide my perspective on this through a relative valuation assessment between the three companies – ultimately leading to the core reasons as to why I selected Triton.
Relative Valuation
For those not entirely familiar with the relative valuation approach, it involves the analysis of a group of companies against conventional fundamentals. For container lessors, this includes core focus areas like operating revenue and profit growth. But it also entails container utilization and underlying lease rates, as well as EV/EBITDA and leverage ratios.
An important distinction with container lessors is the way debt is measured. For most companies, even asset-intensive ones, debt is typically measured against EBITDA. Debt-to-EBITDA ratios are normally within a 1-3 times multiple, with higher ratios equating to companies requiring heavier capital investments for assets.
In the case of container lessors, none of the three companies trade with a debt-to-EBITDA ratio lower than 7 times. This is partly the result of lower sales and profits from the recently depressed market environment, but it is still typical for debt ratios of container lessors to be much more elevated as a result of the nature of the business.
The other important factor investors should realize is that it is customary for container lessors to not generate free cash flow for the same reason that debt-to-EBITDA ratios are much higher. The capital-intensive nature of the need to grow container assets to compete requires substantial capex program investments. Only recently, during the freight recession, did these companies begin to see substantially lower capital investments and, in some cases, positive free cash flow. This has since shifted back to an increased investment strategy.
Another key focal point moving forward is the expectations for top and bottom line growth over the next year. Both CAI and Triton are expected to see sustained robust results, while Textainer's assumed growth has lagged but is still expected to be strong in 2018.
Equally important for all three companies is the interest rate coverage, which serves as the primary measure for debt covenants. All three companies witnessed a substantial decline in interest coverage ratios; for both Textainer and Triton, the ratio dipped below 1, with Textainer dangerously close to flat and/or negative territory during 2016. As 2018 unfolds, all companies should be back above the 1 times level, with both CAI and Triton likely back above 2 times.
Both CAI and Triton weathered the freight recession storm better than Textainer from an operating revenue growth perspective. But this was largely a result of the fact that both companies benefited from acquisitions, masking poor organic performance. In any case, all three companies mirrored one another as depressed leasing rates, and new and used container prices led to lower container lessor revenues.
Today and moving into 2018, the tables have turned and expectations are for acceleration for both revenues and profits, including EBITDA. On a year-over-year (YoY) basis, profit and EBITDA growth has been highly robust for both CAI and Triton in 2017 – but all three companies are expected to see this translate into very strong performance during 2018.
Average container utilization rates have improved from 210 basis points (bps) to 520 bps over the last few quarters during 2016. On the cautionary side, as operating revenues and profits have improved, increased capex spend has risen and negative free cash flows have increased.
Both CAI and Triton have announced stock offerings to raise additional capital. This remains a continued threat, leading to further shareholder dilution for all three companies. Both Textainer and Triton slashed dividends to zero, but Triton has recently reinstituted its dividend. CAI has traditionally been more conservative and not paid a dividend.
From a valuation perspective, both CAI and Textainer trade at 11 times EBITDA, while Triton is trading just below 10 times EBITDA. Triton is also valued similarly or lower than its peers based upon other multiples such as future P/E. Generally, from a relative valuation perspective, Triton is discounted among these peers.
Why Triton?
The simple answer appears to be that the company is discounted, but it goes further than that for 2018. There are two thoughts as they relate to CAI and Textainer not being chosen. First, CAI has diversified its business through acquisitions to gain exposure to the rail lease and logistics operating segments. Unlike the improving container lease market, rail lease and vessel charter markets have struggled more so during 2017.
These two operating segments have actually hampered CAI's profit results during 2017, as rail leasing and logistics segments have witnessed increasingly negative net income before taxes performance. The rail leasing business is not guaranteed to see strong improvement in the near term, as rail assets are facing uncertainties into 2018. The logistics segment has yet to generate a profit since becoming a part of the business two years ago. This is contrary to other logistics companies seeing strong improvement during the third quarter.
To summarize, the tailwinds driving CAI's performance has stemmed solely from the containers side of the business. For this reason, I am inclined to look for companies with stronger exposure to container revenues versus rail leasing and/or logistics. I own other companies, including Greenbrier Companies (NYSE:GBX), Hub Group (NASDAQ:HUBG), Matson (NYSE:MATX) and XPO, for exposure to these other segments.
For Textainer, the tables have turned since the merger of Triton and TAL. Textainer was the container leader prior to this deal, but now finds itself third by leasing share behind Triton and Florens. Triton's scale is significant, as the company is expected to generate the highest profit margin between the three container lessor peers for 2018. It has also more quickly gotten itself back into recovery mode and has reacted quicker to increase capex, taking advantage of growth opportunities in 2017.
Today, the majority of containers utilized by global container shipping lines are leased. Triton estimates that it has a number one position with each of the top 5 carriers and with 8 of the top 10 carries. As consolidation is likely to continue in the container shipping industry, and as competition remains fierce, the leasing model will continue to be paramount, with a long future ahead. With a 26 percent market share, Triton is atop the industry for providing necessary capacity.
As tailwinds are expected to continue, all three companies are poised to benefit. The primary reasons above, including the discounted relative valuation, are justification and the drivers for selecting Triton as a new holding for the Lean Long-Term Growth Portfolio (LLGP).
Summary
The biggest focus for 2018 is going to be capacity constraints for supply chains, including shippers, third-party logistics providers (3PLs) and carriers (both landside and seaside). The Chinese New Year is soon approaching, with Spring to follow. Expectations are that there could be challenges as capacity constraints reduce equipment availability.
New dry factor inventory has shown some signs of life for both shipping and leasing inventory. But Triton's dry depot lease inventory in Asia is at record lows. Dry container pick-up and drop-off activity has also displayed a substantial decline in drop-off units over the past few quarters, with conversely robust increases in pick-up units over the same period. For increasing demand as capacity tightens, having exposure to Triton makes the most sense for 2018.
Disclosure: I am/we are long TRTN, GBX, HUBG, MATX, XPO.
I wrote this article myself, and it expresses my own opinions. I am not receiving compensation for it (other than from Seeking Alpha). I have no business relationship with any company whose stock is mentioned in this article.