REIT Rankings: Cell Towers
We are excited to launch coverage on the newest REIT sector: Cell Towers. In our "REIT Rankings" series, we introduce and update readers to one of the fourteen REIT sectors. We rank REITs within the sectors based on both common and unique valuation metrics, presenting investors with numerous options that fit their own investing style and risk/return objectives.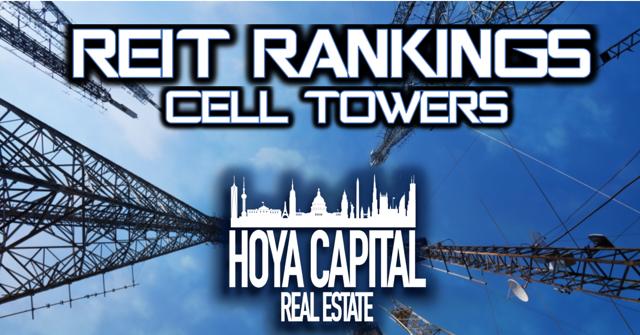 We encourage readers to follow our Seeking Alpha page (click "Follow" at the top) to continue to stay up to date on our REIT rankings, weekly recaps, and analysis on the REIT and broader real estate sector.
Cell Tower Sector Overview
Cell Towers are an enigma. As the newest REIT sector, cell towers are still not included in the most widely-owned real estate ETF (VNQ), but the sector is the single largest holding in many other real estate ETFs (IYR). Beginning in 2018, though, VNQ will change their benchmark from the MSCI US REIT index to the MSCI US Investable Real Estate index, which includes a 10%+ weighting in cell towers.
Within our value-weighted Cell Tower Index, we track the three Cell Tower REITs within the sector, which accounts for $125 billion in market value: American Tower (AMT), Crown Castle (CCI) and SBA Communications (SBAC). Cell Tower REITs own roughly 80% of all macro cell towers in the United States which is by-far the highest concentration of REIT ownership of any real estate sector. For this reason, while cell towers may constitute only a tiny portion of total real estate asset value in the United States, they have a disproportionally high importance in the market-value-weighted investible real estate indexes.

It's important to note that both AMT and SBAC have significant international operations, while CCI is a pure-play US operator. AMT and SBAC focus on the macro business while CCI has made significant investments in fiber and small-cell networks in addition to their macro business. Finally, AMT and CCI make heavy use of "Master Lease Agreements" with cell carriers while SBAC does not. Master Lease Agreements allow carriers to upgrade their equipment at-will, which translates into a more predictable, but perhaps a slightly slower growth trajectory.
Bull Thesis for Cell Tower
They may not be pretty, but cell towers are on the cutting-edge of the smartphone revolution and of many emerging technologies that depend on continuous interconnectivity. Cell Tower REITs own the most critical piece of infrastructure to power the explosive growth in mobile data demand: macro-coverage communications towers. Mobile data traffic is expected to grow 35% per year in the US over the next half-decade.
Macro cell towers are the backbone of mobile communication networks. Networking technology is limited by a trade-off between coverage and capacity. Unlike competing technologies like public Wi-Fi, satellites, and small-cells, macro cell towers provide the most economical mix of coverage and capacity. Because of the physical limitations, regulatory hurdles, and cost of deploying large-scale small-cell or public Wi-Fi networks, it appears that macro towers will continue to be the most critical piece of infrastructure in mobile networks.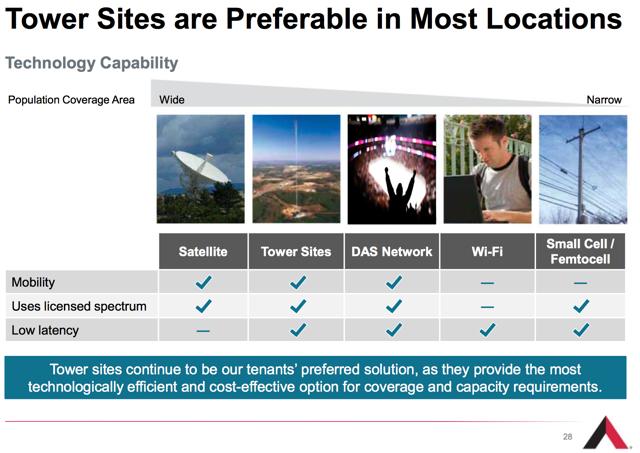 American Tower: Introduction To the Tower Industry
Starting in the mid-2000s, US carriers including Verizon (VZ), AT&T (T), Sprint (S), and T-Mobile (TMUS) began to divest from the capital-intensive cell tower business to free-up capital to grow and add density to their networks. The co-location model emerged whereby carriers share space on a tower owned by a third-party. Over the past decade, these third-party operators consolidated and recently converted into REITs. These three REITs now own 80% of all macro towers in the United States and the pendulum of power in the telecommunications sector clearly favors Cell Tower REITs over carriers. Carriers spend 20%-30% of their revenue on cell tower leases, their most significant operating expense.
The supply/demand dynamics of the tower sector are highly favorable. Because of tight zoning restrictions, it can take years or decades to build new towers in desirable high-density areas. Tight supply gives significant bargaining power to existing tower owners. The cell tower business model has significant operating leverage: adding new co-location tenants to existing towers entails very limited incremental costs, but doubles or triples site revenues. Cell tower REIT service 2.3 carriers per tower and these REITs continue to expect colocation growth in the coming years as carriers increase efforts to densify their networks to provide better data coverage.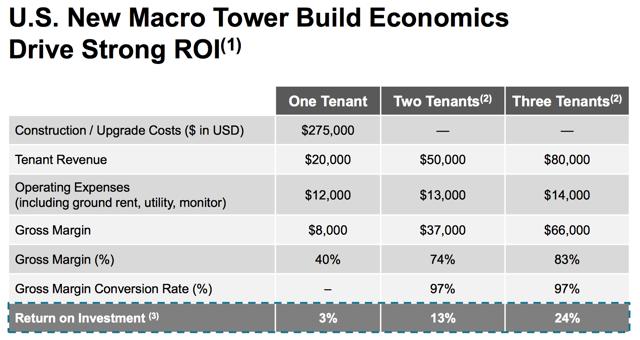 In a typical arrangement, Cell Tower REITs control the land and own the tower-structure which can support 2-5 tenants. Carriers sign a non-cancelable 5-10 year lease agreement with annual escalators for the right to mount their antennas onto the tower and build their base station equipment, including a backup generator, on the ground.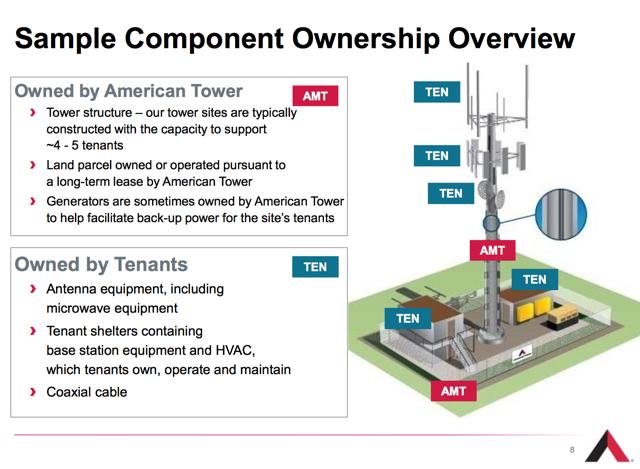 Cell Tower REITs have strong competitive positioning in the telecommunications sector. Cell Tower REITs command a cost-of-capital advantage over any other institution seeking to own these assets. Supply growth is almost non-existent as there are significant barriers to entry. Tenants are very strong and the tower assets provide a predictable and relatively secure stream of cash flow. Compared to other real estate sectors, capital expenditure requirements are very low.
Bear Thesis for Cell Towers
While Cell Tower REITs appear to be well-positioned in a growing industry, there are significant inherent risks with the sector. We identify the four primary risks as technological obsolesce, the potential for carrier consolidation, rising expenses from ground leases and property taxes, and potential changes in the regulatory framework.
Unlike Other Real Estate Sectors, There Is Risk of Technological Obsolesce. Real estate values tend to be steady and predictable because well-located land doesn't depreciate, go out of style, or become replaced by newer, more innovative land. The land under cell towers, however, is worth very little without a functioning macro cell site. Public Wi-Fi networks, small-cells, and distributed antenna systems have all been discussed as potential "replacements" for the macro cell towers. The theory behind each of these technologies is that despite being limited by smaller coverage areas, you can build enough access points to form a continuous network.
All of these systems have important applications within the network: they provide far greater capacity (speed) than a macro-cell can provide, but are severely limited in coverage range. While technology can change very rapidly, it appears that the limitations of the alternative technologies are unlikely to abate anytime soon. The issue with small cells and public Wi-Fi networks is the logistics and cost of the 'backhaul' fiber networks required to connect thousands of independent access points. Whereas cell tower networks can communicate with each other with line-of-site microwave signals, these small-cell technologies require physical fiber to efficiently connect access points. New fiber is extremely expensive to lay in urban and suburban areas.
Unless there are massive advances in the coverage range of small cells or Wi-Fi networks, macro towers will continue to be the only economical way to provide "blanket" coverage and will continue to be the backbone of all mobile networks.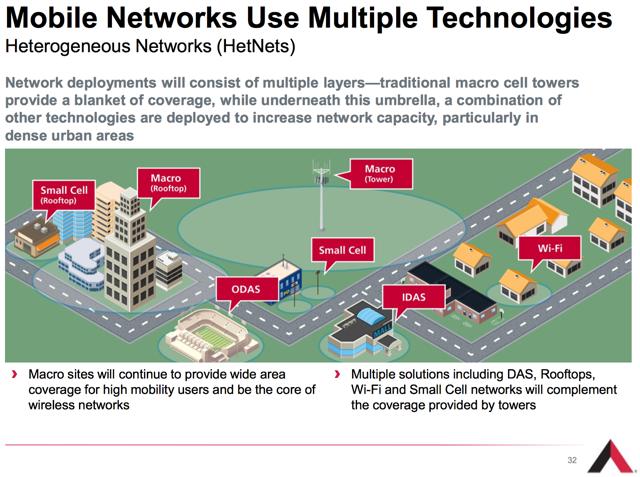 Carriers Have Incentive to Regain Competitive Positioning Over Cell Tower Industry. There are only four major players in the US carrier industry, limiting the number of potential tenants for these REITs. Cell companies pay 20-30% of revenue towards these tower companies, making it an important expense that they are looking to reduce. Every time rumors of a merger between Sprint and T-Mobile makes the headlines, these cell tower stocks dive 2-5%. A merger of these two carriers would lead to a 4-8% hit in revenue per year after all of the non-cancelable leases expire. Carriers are also incentivized to invest capital in alternative technologies like small-cells and DAS to try to reduce the competitive position of cell towers. Some carriers have discussed "do-it-ourselves" options of building their own towers.
While carrier consolidation is certainly a risk, the economics of the "do-it-ourselves" option makes this path unlikely. Besides the time and expense related to navigating the zoning process, as outlined below, carriers achieve far higher savings by outsourcing cell tower ownership. The cost-of-capital for holding these assets is lower for REITs than carriers.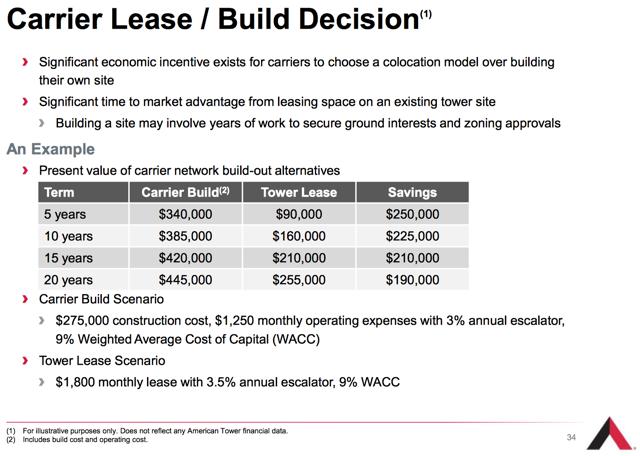 Cell Tower REITs Only Own 30% Of The Land Underneath Their Structures. These three REITs have spent over $1 billion since 2012 to buy or control the land under their towers. Still, these REITs only own about 30% of the land and lease the other 70% under long-term ground leases. Combined with rising property taxes, rising lease expenses can take a toll on operating performance. The fact that the cell tower industry is highly consolidated, though, weakens the negotiating power of the ground-lessor, but these REITs are still exposed to rising ground-lease rents. Local towns and cities could also use cell tower sites as "easy targets" to raise property tax revenue.
The Regulatory Framework Could Change. Much of the bull case for Cell Tower REITs is built on the idea of limited supply, which is a function of the tight zoning conditions related to cell tower construction. These regulations do not exist in all countries or in all areas, and it is certainly possible that zoning restrictions could loosen and make new tower construction more feasible. Cell towers could eventually be regulated as "utilities" which would significantly change the dynamics of the sector.
Recent Developments and Quarterly Performance
Cell Tower REITs have been the best performing REIT sector over the past year. The sector has climbed 9% over the past quarter and is higher by 32% YTD.

2Q17 earnings were stellar across the board. All three REITs beat expectations and raised guidance. Organic revenue growth per tower site averaged 5.5% and total tower revenues were higher by 10%.

While all three REITs delivered solid quarters, we focus specifically on American Tower. We believe that AMT's focus on developing and emerging markets will continue to drive double-digit growth for the next decade and immunizes the REIT from competitive challenges with US carriers.
From AMT's earnings call:
International organic tenant billings growth in Q2 was over 400 basis points higher than that of the U.S. at over 10%, continuing to reinforce the high growth nature of our international business… Our new build program also remained active and we constructed over 460 sites globally this quarter, predominantly in our international markets, where average day one NOI yields were over 10%.
American Tower appears well-positioned to benefit from the rapid growth in smartphone penetration in these markets. Unlike in the US, the emphasis of less-mature communications networks is on coverage rather than capacity. While small-cells pose a technological risk to macro-cells in the US, this is not the case in early-stage markets.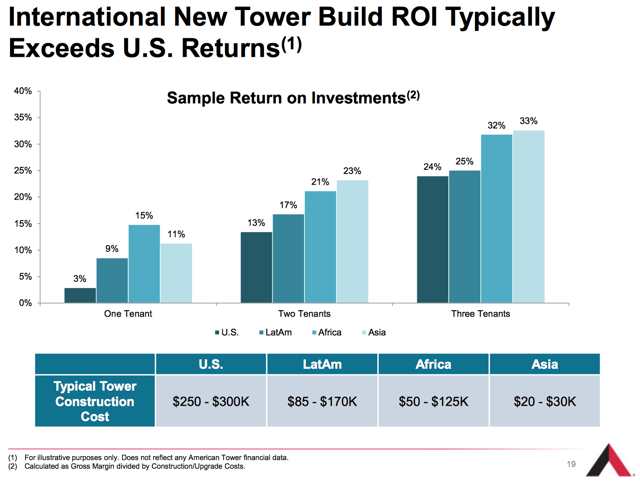 Below is our REIT Heat map, showing the YTD performance in relation to other sectors.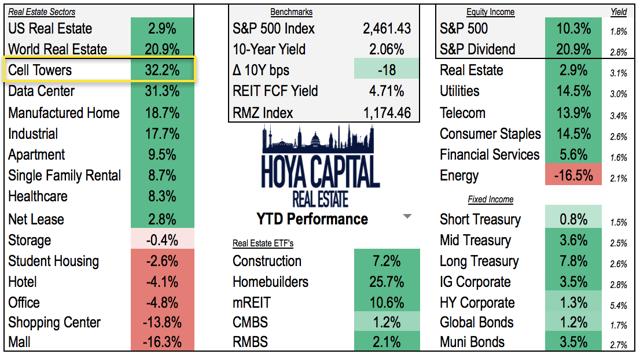 Valuation of Cell Tower REITs
Cell Tower REITs appear fairly expensive based on current earnings, but very attractive after factoring in the robust growth expected over the next several years. We use a modified PEG ratio, using the forward FCF multiple divided by the expected 5-year growth rate which we call FCFG. Based on FCFG, Cell Tower REITs are the most attractive sector, as the sector is expected to grow 10-15% per year over the next three years compared to the broader REIT average of 6-8%.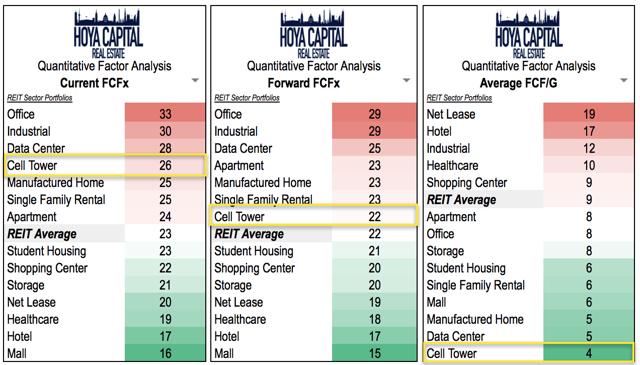 Within the sector, we note that AMT and CCI trade at similar valuations while SBAC trades at a slight discount to the sector average. AMT appears to be the most attractively valued based on FCFG.

Sensitivities to Equities and Interest Rates
Cell Tower REITs march to the beat of their own drum. The sector exhibits relatively low sensitivity to both interest rates and equities.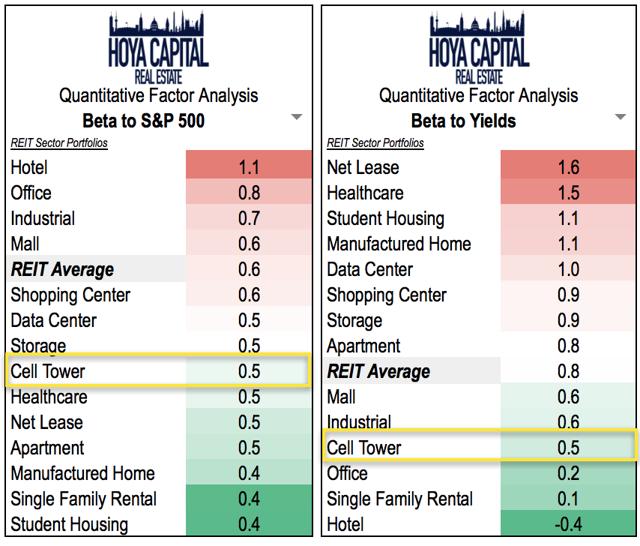 We separate REITs into three categories: Yield REITs, Growth REITs, and Hybrid REITs. (click to read more information about our methodology).


All three names in the sector are Growth REITs, which are ideal for investors willing to sacrifice immediate income for longer-term growth. Within the sector, we note that the international-focused REITs have lower sensitivities to US equities and interest rates. We highlighted in a previous article that investors can effectively hedge the interest rate sensitivity of their REIT portfolio by investing in REITs with significant international holdings. Click to read: "International Real Estate: REIT Investors Can Avoid 'Home Country Bias."

Dividend Yield and Payout Ratio
Cell Tower REITs are among the lowest-yielding REIT sectors, paying out just 51% of their free cash flow and instead plowing that capital back into the business to fuel external growth.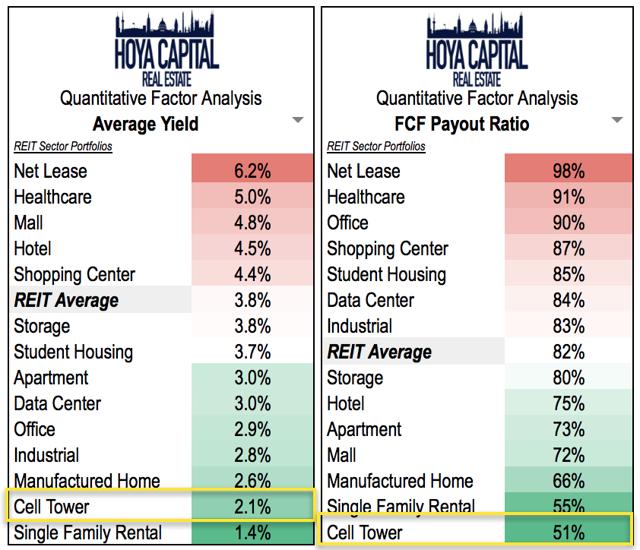 Within the sector, only Crown Castle acts like a typical REIT when it comes to distributions. CCI pays a healthy 3.6% dividend yield while AMT pays 1.8% and SBAC does not yet pay a dividend.

Bottom Line: Not In My Backyard, But In My Portfolio
Cell towers are the newest and best-performing REIT sector in 2017. Cell Tower REITs have returned more than 32% YTD. 2Q17 earnings in the Cell Tower sector were stellar across the board.
Cell Tower REITs provide the most critical piece of infrastructure for the smartphone revolution and explosion in mobile data. Cell Tower REITs have quickly transitioned from a "fringe" sector into a mainstream player in the REIT space. Most real estate indexes now have sizable weightings in the sector.
Despite competition from small-cells and public Wi-Fi, macro cell towers continue to be the most economical way to provide comprehensive coverage. The risk of technological obsolesce is often overstated. Emerging technologies, including self-driving cars and the 'Internet of Things', will require continuous connectivity over wide areas, a feature that only macro cells can efficiently provide. The pendulum of power in the telecommunications sector clearly favors Cell Tower REITs. The risk is that carriers are incentivized to consolidate, build towers themselves, or invest in alternative technologies.
We aggregate our rankings into a single metric below, the Hoya Capital REIT Ranking. We assume that the investor is seeking to maximize total return (rather than income yield) and has a medium to long-term time horizon. Valuation, growth, NAV discounts/premiums, leverage, and long-term operating performance are all considered within the ranking. We currently view the American Tower as the most attractively-valued name in the sector, followed by Crown Castle and SBA Communications. Overall, we are positive on the long-term prospects of the cell tower REIT sector.

Please add your comments if you have additional insight or opinions. Again, we encourage readers to follow our Seeking Alpha page (click "Follow" at the top) to continue to stay up to date on our REIT rankings, weekly recaps, and analysis on the REIT and broader real estate sector.
For further analysis on all fourteen sectors and how cell towers stack-up, be sure to check out our REIT Rankings quarterly updates: Apartments, Malls, Data Center, Self-Storage, Healthcare, Net Lease, Student Housing, Manufactured Housing, Single Family Rentals, Shopping Centers, Hotels, and Office.
Disclosure: I am/we are long VNQ, SPY, MAA, CPT, CCP, OHI, PLD, GGP, TCO, PEI, STOR, SHO, SUI, ELS, ACC, EDR, DLR, COR, REG, CUBE, PSA, EXR, BXP, EQR.
I wrote this article myself, and it expresses my own opinions. I am not receiving compensation for it (other than from Seeking Alpha). I have no business relationship with any company whose stock is mentioned in this article.
Additional disclosure: All of our research is for educational purpose only, always provided free of charge exclusively on Seeking Alpha. Recommendations and commentary are purely theoretical and not intended as investment advice. Information presented is believed to be factual and up-to-date, but we do not guarantee its accuracy and it should not be regarded as a complete analysis of the subjects discussed. For investment advice, consult your financial advisor.