In the previous article on the volatility indicator the Z(30) was trending towards the interesting point of 0.85 points.
The Z(30) is essentially the moving average of the coefficient of variation for the S&P 500 based on the SPDR S&P 500 Trust ETF (SPY). The next table shows the percentile of this indicator that was observed based on historical data.

This last update was back in late March and since day onwards, during the recent seventeen trading days, the indicator went below 0.85 points and have yet to climb back above this unique point.
The importance that I have emphasized on the 0.85 point was due to the fact that during the recent 4,320 trading days, since early year 2000, the indicator was below 0.85 points only 256 days.
The current situation is even more interesting as the recent seventeen consecutive days below the 0.85 point puts the recent month as one of the longest time periods that the indicator was trending so low.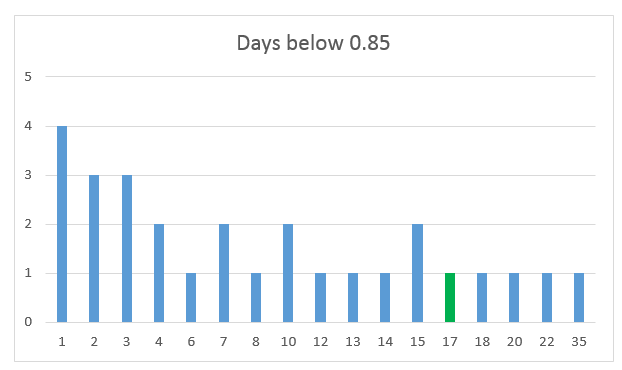 In the recent years there were only four cases when the indicator was so low for a longer period of time.
During the last part of January till mid-February 2017 the market took a breather before climbing up above 2,300 points and never went down below it ever since. This is the consecutive 18 days point on the graph.
Between mid-August to mid-September 2016 the market almost did not move from a narrow range around 2,180 points, which was followed by some rough volatility days due to the concerns about an approaching interest rate hike. This is the consecutive 20 days point on the graph.
The 22 days point is back from February 2007, a time period that ended by a significant decline in the markets driven by concerns from Asia and Europe.
The 35 days point, the longest period of calmness in the markets, was achieved between the months of May and June 2015. This was ended by concerns about the Greek debt.
The next graph shows the Z(30) trend compared to the SPY from 2013 to the current days.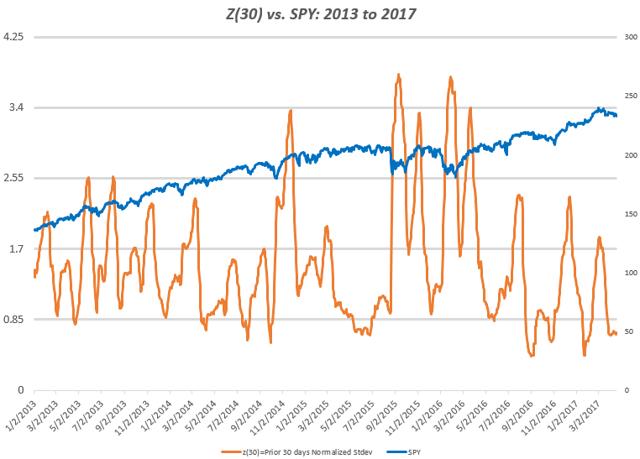 It would be very interesting to see whether the low volatility period would continue and break the achieved record from 2015 or would it be broken by a violate move, either upwards or downwards that would break this sequence.
I will continue to monitor and report.
Happy investing!
Disclosure: I/we have no positions in any stocks mentioned, and no plans to initiate any positions within the next 72 hours.
I wrote this article myself, and it expresses my own opinions. I am not receiving compensation for it (other than from Seeking Alpha). I have no business relationship with any company whose stock is mentioned in this article.